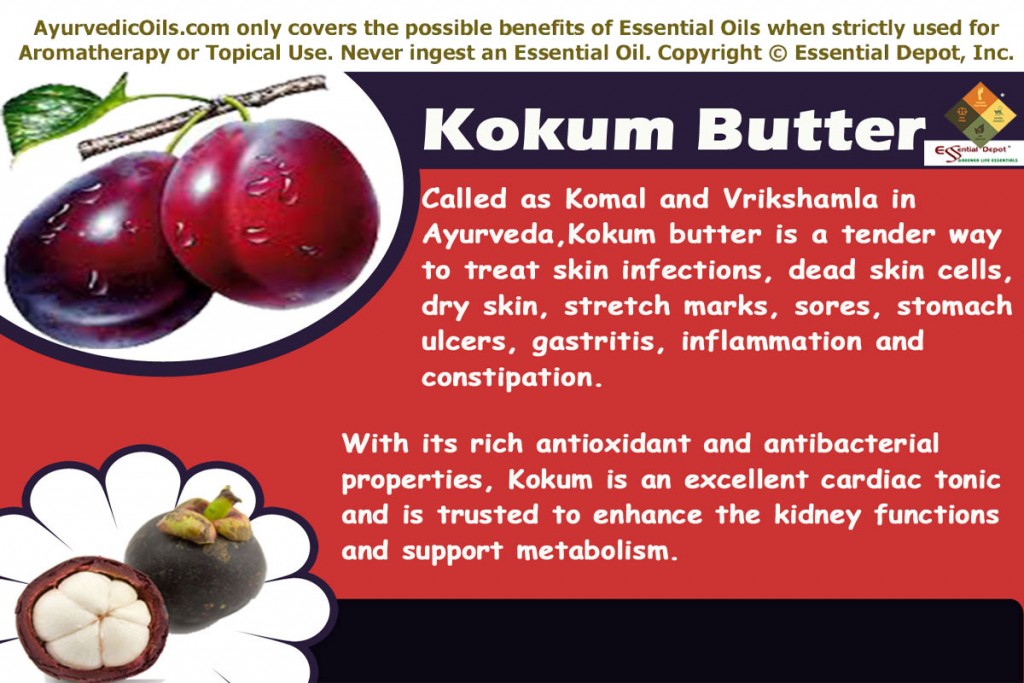 Called as Komal and Vrikshamla in Ayurveda, Kokum butter is a gentle remedy to treat skin infections, dead skin cells, dry skin, stretch marks, sores, stomach ulcers, gastritis, inflammation and constipation.
Sharing its origin with Ayurvedic healing to the Indian subcontinent, Kokum butter has excellent nutritional benefits and has been used in Ayurveda for treating dryness in the skin, cracked lips, ulceration, mature skin conditions, oral diseases and skin infections.
With its rich antioxidant and antibacterial properties, Kokum is held high as an excellent cardiac tonic and is trusted to enhance the kidney functions and support metabolism.
Kokum is popularly known as Wild Mangosteen tree, Red Mango, Brindonia tallow tree, Indian butter tree and Malabar Tamarind tree. Called in the vicinity as Punarpuli and Punampuli, the fresh and dried fruits are used as a tasty substitute for tamarind in the preparation of fish and other traditional culinary varieties.
Purchase Organic Kokum Butter – Retail – CLICK HERE
Historical uses and importance of Kokum and its velvety butter:
Kokum butter is extracted from the seed of Garcinia Indica also known as the Kokum tree, which is commonly seen in Andaman and Nicobar Islands, Western Ghats and the Eastern parts of India. The butter is extracted by cold pressing the seeds collected from the Kokum tree and then further refined to give a white butter that has a mild odor.
The residue or the rind of the seed is collected and used in herbal medications. It is one of the most stable butters known and also one of the hardest vegetable butters available.
As the butter extends properties such as high oxidative stability and emollient properties, Kokum Butter has found itself a spot in the industries of toiletries and cosmetics. Though the butter is found to have a high melting point it does melt and blend with skin as it touches the surface making it a top choice for lipsticks, balms, soaps, and lotions.
Butters like Kokum butter is one of the perfect choices among the ingredients of soap bars, lotion bars and lipsticks as they have a high melting point (38-40 C) and keep from melting in the purse during long summers.
Kokum butter serves the purpose of encouraging elasticity, suppleness and preventing dryness of the skin. It also helps to restore balance of the damaged skin caused by prolonged negligence. The raw unrefined form of Kokum butter is dark in color and has an earthy scent to it; when melted, it takes the color of light coffee.
Besides being used in the cosmetic industry, Kokum butter is also used as an edible oil. It is a rich source of vitamin E making it an ideal ingredient in products related to skin and hair.
Along with the butter, other extracts from the plant that are effective in treating medical conditions are the juice of the Kokum. It is the most celebrated refreshing drink in summer that serves effectively against sunstroke and dehydration with its instant energy.
The pulp of the Kokum fruit is used as spice in various parts of India, especially in Kerala and other coastal areas as a popular substitute for tamarind. Syrups are also made from the Kokum tree and they are presently bottled and sold for its medicinal effects. Besides this, Kokum is very popular in making chutneys and pickles.
From ancient history, it has been understood that Ayurvedic physicians have used butter from Kokum to cure ear infections, reduce pain caused by arthritis, prevent infections, treat sores, diarrhea, improve digestion and treat constipation.
Kokum is very popular in the Southern states of India and is a trusted traditional remedy for piles, dysentery and infections, insect bite, bee bites and gastric issues.
Kokum is available in the market as a dried fruit, which are soaked in hot water to extract the juices. It has a shelf life of more than a year and the concentrated versions of the fruit can be retrieved. It can also be stored as pickles by blending with salt and drying it out in the sun to increase its shelf life.
Chemical composition and therapeutic properties of Kokum butter:
Kokum naturally contains garcinol in abundance. Garcinol is a derivative of poly-isoprenylated benzophenone that is extracted from the rind of the berries. It exhibits the anti-inflammatory, antibacterial, and antioxidant properties.
Thanks to all these naturally existing properties in the butter, the degeneration of skin cells and the elasticity of the skin can be maintained. The butter of Kokum contains nearly 60-65 percent saturated fatty acids, which makes the oil solid at room temperatures. The fatty acids seen in the butter are stearic acid, palmitic acid, oleic acid, and linoleic acid.
This therapeutic butter exhibits anti-inflammatory properties, which control the primary causes that lead to heart diseases, and also helps reduce the production of excess of fat, aiding weight loss. Kokum also exhibits anti- paralysis properties.
Ayurvedic health benefits of Kokum and its butter:
Held high across the world as the oldest remedial science, Kokum is a primordial Ayurvedic remedy for addressing various health conditions. The documented Ayurvedic health benefits of Kokum are as follows.
With its soothing and pacifying properties, Kokum has been prescribed in the treatment of irritable bowel syndrome and diarrhea, for these attributes it has been called as Grahi and Sangrahi.
The book on 'Molecular Targets and Therapeutic Uses of Spices' quotes that Ayurvedic experts prescribed the use of Kokum in the treatment of irregular menstruation, inflammatory conditions, ear infections, dermatitis, rheumatic pain, sores and intestinal parasites.
Kokum is also a vital ingredient in Ayurvedic preparations like Yavanyadi Choornam for respiratory ailments and Hingvadi Choornam for treatment of pain in the abdomen along with improper digestion and bloating.
For it's potent to enhance taste and alleviate loss of appetite, Kokum is called as Ruchikrut and Rochana and Deepana for strengthening the digestive system.
Denoted as an excellent natural thirst quenching agent, Kokum juice has been a celebrated Ayurvedic drink that has been trusted to control Trushna or extreme thirst and dehydration.
The fruit of Kokum in general is a friend for the digestive system in the Ayurvedic regimen. It is mentioned in various Ayurvedic texts in the treatment of a range of metabolic and abdominal disorders.
Ayurveda recommends Kokum in the treatment of Jantu or the invasion of worms, Grahani or constipation and irritable bowel syndrome, Vataja Udara or flatulence and bloating, Shoola or colic pain in the abdomen and Atisara or dysentery.
Kokum and its butter are cited in many classical Ayurvedic texts including Charaka Samhita, Sushruta Samhita, Dravya Guna Vijnana, Haritakyadi varga and few others.
Kokum is held to pacify vata dosha (extremely beneficial in nourishing dry skin conditions) and enhance pitta and kapha energies (excellent natural moisturizer that leaves the skin supple and smooth).
The predominant health benefits of Kokum butter are:
Exceptional anti-aging agent, attributed to the presence of rich antioxidants like vitamin E that nourish the skin cells and prevent aging.
With its rich antioxidant and antibacterial properties, Kokum is an excellent cardiac tonic and is trusted to enhance the kidney functions and support metabolism.
With its bactericidal properties, Kokum butter has been proved effective against bacteria like Salmonella typhi, Staphylococcus aureus, flavononyl flavone and Escherichia coli.
The presence of hydroxycitric acid helps reduce lipogenesis cycles; reduce cholesterol and thereby assists in weight loss.
Being a non-comedogenic agent, Kokum butter doesn't clog pores like other creams and lotions, hence prevent acne and other skin damages.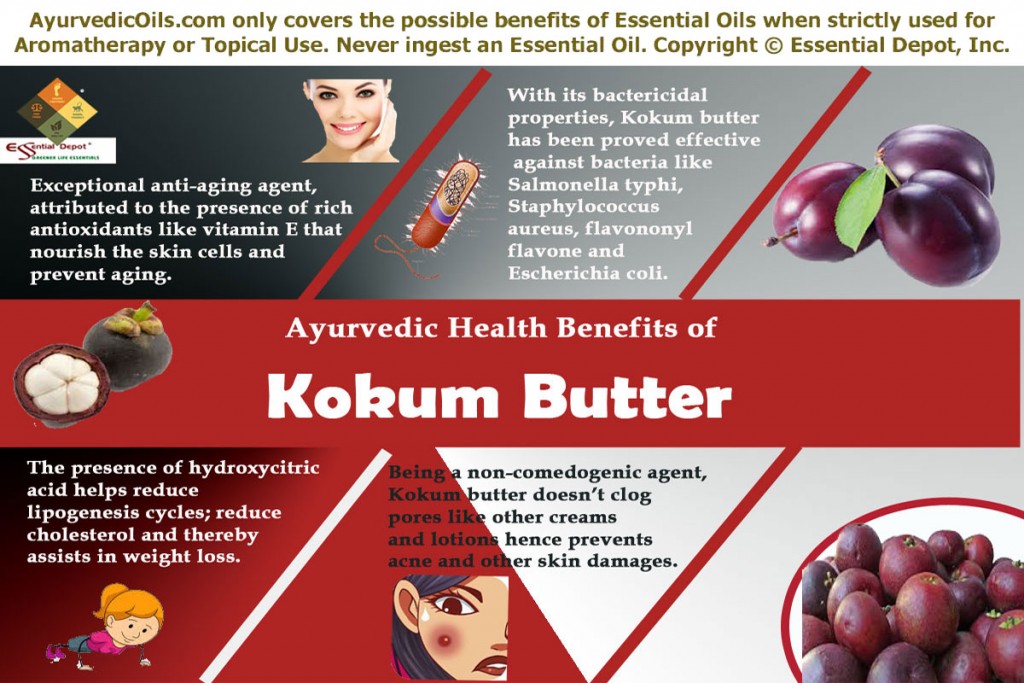 Kokum butter is an excellent anti-aging agent:
All butters are generally good on skin and Kokum also known as 'Goa Butter' is not going to let you down. Though the butter is a bit dry in its nature, it does serve the purpose when it comes to helping with skin regeneration.
The essential fatty acids seen in the butter aids in the oxygenation of the cells, making its tissues available to absorb nutrition. It also contains antioxidants such as vitamin E, which nourish the skin and prevent aging.
It is a non-comedogenic agent, which doesn't clog pores like creams and lotions do, thereby avoiding the occurrence of acne and pimples, and also helps easy absorption of the butter into the skin. Usage of Kokum butter in lotion and creams give it that lush texture that makes the skin feel soft and supple through-out the day.
The major symptoms of aging are wrinkles, fine lines, crow's foot, dull and dehydrated skin. These skin conditions are often caused by the infestation of harmful free radicals that prevent skin cells from being hale and hearty.
Damaged cellular structure often pave way for dermal problems including aged skin conditions. Antioxidants are powerful micronutrients that have the potent to scavenge the effects of free radicals.
A 2006 study on the 'Antioxidant activity of Garcinia indica (Kokam) and its syrup' proved that Kokum is an exceptional antioxidant agent with potent compounds including Garcinol, HCA (hydroxycitric acid), polyphenols and anthocyanin pigments.
Kokum aids in fighting free radicals and assist in repairing the damaged skin, enriching the skin cells from within and helps in restoring the natural glow and texture of the skin, leaving it supple and hydrated.
It has also been prescribed in the treatment of burns, allergies, sunstroke, rashes, chaffed skin, dry skin and scalds.
With all these commendable benefits to the skin, Kokum butter is used as a nourishing base product for organic soaps, moisturizing creams, sunscreen lotions and other skin care products.
This is the kind of ingredient that would be perfect in rejuvenating dry, tired and worn out skin. Blend Kokum butter with your favorite skin-nourishing oils like Lavender oil or Ylang Ylang oil for better results.
Kokum butter as an anti-bactericidal:
The butter exhibits anti-bacterial and bactericidal properties hence it's used topically to cure skin infections. The juice extracted from Kokum is an appetite stimulant and also has biological properties and has been in use as an effective anti-helmintic agent.
It has also been used to treat piles, GIT infections, and dysentery as well. It also helps stabilize liver functions, and helps strengthen the cardiovascular system. A study involving the involvement of Polyphenols of Garcinia Indica against bacteria was carried out. The result proved that Garcinia indica was effective towards Salmonella typhi, Staphylococcus aureus, flavononyl flavone and Escherichia coli.
Antioxidant activity of Kokum butter:
A study was conducted to understand the anti-oxidant activity of kokum butter. The experiment was carried out on rats and the results proved that there was effective support contributed by GIE in ATD-induced oxidative damage of liver and Kokum exhibited a hepatoprotective activity contributed by its antioxidant effect.
Kokum butter in cholesterol reduction:
A study was conducted to understand the effects of Kokum butter and cholesterol levels. During the study it was comprehended that the chemical constituents and properties of the butter were a lot similar to sunflower oil, sesame oil, and peanut oil.
Though the process of heating and melting of the butter were the same as ghee and hydrogenated fats, the high unsaturated fatty acid composition seen in Garcinia-butter makes it a lot healthier choice.
Also, the hydroxycitric acid seen in the butter helps reduce lipogenesis cycles; reduce cholesterol, thereby assisting in weight loss.
Other health benefits of Kokum butter:
In general, Kokum has been used in the treatment of fissures and ulcers on lips, hand, and sole. It has also been used as an astringent. Kokum butter is a tender way to treat skin infections, dead skin cells, dry skin, stretch marks, sores, stomach ulcers, gastritis, inflammation and constipation.
On skin and hair, Kokum butter is used to treat acne, dry hair, split ends and dandruff. It helps eliminate bacteria such as H. pylori bacteria which are general causes of ulcers.
Kokum aids in strengthening the brain power by increasing the growth of neurons through preventing the substances that can cause damage by oxidizing them, and suppressing the growth of reactive oxygen related species that can cause cancer and cardiovascular related diseases.
Besides this it also contains hydroxycitric acid also known as HCA which can act as an appetite suppressant and aid in weight gain issues. It has a triglyceride composition and hence used as a substitute for cocoa butter.
Disclaimer:
This article is only for the use of information. It is not meant to make a diagnosis or thwart any medical conditions. Do not replace with any other prescribed medications or expert medical advice. We are not healthcare professionals and this information is shared only with the notion of bringing Ayurvedic healing wisdom under limelight.
Organic butters and essential oils are meant only for topical application and do not ingest. Consult your Ayurvedic expert/ medical professional ahead of picking the perfect essential oils or organic butters for your prakriti or unique individual constitution along with your medical condition.
Thought for the day:
Never lose an opportunity of seeing anything beautiful, for beauty is God's handwriting.
-Ralph Waldo Emerson
Suggested Reading:
References: