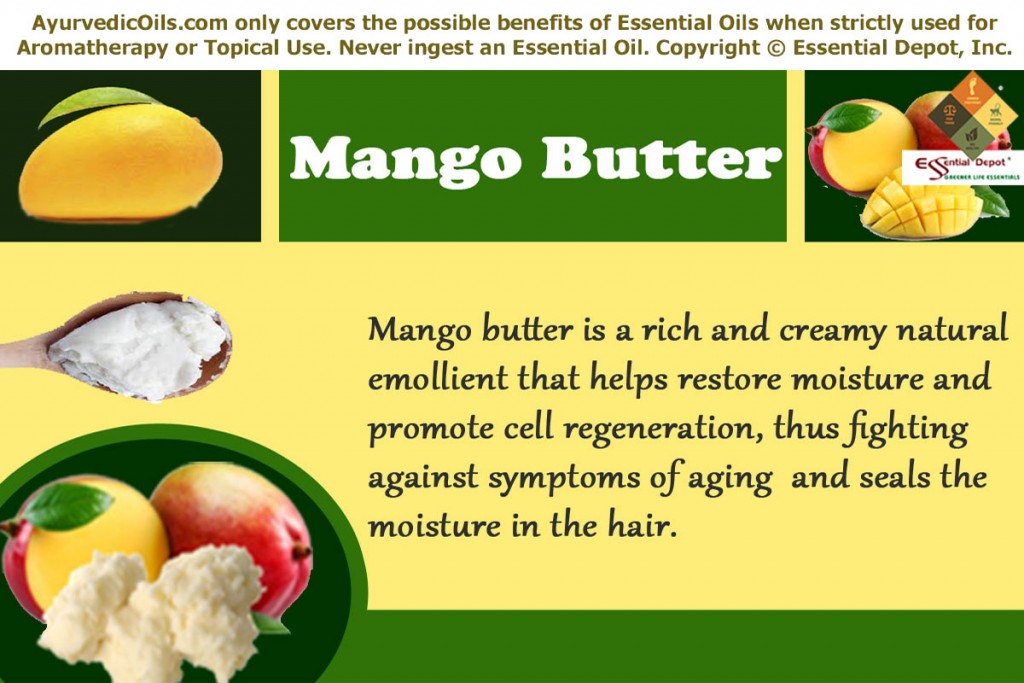 Mango is an epitome of love and celebrated as the king of fruits in India and Mango butter extracted from its kernel can never disappoint in amusing you with its enormous health benefits for the skin and hair.
Do you know that the very sight of the bright and glowing yellow colored mangoes can instill absolute personal and professional success? Trust me, yellow is the color of the Solar plexus chakra (Manipura), which is often associated with the inner fire and power of intellect, confidence, exuberance, decision making and optimism.
Mango is also an excellent choice for stimulating the sacral chakra (Swadhisthana), which is responsible for reproduction, vitality, creativity and sexual wellness.
Botanically called as Mangifera indica, Mango is beckoned as Aamra in Sanskrit and is known as Hridaya (supports the heart functions), Bala (strengthens the system) and Vrysya (excellent aphrodisiac that enhances reproductive functions, semen count and vitality) in Ayurveda.
Mango butter is also called as Mango kernel fat. With its exceptional moisturizing and emollient properties, this creamy butter nourishes the skin and hair from within. The easily melting quality of this butter during contact with skin makes it a vital ingredient in many sunscreen lotions, baby creams, frizz control products and moisturizing balms.
Purchase Organic Mango Butter – Retail – 3 oz – CLICK HERE
Purchase Organic Mango Butter – Retail – 8 oz – CLICK HERE
Historical importance and uses of Mango and its golden butter:
Mango is a proud member of the cashew family, Anacardiaceae. With about 1,000 varieties of mangoes grown across the world, Mango is said to have originated in the Indo-Burmese region before 5,000 years, as old as the Ayurvedic medicine. Mango is the national fruit of India.
The mango tree is a large lushes green tree seen at a height of 15–30 meters and favored for both its green and ripe fruits. It grows particularly well in well-drained sandy loam and does not favor heavy wet soils.
Mango trees thrive well in tropical and subtropical climatic conditions. The soil ph is expected to be between 5.2 and 7.5 to obtain the best results in the growing process.
The interesting historical reference is that the most renowned Mughal Emperor, Akbar the Great, planted about 100,000 mango trees in Eastern parts of India.
The flowers of the mango tree are seen growing in pretty bunches, and start to appear at the end of winter to the beginning of spring. Both the male and female flowers are both seen on the same tree.
The flowering stage in the tree is noticed at different months of the year in different regions of India, as they favor certain specific climatic conditions. A specific variety of mango called Neelum is seen to grow two crops in a year in Kanyakumari, but only once a year in the Northern regions of India.
Along with Jackfruit and Banana, Mango is cherished as one among the three imperial fruits in Tamilnadu, India and is popularly called as Maa, Pala and Vazhai (Mango, Jackfruit and Banana).
The fruit of the mango tree, which is the most cherished part of the tree, is an egg shaped fleshy drupe. These fruits are green in color and turn yellow when ripe.
They are approximately 8-12 cm long and are seen in shapes of round, heart shaped, oval, or kidney shaped. The flesh is white and tart to taste when unripe and is bright yellowish orange and sweet when ripe with a flat pit in the middle.
Mangoes are mostly available in the months of April and May and nearly 210 species of the fruit are harvested during the season. Most of them are exported around the globe. The skin and the pulp of the mango form 85% of the fruit and the seed makes 15%. The raw or green mango is used in making chutneys and pickles, and the yellow is used most commonly in desserts.
Mango butter contains a natural polyphenol known as Mangiferin. It has been used since the primordial times for treating inflammation and pain with its analgesic and anti-inflammatory properties.
Mangiferin is used as an antioxidant in the brand name Vimang and is used in Sri Lanka to deal with diabetes in the brand name Salaretin.
Extraction of Mango butter:
The seeds of the mango fruit are first collected and washed with water immediately after collection. Later the seed are then sundried to reduce the moisture content to 12-15%. Later they are roasted in a drum roaster and the hull is mechanically removed, or sometimes manually removed by beating them with wooden clubs.
The separated pieces are then sent to a hammer mill where they are made into pellets in a pellet making machine. They are then cooled in a cooler and brought to room temperature. Next they are transported to the solvent extraction plant.
The processor is then used to produce flakes by crushing the seeds using a flaking roller mill and thus Mango butter is extracted. Mango butter is solid at room temperatures and melts at 35-43 °C, thus making it the most appropriate butter for sunscreen creams, moisturizing products, baby lotions and hair care items.
Composition and properties of Mango butter:
Chemical constituents of Mango fat are palmitic acid, stearic acid, oleic acid, arachidic acid and linoleic acid. The butter has antioxidant, emollient; wound healing, anti-aging and regenerative properties.
A 2013 study on the 'Protective Nature of Mangiferin on Oxidative Stress and Antioxidant Status in Tissues of Streptozotocin-Induced Diabetic Rats' published in ISRN Pharmacology states that "Mangiferin reveals a broad range of pharmacological effects, including antidiabetic, antitumor, antiviral, immunomodulatory, antimicrobial, and antioxidant activities."
Health benefits of Organic Mango butter:
The butter obtained from the pressed seed of the kernel of the Mango Tree is one of the highly prized butters and is looked for in the industry cosmetics to be used as a major ingredient that forms the base for soap making and products that deal with body care.
The most prominent uses of Mango butter are:
With its rich Vitamin A, C and E, Mango butter combats the damage of free radicals and guards the skin from sun damages.
Works as an excellent scalp moisturizer with high level of fatty acids.
Acts as an effective sunscreen agent and heals sunburn, wounds and other infections.
Nourishes the scalp, locks natural moisture in the hair, fights hair fall and is a boon to dry, dull and lifeless hair.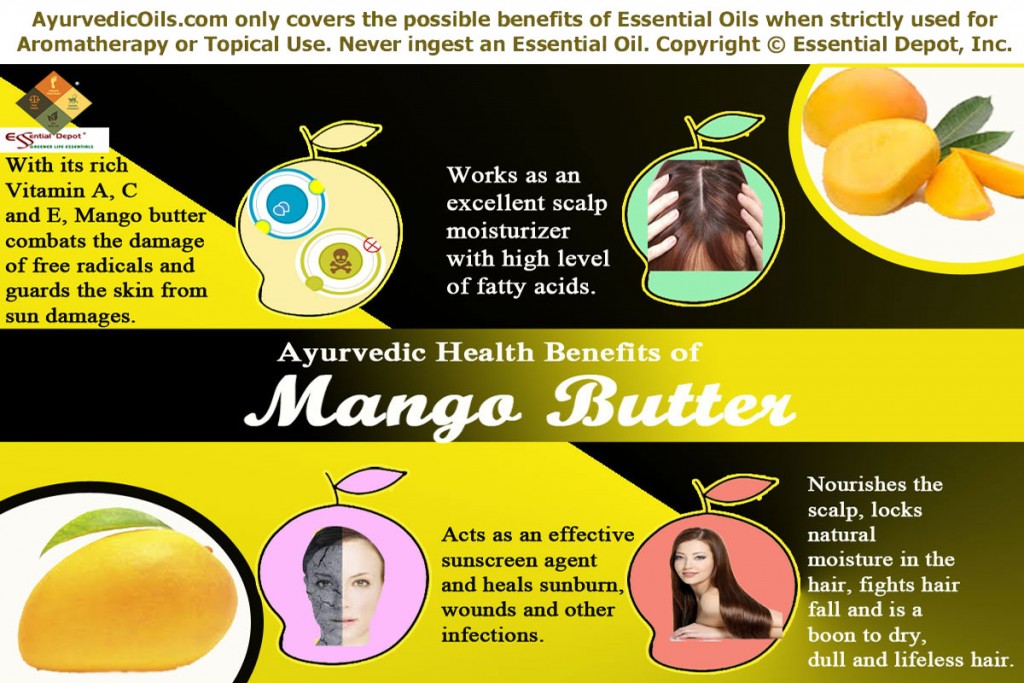 Excellent antioxidant that combats free radicals thus fights aging and sun damages:
Mango butter is rich in antioxidants and with the presence of enormous nutrients, including Vitamins A and E. These constituents help in keeping the skin healthy and young, supporting it to fight against the damage of free radicals and aging.
A 2013 study by the Medical University of Wroclaw on 'Mangiferin – a bioactive xanthonoid, not only from mango and not just antioxidant' have stated that Mangiferin is a natural polyphenol extracted from plant, especially the mango tree (Mangifera indica).
Various other pharmacological studies have witnessed that Mangiferin portrays various activities including, "analgesic, antidiabetic, anti-sclerotic, antimicrobial and antiviral, cardio-, hepato-, and neuroprotective, anti-inflammatory, anti-allergic, MAO inhibiting and memory improving, as well as radio protective against X-ray, gamma, and UV radiation."
This research also concludes about various other studies that have proved the ability of Mangiferin to restrain the growth of cancerous cells and cancerogenesis. Owing to its ultra violet radiation-protecting properties and antioxidant ability, Mangiferin is used in the manufacturing of cosmetics and skin care products.
Blending Mango butter with natural oils like Jojoba oil can elevate its beneficial quotient to the skin in terms of enhancing the natural sebum secretion in the skin and making it look younger and softer.
It can also aid in lessening wrinkles, fine lines, crow's foot and sagging skin, thus granting firmness by boosting the suppleness and elasticity of the skin surface.
Natural moisturizer that promotes cellular regeneration:
Mango butter is much similar to Shea and Cocoa butter but it is light and varies in its fatty acid content. The butter is fatty and sweet in its natural form, making it the best additive used in body care and cosmetic products.
The butter of mango is rich and creamy, which is hard at room temperatures and exhibits natural emollient properties. It is a rich source of essential fatty acids and has been traditionally used in the rain forests and tropics for its soothing and moisturizing properties. For this reason it has been used in lotions and creams to serve as a moisturizer and mild lubricant for the skin.
The moisturizing and emollient properties of the oil help restore moisture and promote cell regeneration again facilitating younger looking skin. The butter can also be used to treat diseases like eczema, skin rash, insect bites, and poison ivy as well.
Applying Mango butter on your skin as a massaging aid can assist in the production of collagen, which is responsible for the verve and vitality of the skin surface.  It helps in diminishing acne scarring, fading stretch marks and scars.
Mango is called as 'Varnya' in Ayurveda for its ability to enhance the natural glow and fairness of the skin. It also assists in opening blocked pores of the skin, thus releasing impurities from the skin surface.
Mango butter is non-greasy and it easily penetrates into the skin, helps repair dry skin, mature skin conditions, eczema and dermatitis. You can also blend Mango butter with few drops of skin enriching oils like Lemon oil or Patchouli oil and guard yourself against UV radiation and changes in weather conditions.
Nourishes the scalp and locks natural moisture in the hair:
The high level of fatty acids present in mango butter makes it suitable to be used as a moisturizer on the scalp as well. The lack of moisture in hair can lead to hair damage through breakage, and hair fall.
Regular application of Mango butter on the scalp and hair can preserve and seal the moisture content in the hair making it lushly healthy and protecting it from drying.
Since Mango butter contains huge amounts of vitamins such as A, C, and E, and also antioxidants, it can enrich the root of your hair, strengthen the hair follicles, and add up to its volume and control frizz and breakage.
Mix 5 drops of Rosemary oil with a tablespoon of Mango butter and massage it gently on your scalp. Wrap your hair with a warm towel and let this blend penetrate deeply into the scalp for about an hour. Wash it with a mild shampoo for controlling dandruff, dry and itchy scalp conditions.
Since vitamins A and C have positive effect and direct relation to the growth of hair, it's quite obvious that Mango Butter can contribute to healthy hair. The butter naturally helps protect the skin and the hair from the sun's rays giving protection as an extremely effective sunscreen to the skin and the scalp also.
Disclaimer:
This information is only meant for educational purposes. It is not prescribed for diagnosis or as a substitute for prescription medicines or professional medical advice. We are not healthcare experts and this information is shared only with the idea of enlightening the healing wisdom of Ayurveda.
Organic butters and essential oils are only for topical application and not for ingestion. Consult your Ayurvedic expert/ medical professional prior to choosing the appropriate essential oils or organic butters for your unique individual constitution or Prakriti and your Vikruti or current state of health.
Thought for the day:
Never lose an opportunity of seeing anything beautiful, for beauty is God's handwriting.
-Ralph Waldo Emerson
Suggested Reading:
Reference Links: