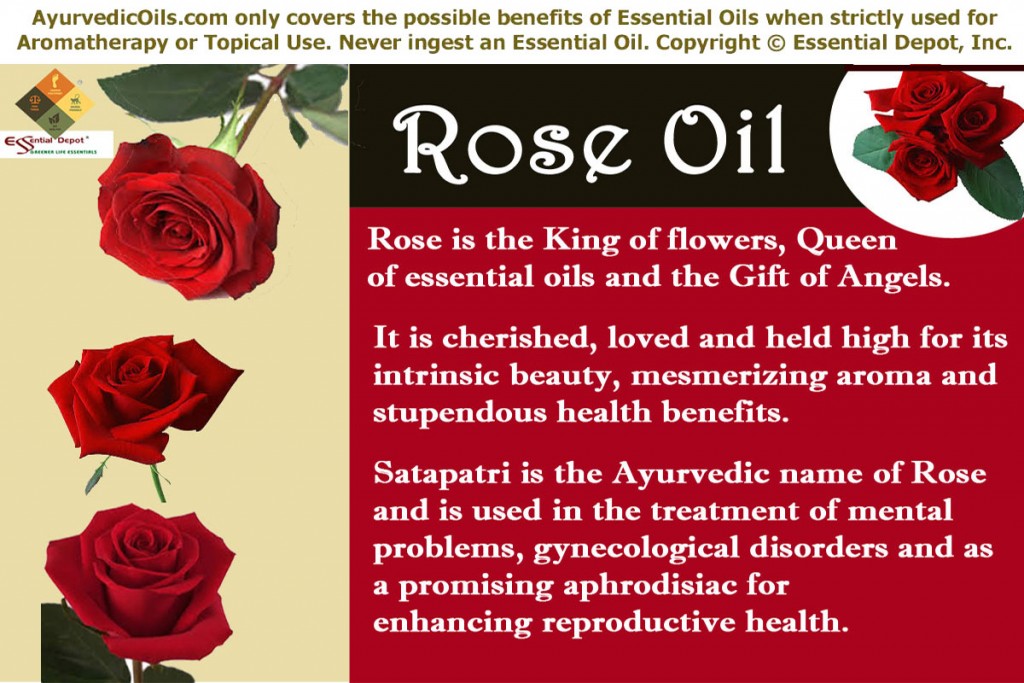 King of flowers, Queen of essential oils and Gift of Angels, can you guess? Cherished, loved and held high for its intrinsic beauty, mesmerizing aroma and stupendous health benefits Rose and its essential oil can simply make anyone addicted to the flawless elegance of Mother Nature. This mind-blowing flower is often connected with love, romance and forgiveness that it can soften even the hardest of hearts.
Held as Lord Krishna's favorite flower, Rose is more than 70 million years old and its role in Ayurveda is predominant than most other flowers. Ayurvedic texts explain that the adoring qualities of Rose and the essential oil extracted from it is due to the strong reasons that it balances Sadhaka pitta that controls feelings and its effects on the heart and Prana vata that governs the mind, sensory perception, head, chest and respiration.
Known as Satapatri in Sanskrit, meaning 'one hundred petals' and Gulab-ka-phool in Hindi, Ayurvedic philosophers have documented the use of rose petals, rose essential oil, rose vinegar, rose water and Gulkand in the treatment of mental problems, gynecological disorders and as a promising aphrodisiac for enhancing reproductive health.
Pure Rose essential oil is very expensive because certain reports state that it takes about 2,000 pounds of Rose petals for extracting 1 pound of Rose essential oil, means 1 drop of Rose oil is extracted from about 500 rose petals.
There are many species of Rose flowers and the most prevalently used in extracting essential oils are Rosa damascena, cultivated in Turkey, India, Pakistan, Russia, China, Bulgaria and Iran and Rosa centifolia, widely grown in France, Egypt and Morocco.
Purchase Rose Absolute – 5% Dilution in Pure Jojoba – CLICK HERE
Historical importance of Rose and its essential oil:
Among all the flowers in the world, Rose has the oldest history with fossil remains at the Florissant Fossil Beds, Colorado confirming it to be more than 40 million years of age and the fossil deposits at Montana and Oregon date back for about 35 million years.  This flower of love has its origin in the Central parts of Asia before 70 million years.
Rose was an incredible part of almost all the ancient cultures in the world like the Romans, the Greeks, the Chinese, the Indians, the Egyptians, the English, the Arabians, the French and the Phoenicians. All of them sang the glory of roses and cultivated it widely in their provinces.
Rose is used in perfuming and enlightening weddings amongst all the cultures on earth. It is said that the extraction of Rose oil was discovered in India when a celebrated King of India held his daughter's grand wedding ceremony.
As a part of the wedding decoration, the moat surrounding the castle was filled with petals of rose and after a long time people noticed that the water smelled sweet and tasted great, paving way for the extraction of Rose essential oil.
According to Greek mythology it was Aphrodite, the Greek Goddess of love and beauty who gave the name 'Rose' to this lovely flower. Theophrastus, the Greek scientist was known as the first to give a comprehensive botanical report about Rose around 300 B.C.
Greeks considered roses as a sign of the future for their culture (defined the term 'sub rosa'). They used rose flowers to adorn the ceilings of their conference rooms during secret meetings signifying that everything conferred there was highly confidential.
The Han dynasty of China from 207 B.C. to 220 A.D. was popular for cultivating rose flowers in their gardens and the growth of roses in the Imperial Gardens of China was noted by Confucius in 500 B.C. and he also mentioned that the Emperor's library had hundreds of books on roses.
Avicenna, the Arabian physician wrote the healing benefits of Rose water prepared using rose petals in pure water under sunlight. Rose oil is used in preparing the high quality perfumes in the Middle East known as 'Attars'.
King Alexander the Great was inspired by the rose gardens during his visit to India and is known for introducing the cultivation of roses in Europe. Roman Emperors used rose petals to perfume their baths, in celebrations, in the preparation of scents, for decorating banquet halls and for medicinal purposes. Queen Cleopatra used rose petals in her bath, on her bed, for inviting guests and for alluring her lover Antony.
English used roses for symbolizing the two houses of the War of Roses during the fifteenth century. Red rose was used to represent the House of Lancaster and white rose stood for the House of York. The entire cosmos commemorated rose as an emblem of passionate love, affection, joy, peace and as a saga of absolute romance.
Therapeutic properties and active components of Rose essential oil:
The steam distilled essential oil extracted from rose petals have enormous healing values and the most notable among them are aphrodisiac, anti-depressant, antiseptic, antiviral, antispasmodic, antibacterial, antiphlogistic, cholagogue, depurative, bactericidal, haemostatic, cicatrisant, uterine, nervine, emmenagogue, hepatic, laxative and stomachic.
The α-pinene, α-terpinene, Nerol, Citronellol, Eugenol, Geraniol, β-pinene, p-cymene, β-caryophyllene, Citral, Phenyl Acetaldehyde, Carvone, Camphene, Farnesol, Citronellyl Acetate, Methyl Eugenol, Ethanol, Phenyl Geraniol, Limonene, Stearpoten, Phenylmenthyl Acetate and Nonanol.
Ayurvedic health benefits of Rose essential oil:
More than just a healing methodology, Ayurveda is a guiding principle throwing light on leading a balanced and health lifestyle that would prevent illnesses and promote healthy aging.
This ancient healing system identifies human beings based on their individual constitution composed of three vital energy elements known as doshas (vata, pitta and kapha), where vata signifies air, pitta is fire and kapha stands for water.
The predominance of any of these doshas determines an individual's personality and imbalance of any of these doshas is the cause of a disease or sickness in general. The vividness of Ayurvedic healing lies in its holistic approach by treating the five senses namely the sense of vision, smell, taste, touch and sound.
According to the Ayurvedic encyclopedia, Rose oil is such a unique essential oil that is good for all the three doshas and benefits the blood, nerve, plasma, liver, heart, stomach, reproductive system, marrow, skin and gastro-intestinal system.
It transforms the moisturizing and cooling energy elements that controls negative feelings, strengthens the aura and stimulates the effective functioning of the body. It's time to take a look at the brilliance of Rose essential oil in curing mankind through their senses.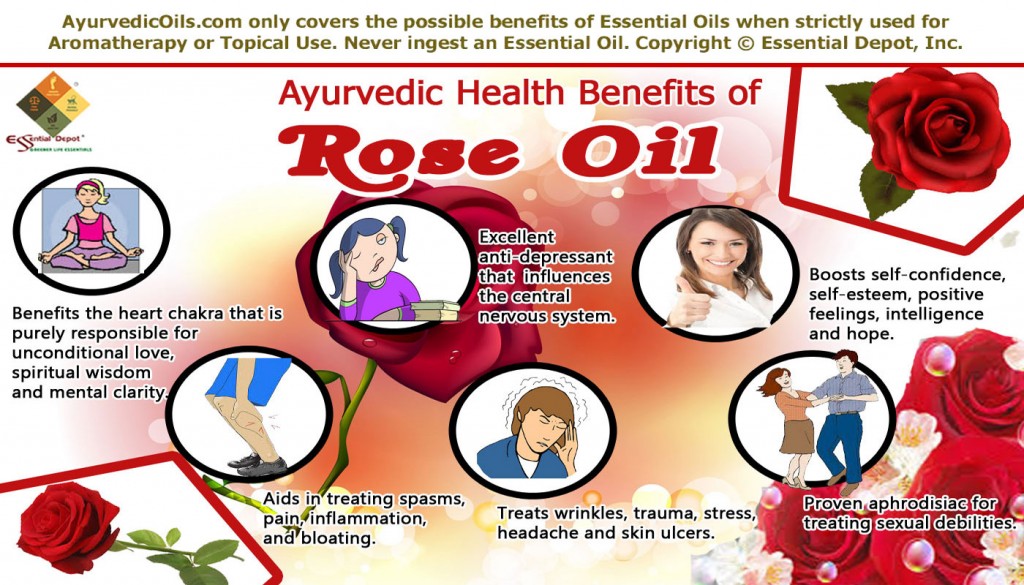 1. Sense of vision:
Among the five major therapies of Ayurvedic healing, the color therapy is appealing to the eyes and slowly transfers the absorbed energy of the color to the brain, mind, heart and the entire system.
This is one great way of balancing the tri-doshas, the key to optimal health. As most of us knew, Rose is such a splendid flower that has more than hundreds of colors. The most notable ones are deep red, white, pink, bright yellow, orange, coral and lavender colors.
Eyes are the doors to your heart and the very sight of deep red roses will certainly bring in love, charm, affection and feelings of forgiving without any second thought as it calms kapha energy in charge for love and forgiveness. This is because the color red has an in-depth meaning in Ayurveda and using red color aids in resolving issues that are pending for a long time.
Pink or maroon colors are meant for bringing the thoughts of celebration and happiness. Bright yellow indicates a good start for achievements or academic pursuits as it pacifies pitta responsible for intelligence.
White is absolutely a symbol of peace and using white roses in color therapy aids in abolishing abusive memories, pride, greed, covetousness and is the best way to trigger new friendship, creativity and augment understanding. White color aids in treating vata imbalances, which are responsible for innovation, emotions and friendship.
2. Sense of smell:
Aromatherapy is the Ayurvedic way of using aromatic compounds in treating health conditions. The aromatic molecules present in essential oils enter the nasal passage and reach the limbic system of the brain, which is responsible for controlling emotions and other major functions of the body.
Inhaling the aroma of Rose essential oil by using it in baths, vaporizers, diffusers, burners, tissues or handkerchiefs can help in treating a number of physical and psychological illnesses.
Adding 2 drops of rose essential oil in your air freshener, diffuser, vaporizer or burner can certainly aid in alleviating stress, depression, loneliness, tension headache, mental pressure and lack of confidence.
The anti-depressant properties of this oil when inhaled, influences the central nervous system and boosts self-confidence, self-esteem, mental power, positive feelings, intelligence, hope and the power of fighting back. A popular 2004 study on 'Anxiolytic-like effects of rose oil inhalation' proved that inhaling Rose oil reduced anxiety in a group of rats.
Rose essential oil is undoubtedly a commendable aphrodisiac that has mesmerized everyone right from the Kings and Queens of the ancient period till the common populace of this contemporary world.
There is no romance without rose in many parts of the cosmos. Inhaling the aroma of Rose oil by adding 2 drops of Rose essential oil to a sensual bath before bed or to your diffuser in your bed room or your pillows can recreate the magic of love by boosting sexual feelings in both the partners.
3. Sense of taste:
Rose petals were a prominent ingredient in many Ayurvedic preparations for enhancing overall health.  Many tonics and natural drinks prepared with rose are said to increase the complexion, enhances the tissues of the body and bring in a natural glow from within. The most popular drinks prepared with Rose are Rose petal milk, Rose petal Lassi, Rose petal thirst quencher, Rose wine and Gulkand.
Taking such rose drinks internally helps in reducing excess of pitta, the heat element in the body, purifying the blood, increasing the memory power, augmenting digestion, reviving the reproductive tissues, treating menstrual problems, promoting the process of cell-regeneration, checking constipation, treating sore throat, tiredness, acne, anemia, tonsillitis and certain other nervous disorders.
4. Sense of touch:
Skin is the largest organ of the human body and acts as a protective shield for other parts of the system against microbes, aids in managing various climatic conditions.
According to Ayurveda, skin aids in absorbing the vital nutrients in essential oils very quickly and transmit the energy through the bloodstream and the entire body. Ayurvedic treatment through the sense of touch includes Abhyanga, the traditional art of massaging, in baths, steam inhalation, in compresses and in topical application like creams and lotions.
Massaging your body with 2 to 3 drops of Rose essential oil blended with soothing carrier oils like Sweet almond oil aids in treating spasms, pain, inflammation, bloating, wrinkles, trauma, stress, nervous tension, sexual debilities, headache, infections and skin ulcers.
It also helps in regulating the acid levels and bile secretion in the stomach and gall bladder, helping with acidity and other digestive problems. The laxative and depurative properties of this oil help in eliminating toxins from the blood and stimulate the anal and intestinal muscles for cleansing the bowel.
Massaging the soles of your feet with 2 drops of Rose essential oil blended with Jojoba oil for promoting good sleep, treating nightmares, insomnia, sexual problems, depression, fear and fatigue. Massaging the soles of your feet grants instant relief because it is regarded as the most absorbent part of the body for absorbing the healing molecules present in essential oils by the bloodstream.
Rose essential is a gift to women as it is known to treat womanly problems like menstruation, menopause and frigidity. Mood fluctuations, abdominal pain, muscular cramps, vomiting, headache and other problems associated with PMS can be treated aromatically by gently massaging your abdomen with 3 drops of rose essential blended with coconut oil or by using 2 drops of rose oil either in cold or warm compress.
This formula works like a magic as Rose essential oil has emmenagogue properties that help in regularizing menstruation, treating blocked periods and enhancing fertility by promoting the secretion of estrogen, the female reproductive hormones. A 2008 study on effects of essential oils massage on 52 women undergoing menopause, proved that weekly massages with essential oils like rose, lavender, jasmine and rose geranium showed positive effects on menopausal symptoms.
Inhaling the remedial aroma of Rose essential oil by adding 3 to 5 drops in steam bath will aid in treating migraine pain, asthma, liver congestion, cold, chest congestion, cough, nausea, hay fever and certain other respiratory infections.
Adding few drops of Rose oil to your skin care cream or lotion will aid in treating pimples, oily skin, scars, wrinkles, eczema, dry and lifeless skin. It enhances blood circulation, moisturizes the skin, repairs and replenishes the dead cells and cleanses the pores deeply for granting spotless skin naturally.
The antibacterial and antiviral properties of Rose oil strengthens the immune system by fighting against the harmful bacteria and viruses causing illnesses like typhoid, cholera, diarrhea and other infections.
Rose oil assists in strengthening the heart and nourishes the 'heart-yin', which helps in healing emotional illnesses.  A 2009 research on 'Relaxing effect of Rose oil on humans' demonstrated that the transdermal absorption of 'Rose oil caused significant decreases of breathing rate, blood oxygen saturation and systolic blood pressure, which indicate a decrease of autonomic arousal'. The results of this research also proved the relaxing effect of Rose oil instilled great relief from stress and depression.
Rose essential oil has been in use for more than thousands of years for implanting spiritual feelings and augmenting mental clarity.
It is for these strong reasons fresh Rose flowers and its essential oil are used in prayers, meditation and other spiritual ceremonies. Rose oil is known to benefit the heart chakra that is purely responsible for unconditional love and that is what Rose is known for all over the world.
Disclaimer:
Do not ingest or apply essential oils directly on your skin without the advice of your healthcare professional as pure essential oils are highly concentrated liquids and may cause harm. Consult with your Ayurvedic practitioner before using essential oils for your specific constitution and health conditions.
Thought for the day:
"What's in a name? That which we call a rose by any other name would smell as sweet."                                                                – Shakespeare in Romeo and Juliet
Suggested Reading:
Reference Links: