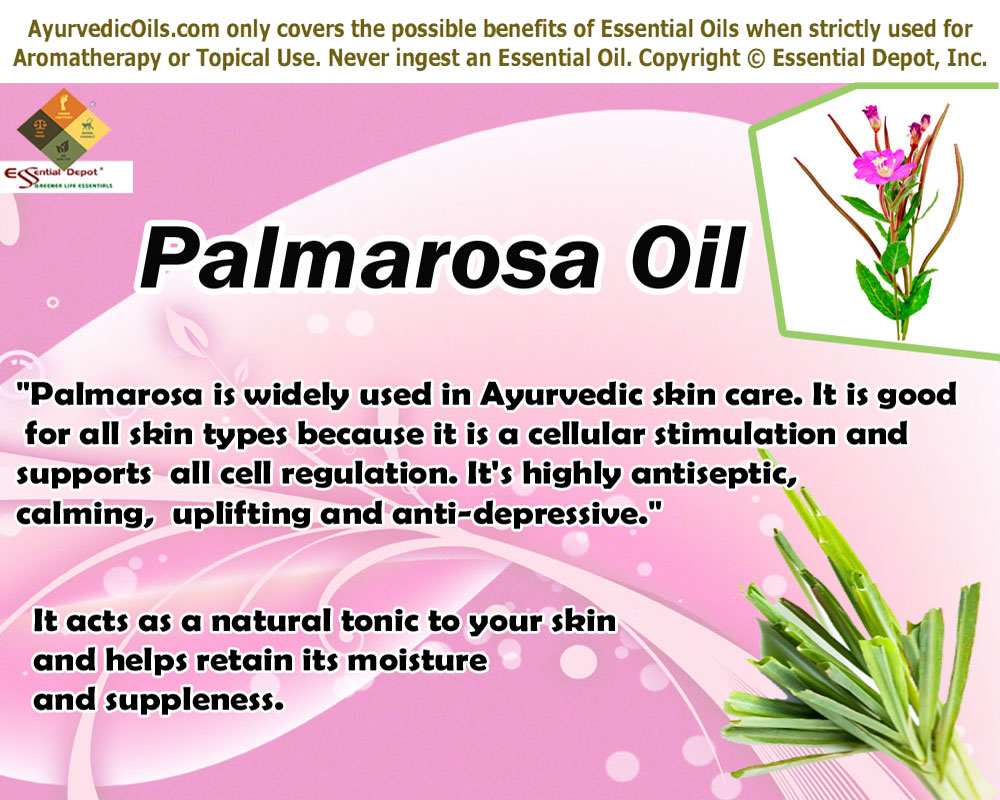 Palmarosa oil is an absolute skin supporter for its immense medicinal benefits to the skin. With a much similar aroma like rose, this oil is used for moisturizing the skin and pacifying the mind. Scientifically known as Cymbopogon martini, Palmarosa is indigenous to the Indian sub-tropical regions and is a member of the grass family Graminaceae.
The essential oil of Palmarosa is extracted by steam distillation method from the dried grassy leaves that are harvested before flowering. In her book 'Ayurveda and Aromatherapy', Light Miller says "Palmarosa is widely used in Ayurvedic skin care. It is good for all skin types because it is a cellular stimulator and supports all cell regulation. It's highly antiseptic, calming, uplifting and anti-depressive."
Purchase Palmarosa Essential Oil – Retail – CLICK HERE
Purchase Palmarosa Essential Oil – Wholesale – CLICK HERE
Historical uses of Palmarosa oil:
The most popular historical use of Palmarosa oil is that it has been used as a substitute as well as to adulterate rose oil with its rosy aroma. This oil was also used in making incense blends in India and was traded from India to Persia after which the western use of this oil began slowly.
It was also prescribed by the Indian doctors to lower fever and fight against infections. The ancient Indians also used Palmarosa oil for treating nerve pain, fever, rheumatism and certain other infectious diseases.
Chemical constituents or Gas Chromatography Report (GC) of Palmarosa oil:
According to the Gas chromatography report, Palmarosa oil constitutes of 14 chemical components that contribute to its fragrance, therapeutic attributes, consistency and quality. Of which, Geraniol contributes to the highest proportion of Palmarosa oil constituents with about 79.4% of its total composition.
Just click on:
I believe that this must certainly help you in getting to know the exclusive information about these prime chemical constituents of Palmarosa oil.
The table crafted below clearly depicts the unique nature and contributions of these biochemical constituents to the healing magnificence of Palmarosa essential oil.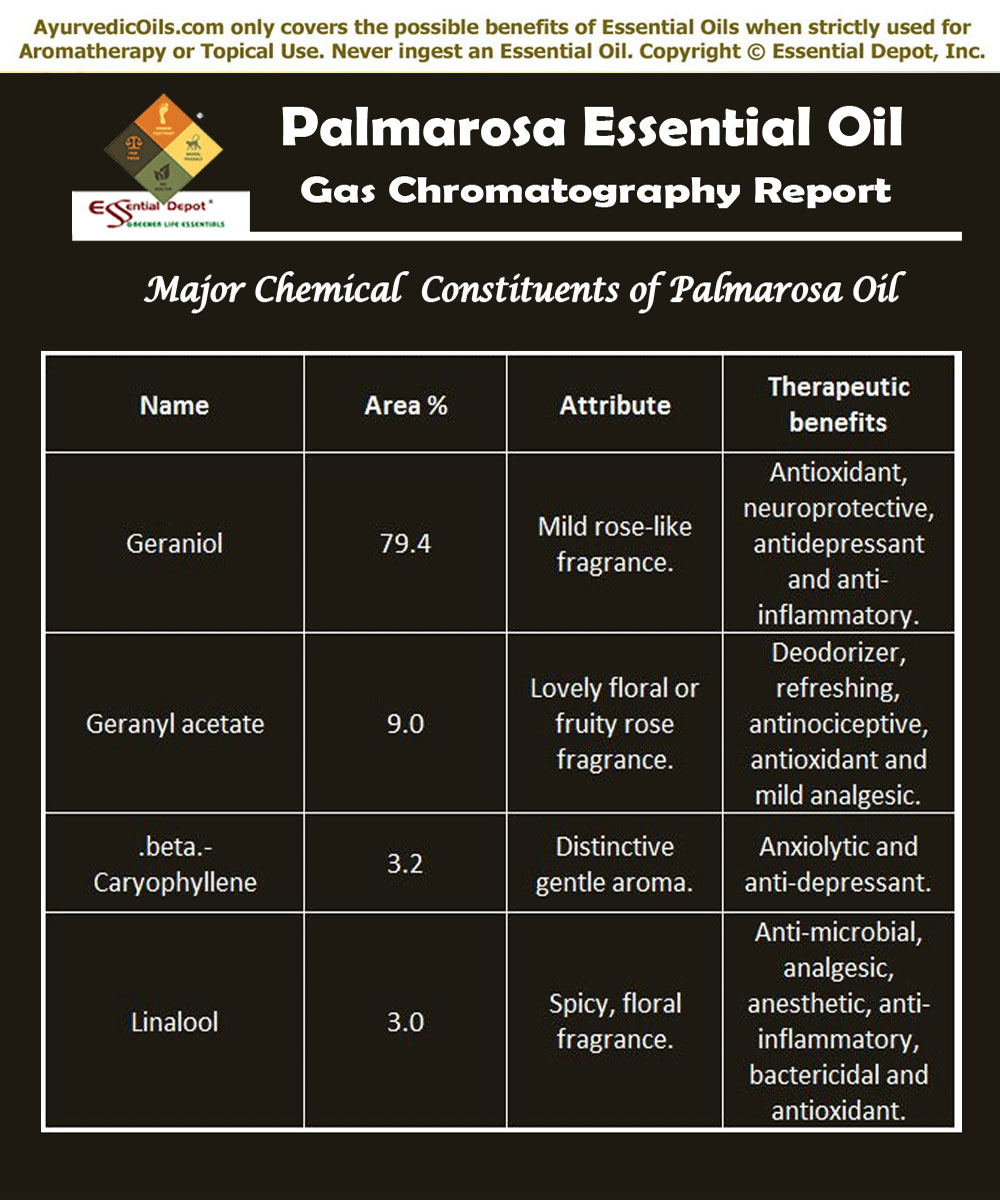 Therapeutic properties of Palmarosa essential oil:
Palmarosa essential oil has regenerative, antiseptic, antibacterial, cytophylactic, febrifuge, aphrodisiac, stimulant, moisturizing, antiviral, hydrating and digestive properties.
Ayurvedic health benefits of Palmarosa essential oil:
The richness of Ayurveda lies in its holistic approach towards health and harmony. Ayurvedic texts state that illness is just an indication symbolizing that there is imbalance between the mind, body and spirit with nature. It illustrates that human body is made up of three energy components namely vata, pitta and kapha together known as doshas in Ayurveda.
Vata is a combination of air and space and promotes biological functions responsible for external and internal movements of the body. Pitta represents fire and water and is responsible for metabolic functions and certain psychological attributes.
Kapha is a blend of water and earth and governs the functions of tissues, retains the balance of water, fat and other fluids in the body. Imbalance of any one of these doshas or all the three doshas results in illness. Palmarosa essential oil is known to reduce the excess of vata, pitta and kapha flow.
The Ayurvedic health benefits of Palmarosa oil are: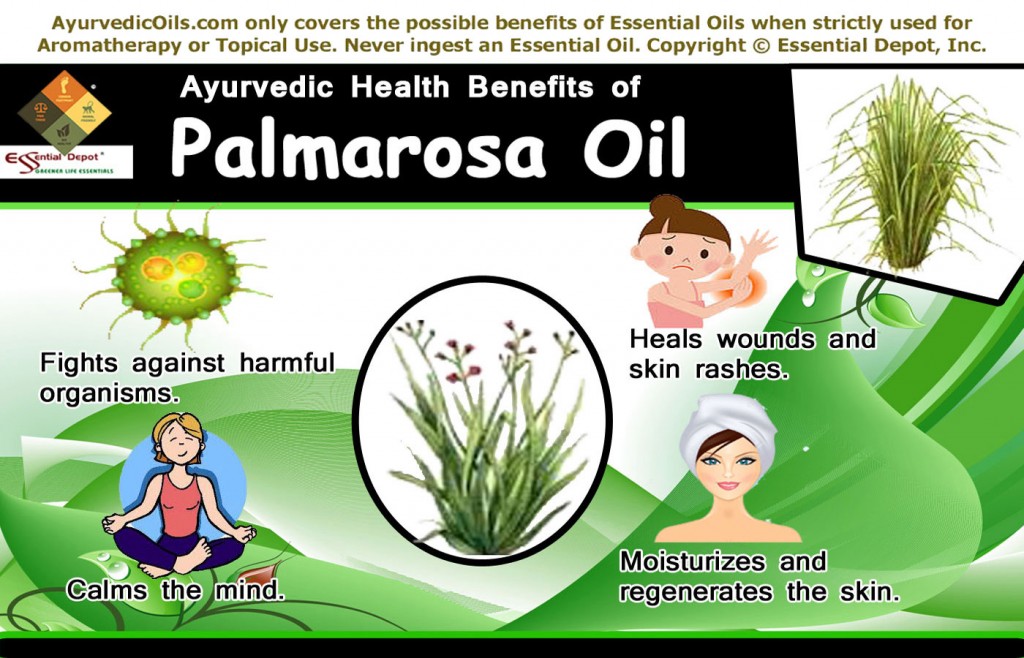 1. Fights against harmful organisms:
As an effective bactericide and antiviral oil, Palmarosa essential oil helps in killing harmful bacteria, viruses and other microbes. When applied topically after adding few drops of Palmarosa oil to ointments, skin care creams or lotions, this oil inhibits the growth of dangerous viruses that protect themselves by developing a hard cyst around them. Viral infections like athlete's foot, ringworm and prolonged itching can be treated effectively by applying this blend externally.
A 2009 study on 'Antibacterial Activity of Essential Oils from Palmarosa, Evening Primrose, Lavender and Tuberose', proved that among these four tested essential oils, the essential oil extracted from Palmarosa reflected the highest activity against both gram negative bacteria like Staphylococcus aureus and gram positive bacteria like Escherichia coli.
Staphylococcus aureus causes numerous infections like urinary tract infections, skin lesions, pneumonia and meningitis. Escherichia coli are generally present in human intestines and cause food poisoning. You can add 2 drops of Palmarosa oil in warm bathing water or blend it with jojoba oil and use it as a massage oil for inhibiting the growth of bacteria.
2. Heals wounds and skin rashes:
The antiseptic properties of Palmarosa oil makes it an aromatic remedy for healing your wounds, cuts, burns, rashes and other skin infections. Using it as an liniment after adding 2 to 3 drops of Palmarosa oil to your skin care cream or lotion, aids in mending your wounds as well as protect them from being septic.
This is mainly because Palmarosa oil has antibacterial properties that ward off gram negative bacteria like Staphylococcus aureus that is wholly responsible for a wound to become septic. You can also use 2 to 3 drops of this oil in your bath for alleviating pain, spasms, convulsions and other skin infections.
3. Moisturizes and regenerates the skin:
Palmarosa oil is known as one of the best oils for treating problems with dry, dull and oily skin. It acts as a natural tonic to your skin and helps retain its moisture without allowing it to dry and turn lifeless.
Gently massaging your skin with 2 drops of Palmarosa oil and coconut oil will help in regulating the secretion of sebum, hydrating the skin, keeping it soft and supple and fighting against wrinkles and other symptoms of aging.
With its cytophylactic properties, Palmarosa essential oil assists in generating the growth of new skin cells and restores skin health by repairing the damaged skin cells due to environmental conditions, ageing and lack of moisture.
It enhances the defensive mechanism of the cells in the body and strengthens the immune system. The anti-inflammatory and cooling mechanism of this oil aids in treating eczema, psoriasis, boils, dermatitis, inflamed skin and wrinkles.
2 drops of Palmarosa essential oil can drive in the magical remedy for your skin. You can use it as a massage oil by blending it with jojoba oil or add it to your bath tub or to your skin care cream and lotions for visible results.
Palmarosa oil is also said to cure candida, shingles, rashes, acne and blemishes. It is also known for treating acne scars and for reducing the appearance of broken capillaries.
4. Calms the mind:
Palmarosa essential oil has a gentle, misty and lemony-rose fragrance that is comforting and calming to the mind and body. Adding 2 to 3 drops to your diffuser, air freshener, burner, vaporizer, linen or to your pillows grant a feeling of contentment, sense of security, adaptability to the existing situation, rekindles the aura, clarifies thoughts and augments the trust in the sacred stream of life.
Palmarosa oil also aids in treating nervousness, anger, anxiety, fear, possessiveness, jealousy, insomnia and resentment.
Other health benefits:
Palmarosa essential oil has been in use since the primordial times for cooling down fever with its triple healing power of being an antiviral, antibacterial and antiseptic oil.  It is also effective in treating digestive disorders, intestinal problems, stiff and sore muscles, bruising, heart palpitations and for strengthening the heart yin.
Disclaimer:
Always use essential oils for topical application and for aromatherapy uses only. Never ingest essential oils without the proper guidance of your healthcare provider. Keep away from children and do not use essential oils if you are pregnant. Consult your Ayurvedic practitioner before using specific essential oils for your unique health condition.
The MSDS (Material Safety Data Sheet) of Palmarosa oil is readily available for your enhanced safety and better usage.
Gas Chromatography Report (GC analysis) of Palmarosa oil.
Thought for the day:
Beauty is only skin deep. I think what's really important is finding a balance of mind, body and spirit.    –Jennifer Lopez
Suggested Reading:
The Essential Guide to Natural Skin Care: Choosing Botanicals, Oils & Extracts for Simple & Healthy Beauty by Hélène Berton
The Book of Beauty: Making Natural Skin Care Products with Aromatherapy and Ayurveda by Samyukta Blanchet
Reference Links:
Save