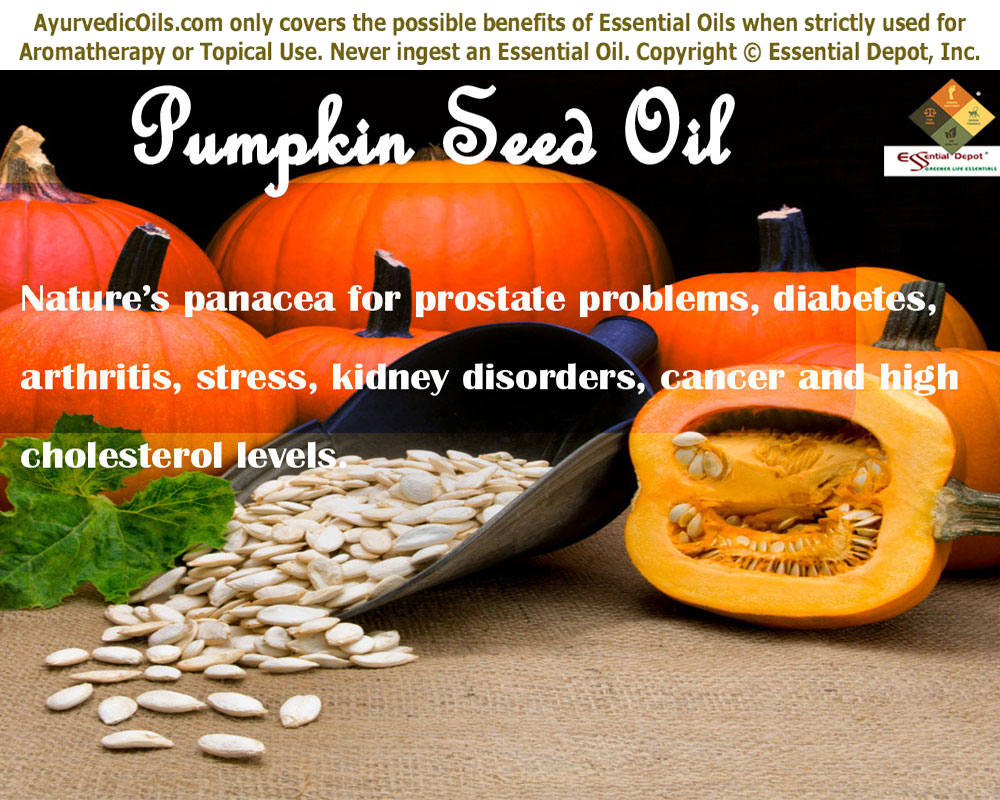 There's no Halloween without Pumpkin and there are no Pumpkin seeds without enormous healing values. These seeds are highly nutritious and the oil extracted Pumpkin seeds are often celebrated for its amazing remedial benefits to prostate problems like benign prostatic hyperplasia or BPH, diabetes, arthritis and kidney disorders.
Widely known as Pepitas, Pumpkin seeds and its oil are used and recommended in Ayurvedic healing for treating urinary problems, low bone density, arthritis, bed-wetting, joint pain, vascular diseases, controlling cholesterol levels (LDL) and for supporting the functions of the kidneys and prostate.
Purchase Pumpkin Seed Oil – Retail – CLICK HERE
Chemical constituents and therapeutic properties of Pumpkin Seed Oil:
Palmitic acid, linoleic acid, oleic acid, myristic acid, stearic acid, palmitoleic acid, linolenic acid and behenic acid are the major chemical components of Pumpkin seed oil. It also contains carotenoids like β-carotene and lutein and tocopherols including ϒ- gamma, β- beta and delta tocopherols.
Pumpkin seeds are also a rich source of zinc, proteins, magnesium, tryptopan (serotonin), thiamine and manganese.
The remedial values of Pumpkin seed oil are antioxidant, anti-arthritic, anti-parasitic, anti-inflammatory, alterative, antimicrobial, detoxifying, anti-hypertensive, emollient, nutritive, anti-inflammatory, sedative, moisturizing and tranquilizing.
Historical uses and importance of Pumpkin Seed and its oil:
Pumpkins are one among the most popular staple food and are said to have been originated in America. The term 'Pumpkin' is extracted from the Greek word Pepon and the meaning is 'large melon'. Pumpkin seeds are also known as Pepitas and the Mexican Spanish term 'pepita de calabaza' simply stands for 'little seed of squash'.
These petite but powerful seeds are said to have been discovered in the Mexican caves in 7,000 BC. The tribal populace of Native America, including the Aztec cultures (1300 to 1500 AD) has used Pumpkin and its seeds for food and medicinal purposes.
The greatest news is that Pumpkins have been planted in about 100,000 acres across U.S and Illinois is the leading producer of Pumpkins. China is the largest producer of Pumpkins in the world followed by U.S, India, Mexico, Ukraine and Russia.
The United States pharmacopoeia listed Pumpkin seeds as an effective medicine for treating parasites and these seeds have been used in the traditional and alternative medicinal practices for treating gastric disorders, urinary illnesses, prostate problems, tapeworms and intestinal parasites.
Pumpkin has been an excellent food for Pilgrims, especially for its high nutritious profile and its potent to stay fresh. This pilgrim verse written in circa 1633 utters all that is vital about Pumpkins.
"For pottage and puddings and custards and pies
 Our pumpkins and parsnips are common supplies,
 We have pumpkins at morning and pumpkins at noon,
 If it were not for pumpkins we should be undoon."
Even today Pumpkins and its seeds are used as a wholesome food by the pilgrims and have been employed as an essential part of everyday cooking across the world, including the Asian, European and Mediterranean countries.
Pumpkin seeds are loved and recommended as a healthy snack across the globe for numerous reasons and you can bank upon them during your next munch.
Ayurvedic health benefits of Pumpkin Seed oil:
Pumpkin seed oil is said to have a positive effect on all the three doshas or the fundamental energies of life.
Botanically called as Cucurbita pepo, Pumpkin like all other members of the Cucumber family, Cucurbitaceae, it is trusted as an excellent detoxifying agent in Ayurvedic healing. Thus Pumpkin and its nutrient seeds and oil are prescribed for discarding ama or toxic deposits in the system.
Ayurvedic texts prescribe its use in cleansing the bladder and other adjoining organs of the body.
The most awe-inspiring fact is that Pumpkin seeds are extremely rich in an amino acid called as tryptopan that assists in eliminating the toxins in the mind, thus assisting the treatment of stress, anxiety, trauma, anger and is also proven to enhance your cognitive abilities and tranquilize the nervous system.
Ayurveda beckons Pumpkin and its seeds as livotonic, means a tonic for the liver that helps in strengthening the liver, regulates its normal functioning and support in the treatment of hepatitis, degeneration and inflamed liver conditions.
None of us can deny that every day is a new day and a new birth in your life and it's appropriate to call it as a newer opportunity and a souvenir indeed.
The fruit of pessimism can suppress you while the seeds of optimism can impress your living. In a much similar way, disease is not a matter of agony and is instead a blessing to be happy about.
Ayurveda regards disease or sickness as an opportunity to discern the imbalance in your system. Treating the root cause of an illness can save your head now and prevent such conditions in the future as well.
Nature is the best medicine and everything present in nature is made up of five fundamental elements of Nature like earth (muscles and bone), fire (digestive fire and body temperature), water (blood and other vital fluids), air (all that we breathe) and space (spirit and soul).
Being a part of nature, any illness is an indication of being of out of balance with nature. Using natural medications can certainly assist in permanent remedy of a disease and support in leading a balanced and hearty living.
Ayurveda prescribes natural medications like herbal remedies, Ayurvedic essential oils (life force of plants), yoga (sister science of Ayurveda), meditation (tonic to the soul), Pranayama (conscious breathing technique), Abhyanga (Ayurvedic massaging), Panchakarma (detoxification practices), Dinacharya (Ayurvedic routine) and more.
Here's the heart of this article and you're right. Pumpkin seed oil can assist in the treatment of the following health conditions: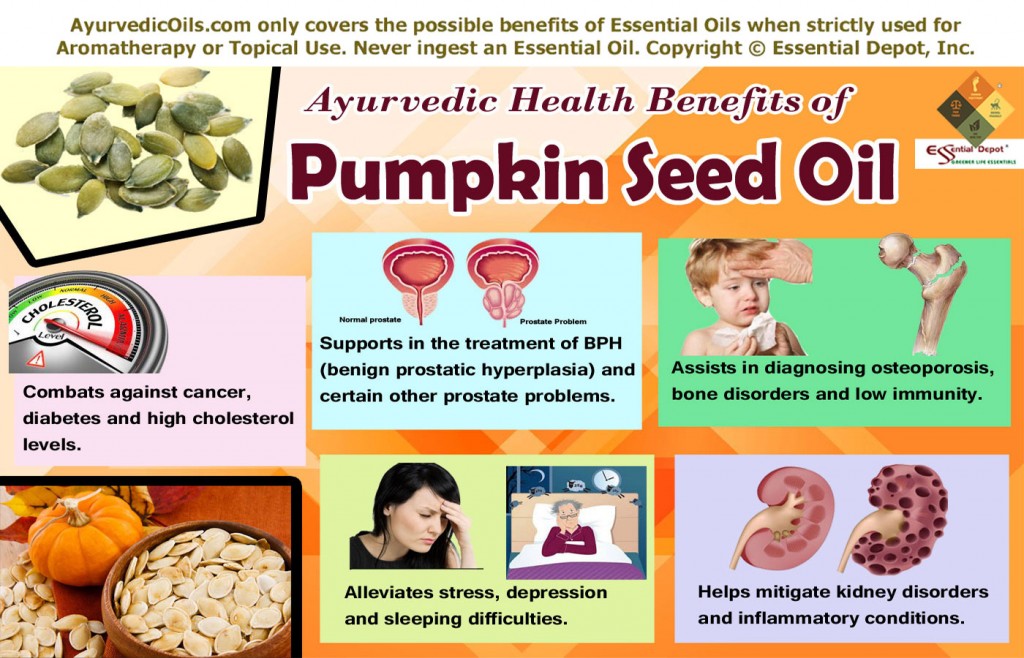 1. Supports in the treatment of BPH (benign prostatic hyperplasia) and certain other prostate problems:
Pumpkin seeds are the most favorite snack of men in Bulgaria, Ukraine and Turkey. These seeds are loaded with high zinc content and are responsible for supporting prostate health and aids in decreasing the size of prostrate.
Benign prostatic hyperplasia or BPH is a medical condition in men, which is characterized with enlarged or inflamed prostates. Even though it is non-cancerous in nature, BPH requires prompt medical attention. This in general enlarges in middle-aged and elderly men along with age.
Recent studies witness that the presence of cucurbitacins, a chemical component in Pumpkin seeds assist in thwarting testosterone (male hormone) into dihydrotestosterone (an associated element) that is said to encourage the production of prostrate cells.
The celebrated book 'An A-Z Guide to Healing Foods' by Elise Marie Collins describes that Pumpkin seed oil have been proved as an alternative remedy for treating benign prostate enlargement and its varied symptoms. Marie also suggests that the use of Pumpkin seed oil along with other natural medications like Saw Palmetto for effective treatment of prostate conditions.
What is all in Pumpkin seeds that can help in the treatment of BPH? The presence of zinc, lignans and phytosterols in these tiny little seeds has been effective in reducing the risk associated with BPH.
Various research analysis reports on the phytosterol components in Pumpkin seeds, including sitostanol, beta-sitosterol, avenasterol, campestanol, stigmasterol and campesterol are responsible for its efficacy in the diagnosis of BPH.
Ayurveda calls Pumpkin seed as Basti Shoda, which means a remedy for cleansing the bladder and the adjacent parts of the body.
Pumpkin seeds and its oil were also prescribed in Ayurvedic medicine for increasing sperm count and for treating impotence and premature ejaculation, for which it is known as 'Virya Vardhak', which enhances intense power and vitality.
2. Combats against cancer, diabetes and high cholesterol levels:
Pumpkin seeds have antioxidant and anti-inflammatory properties that can help in preventing the growth and spread of cancerous cells and support the recovery of patients during their treatment tenure and healthy cardiovascular system.
The presence of phytosterol compounds in Pumpkin seeds has been associated with controlling the level of cholesterol in the system. Phytosterols work by restraining the absorption of cholesterol in the small intestine and enhance the level of HDL cholesterol.
A 2011 study on 'The effect of pumpkin (Cucurbita pepo L) seeds and L-arginine supplementation on serum lipid concentrations in atherogenic rats' published in the African Journal of Traditional, Complementary and Alternative Medicines, states that about 37 days of regular supplementation of Pumpkin seeds on rats that are on atherogenic diet-induced atherosclerosis showed a 78 % fall in LDL (bad) cholesterol and 47% reduction in total levels of cholesterol and a promising increase in defensive HDL cholesterol (imperative for healthy heart functions).
A 2013 study on 'Effects of phytoestrogen extracts isolated from pumpkin seeds on estradiol production and ER/PR expression in breast cancer and trophoblast tumor cells' by the Department of Obstetrics and Gynaecology, University of Rostock, Germany states "Phytoestrogens have a controversial effect on hormone-dependent tumors" and it concludes by reporting that the presence of lignans in Pumpkin seed are effective in the treatment and prevention of breast cancer.
Numerous researches suggest that the presence of omega-3 fatty acids like α-linolenic acid in Pumpkin seed oil might aid in reducing inflammation and the occurrences of chronic health problems like high blood pressure, cancer and heart diseases, quotes the University of Maryland Medical Center.
Pumpkin seeds are alkalizing in nature to the body's natural pH levels, where most of the snack foods might cause acidity, pain and even cancer. Pumpkin seed oil is also effective in reducing the oxidative stress responsible for cancer, diabetes and other metabolic disorders.
A research study led by Tao Xia in the East China Normal University have concluded that certain compounds in Pumpkin extracts are known to encourage regeneration of damaged pancreatic cells, thus enhancing the levels of insulin in blood.
3. Assists in diagnosing osteoporosis, bone disorders and low immunity:
The most promising attribute that makes Pumpkin seed oil as an armament against osteoporosis is its high zinc, phosphorous and magnesium content, where insufficient consumption of zinc, magnesium and certain other minerals are often associated with weak bones and increased rate of osteoporosis.
Zinc plays a vital role in cellular growth, immune power, sensory functions and sleep patterns. Deficiency of zinc is characterized by acne, frequent cold and cough, depression, fatigue, poor cognitive abilities and more.
Low levels of blood of the trace mineral and osteoporosis diagnosed at the spinal and hip area were reported due to the deficient levels of zinc in the diet, states a study published in the American Journal of Clinical Nutrition with 400 men in the sample group.
4. Alleviates stress, depression and sleeping difficulties:
Pumpkin seed oil contains numerous amino acids like tryptophan, which gets transformed to niacin and serotonin (neuro-transmitter in the brain for stirring your mood). These compounds have been proved universally for its ability to assuage stress levels, social anxiety turmoil, and depression along with fostering a tranquilizing sleep.
Sleep is nature's medicine for repairing, healing and renovating the physical, emotional and spiritual throbbing and damages. Stress, depression, anxiety and fatigue often curtail natural sleep patterns that agonize your nights and ruin your days throughout.
By promoting a peaceful sleep at night, Pumpkin seed oil pacifies the mind, body and the soul. Stress, anxiety and depression are often the factors behind excessive loss of hair. With its potent to alleviate stress, depression and fatigue, Pumpkin seed oil can control stress related hair loss conditions like Alopecia Areata, Trichotillomania, and Telogen Effluvium.
Pumpkin seed oil promotes hair growth by augmenting the follicular strength, and natural sheen says Marnie Nussbaum, celebrated Cosmetic dermatologist. She also states that Pumpkin Seed oil curtails 5-alpha reductase enzyme. This enzyme has been proven to delay and impede the growth of hair.
Pumpkin seeds are packed with rich nutrients including vitamins A and B, zinc, protein, iron and omega-6 fatty acids that are extremely beneficial for the growth of healthy hair, nourishment of dry and scaly scalp conditions.
5. Helps mitigate kidney disorders and inflammatory conditions:
Pumpkin seeds are an excellent source of antioxidants and essential fatty acids that are proved in treating inflammatory problems by reducing inflammation, particularly in joints without any negative effects (According to a study published in the Journal of Pharmacology Research). It is mainly for this reason; Pumpkin seed oil is recommended for treating arthritis.
Frequent urination and the excess pressure to urinate recurrently are among the few symptoms of an overactive bladder. Pumpkin seeds are an excellent remedy for supporting the overall health of the excretory system and treats overactive bladder and other urinary problems effectively (With reference to the Journal of Traditional and Complementary medicine – 2014 study).
BPH (Benign prostatic hyperplasia) might also pave way for stones or calculi in the bladder and frequent infections in the urinary tract.
The presence of B vitamins, minerals, amino acids and proteins in Pumpkin seeds are also proved to maintain regular functions of the kidneys, bladder and urinary tracts by restraining surplus levels of DHEA (dihydro epi-androstenedione).
Best ways to use Pumpkin Seed oil:
The best possible ways to use Pumpkin seed oil for enhancing your health condition is to use it in an enriching massage blend with your favorite essential oils like Peppermint oil, Mace oil, Lavender oil, Patchouli oil, Ashwagandha oil, Orange oil and more, as the great news is………….. Pumpkin seed oil blends well with all the oils.
Other health benefits:
Ayurveda suggests the use of Pumpkin seeds and its oil for balancing excess vata and pitta doshas, especially during the fall season and discarding toxic remains in the system. Pumpkin seeds in general are known to strengthen the functions of the lungs and intestines.
The potent to relieve excess sogginess in the body, makes Pumpkin seeds a friendly all time snack for supporting human health in general. It is also used in eliminating parasites and tapeworms.
Disclaimer:
This article is meant only for the purpose of information and is not indented for the treatment of any health conditions or as a replacement for any prescribed medicines or the advice of a medical expert. We, at Essential Depot are not healthcare professionals and this information is shared only with the view of cascading the traditional wisdom of Ayurvedic healing.
Essential oils are prescribed only for topical use. This is due to the fact that 100 percent pure and organic oils are highly concentrated liquids and may cause allergic reactions when used internally.
Always speak with your Ayurvedic practitioner or healthcare expert before choosing the appropriate essential oils for your unique individual constitution and state of health. Extra care should be taken in using essential oils if it is for children, elderly populace, nursing and pregnant women.
Thought for the day:
I love the scents of winter! For me, it's all about the feeling you get when you smell pumpkin spice, cinnamon, nutmeg, gingerbread and spruce.
– Taylor Swift
Suggested Reading:
Reference Links: