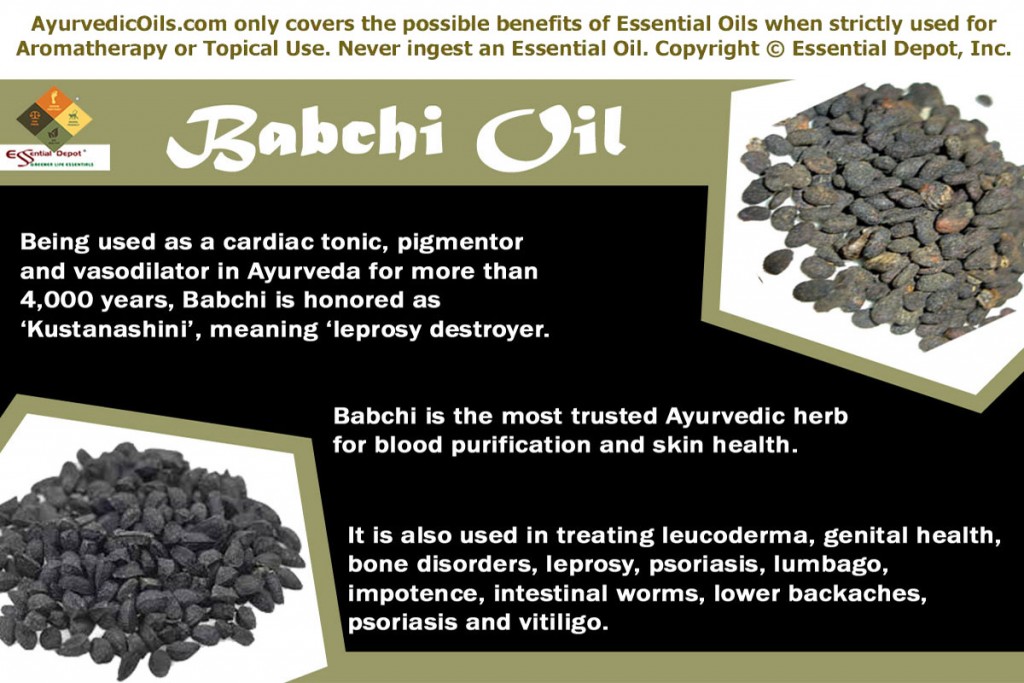 Babchi is honored as 'Kustanashini' in Ayurveda, meaning 'leprosy destroyer'. As the most trusted Ayurvedic herb for blood purification and skin health, Babchi enjoys the sovereignty as a celebrated natural remedy in Ayurveda, Siddha and Homeopathic medicine for treating leucoderma, genital health, bone disorders, leprosy, psoriasis, lumbago, impotence, intestinal worms, lower backaches, psoriasis and vitiligo.
Babchi is a commercial Hindi name for Psoralea corylifolia and the Sanskrit name is Bakuchi. It is a part of the Fabaceae plant family. The essential oil of Babchi is extracted from its seeds by steam distillation method.
It is used as a cardiac tonic, pigmentor and vasodilator in Ayurveda for more than 4,000 years. The fruits and seeds of this plant have been talked about in Sushruta Samhita, the most renowned Ayurvedic encyclopedia by Acharya Sushruta for treating various health conditions including leucoderma, leprosy, stress, vitiligo and reproductive problems.
Historical uses and importance of Babchi and its essential oil:
With a longer historical use in various traditions across the world, Babchi or Psoralea corylifolia is gaining popularity even in the manufacturing of modern medications for its promising historical use, improved patient tolerance, varied health benefits and comparatively lower side effects.
Held high as the key herb in China and Japan, Psoralea is known as Bu gu zhi in Traditional Chinese Medicine and it simply means "tonify bone resin". The Japanese and Chinese herbalists recommend the use of this herb for improving bone calcification, augmenting the bone strength and for treating vitiligo, hair loss, osteoporosis, lower back pain, impotence, bed wetting and bone fractures.
Babchi was prescribed in the TCM (Traditional Chinese Medicine) for tonifying the kidneys, especially kidney yang and essence. Indigenous to India, the land of rich traditional values, Babchi is a vine-like plant that grows up to 3 feet height. It is also found growing in China and other Asian countries. This medicated plant bears purple or blue colored flowers followed by black color fruits that contain a single seed.
Almost all the parts of this plant have therapeutic values but the essential oil is extracted from the seeds of this plant. The leaves of this plant has been used for treating diarrhea, the bitter fruits are recommended for treating piles, anemia, bronchitis, vomiting and dark complexion, whereas the roots are prescribed for relieving tooth decay and osteoporosis.
Babchi seeds are the powerhouse of its remedial properties and the source of its essential oil. The seeds, its essential oil and other extracts are used in various holistic healing methodologies since the ancient period in the treatment of leprosy, cardiovascular problems, leucoderma, liver inflammation, jaundice, uterine hemorrhage, premature ejaculation, asthma, alopecia areata, menstrual discomforts, skin pigmentation problems and various other health conditions.
Therapeutic properties and chemical constituents of Babchi oil:
The major chemical constituents of Babchi oil are psoralen, bakuchiol, limonene, linalool, angelicin, α-elemene, isopsoralen, bavachalcone, bavachin, 6-prenylnaringenin, corylifol, isobavachalcone, corylin, psoralidin, corylifolin, methyl 4-hydroxybenzoate, bavachromanol and neobavaisoflavone.
These components contribute to its healing values like antibacterial, antifungal, antioxidant, anti-tumor, antidepressant, aphrodisiac, stimulant, diaphoretic, stomachic, antiviral, anti-hyperglycemic, astringent, cytotoxic, diuretic, cardiac, tonic, anthelmintic, deobstruent and laxative.
Ayurvedic health benefits of Babchi essential oil:
This medicated plant is a traditional Ayurvedic remedy for addressing extensive range of illnesses including skin disorders and reproductive problems. With Bakuchi and other Sanskrit names, Babchi oil has a bundle of other regional names to it.
Being the oldest of all medical systems in the world, Ayurveda insists on living a disciplined life for absolute health and longevity. Unlike the modern medicinal practices, Ayurveda defines health as a combination of physical, emotional, psychological, spiritual and environmental aspects.
Charaka Samhita states this as, "The three – body, psyche, and soul – act as a tripod. The world stands upon them, and within them, the world abides." The uniqueness of Ayurveda stays in its holistic system that treats the root cause of an illness instead of the symptoms alone. This helps in curing the disease as well as preventing it in the future as well.
According to Ayurveda, all things on earth are a part of nature and Mother Nature has all the remedies for humanity and other beings on earth. It further states that sickness occur when there is imbalance between an individual and nature. With this strong trust, Ayurvedic healing revolves around Nature and its natural remedies for treating mankind.
Ayurveda is also called as the Mother of all other healing sciences on earth including Siddha, Unani, Homeopathy, Chiropractic, Allopathy, Acupressure, Naturopathy, the Traditional Chinese Medicine and many other systems.
The beauty of Ayurveda is that its healing methodologies are documented well and the first Ayurvedic reference is in Atharvaveda, one among the 4 sacred books of the ancient Indian mythology with 114 verses explaining numerous health conditions and the respective traditional remedies of Ayurveda.
The 3 Ayurvedic encyclopedias including Charaka Samhita by Acharya Charaka – the father of medicine, Sushruta Samhita by Acharya Sushruta – the father of surgery and Ashtanga Hridaya Samhita added glory to the world of Ayurveda.
These priceless Ayurvedic texts have shared various thoughts on all the basic principles of Ayurveda, numerous types of illnesses and its comprehensive healing techniques. These books contain Ayurvedic remedies for innumerable diseases including cancer.
Ayurveda never trusts on the principle of "one size fits all". It strongly says that every individual is a unique part of nature and the remedy for their illnesses should also be unique based upon their unique individual constitution.
Prakriti or the unique individual constitution is a combination of three biological energies called as doshas or Ayurvedic body types. They are vata, pitta and kapha. These Ayurvedic body types are an arrangement of the five elements of nature namely earth, fire, space, water and air.
According to this principle, every human being has a dominance of any one of these doshas, which decides the physique, behavioral patterns, traits, personality and mental structure. Perfect balance between these doshic types signifies health and imbalance between these doshas lead to sickness.
Ayurvedic philosophy recommends natural remedies like herbs, plant essential oils, meditation, simple physical exercises, yoga, Ayurvedic routine, Pranayama, prayers and other Ayurvedic techniques including Abhyanga or the art of Ayurvedic massaging using Ayurvedic oils, Panchakarma or the detoxification therapy and many other holistic treatments.
Babchi essential oil is prescribed in Ayurvedic healing for enhancing pitta dosha and balancing kapha and vata dosha.
Let's look at the Ayurvedic health benefits of Babchi oil and its use in the healing of various health problems: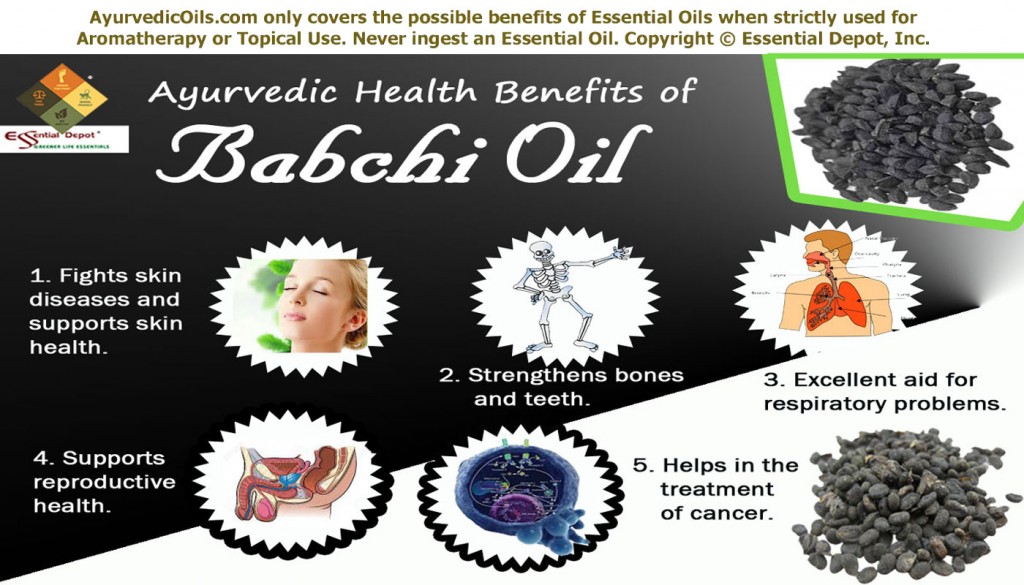 1. Fights skin diseases and supports skin health:
Babchi seeds and its oil are called as Kushtaghni in Ayurveda, which means remedy for treating skin diseases. It is also called as Kustanashini, meaning leprosy demolisher. Since the primordial times, Ayurveda prescribes Babchi herb and its various extracts in the treatment of skin problems including eczema, dermatitis, skin eruptions, boils, leucoderma, scabies, vitiligo and ringworm.
Celebrated as a promising ancient remedy for vitiligo or leucoderma, Babchi oil has been used even in the modern medicine for treating such skin conditions. Vitiligo is an upsetting skin condition, which occurs due to the loss of melanin pigments or the death of melanocytes cells in skin, leading to white patches. Often, this skin condition is said to occur due to problems in the immune system.
The white patches appear smaller in the beginning and have the tendency to enlarge or increase in size. These patches are often seen on the hands, face, wrist, eyes, umbilicus and genitalia. Vitiligo patients also undergo depression due to the ugly look of these patches on their visible skin.
Numerous researches state that the presence of furanocoumarins, containing psoralens in Babchi oil promote pigmentation and support the stimulation of melanin pigments in the skin structure. Scientific studies have also proven that psoralen in Babchi oil shores up residual pigmentation and improves skin health.
A 2008 study on "Antipsoriatic microemulsion gel formulations for topical drug delivery of Babchi oil (Psoralea corylifolia)" published in PubMed states that Babchi oil contains a chief constituent psoralen, which is a "photoactive furocoumarin that binds to DNA when exposed to UV light to form photoproducts with pyrimidine base." It further states "this action inhibits DNA synthesis and causes decrease in cell proliferation." It is concluded that Babchi oil is helpful in the treatment of psoriasis by topical usage.
Many Ayurvedic physicians state that Bakuchi is predominantly the only oil that is known for its dual action on both melanoblastic cells and the Rouget's cells in the human skin, whereas leucoderma occurs due to the improper functioning of the melanoblastic cells. These cells are stimulated by the oil and sebum secretion in the skin and leads to the formation of pigment, which later diffuse into discolored skin surface.
Mix 2 drops of Babchi oil with 1 drop of Lavender oil, 1 drop of Orange oil and 1 drop of Frankincense oil along with 2.5 ml of Jojoba oil and applying it on the affected parts helps in  treating itching, ringworm, scabies, skin eruptions, edematous skin conditions, vitiligo, inflamed skin nodules, eczema, red papules, discolored dermatosis and much more.
This blend works by promoting blood circulation, purifying the blood, supporting the production of melanin pigments and thus improving the color of hair, skin and nails naturally. It is for these reasons Babchi oil is called in Ayurveda as Tvachya, means beneficial for skin and Keshya, means enhances the luster and health of hair.
2. Strengthens bones and teeth:
Bones and muscles are a representation of the element 'Earth' among the five fundamental elements of nature. Babchi essential oil is known to pacify excess of kapha dosha, which is a combination of water and earth elements. This aids in strengthening the bones by improving bone calcification.
Babchi oil is a rich source of calcium and massaging your system with 5 drops of Babchi oil, 2 drops of Black Cumin oil, 2 drops of Birch oil along with 10ml of sesame oil can assist in strengthening your bones, enhance calcium in the system, help recover from dislocation of bones or fractures and boost women's health in case of osteoporosis.
The essential oil of Babchi also has antibacterial, astringent, antiseptic and antimicrobial properties that aid in the treatment of plaque, weak gums, halitosis or bad breath, bleeding gums and other oral conditions.
A cup of warm water with 1 drop of Babchi oil and 1 drop of Clove oil can work like a magic on your teeth, gums and mouth, when used as a gargle in the morning and night. This aids in strengthening your gums and teeth.
3. Excellent aid for respiratory problems:
With its power to balance excess of kapha dosha, which is responsible for accumulation of phlegm and mucus deposits in the lungs and respiratory passages, Bakuchi and its essential oil is quoted as Shleshmahara, Jwarahara and Shwasahara.
Shleshmahara is an Ayurvedic aid that pacifies imbalanced kapha and Shwasahara means an effective remedy for treating asthma, dyspnoea, bronchitis and other severe respiratory disorders. Bakuchi oil is also powerful in reducing chronic fever for which it is called as Jwarahara.
2 drops of Bakuchi oil along with 1 drop of Peppermint oil added to steam inhalation can aid in relieving nasal congestion, bronchitis, cold, whooping cough, headache, sinusitis, asthma and breathing difficulties. Massaging your throat, chest and back with 1 drop of Babchi oil added with your vaporizing ointment can help in improving your health condition in case of respiratory problems.
Adding 2 drops of Babchi oil to warm bathing water can assist in keeping away from infectious micro-organisms that worsen respiratory infections. Gently massaging your foot soles with 2 drops of Babchi oil mixed with 1 drop of Cajeput oil and 1 drop of Basil oil along with 2 ml of coconut oil can help in reducing the temperature even in case of high fever.
4. Supports reproductive health:
Babchi oil has natural aphrodisiac properties that help in supporting reproductive problems both in men and women. Ayurveda and the Traditional Chinese Medicine recommend Babchi and its essential oil as an excellent tonic for the entire system and were trusted to enhance vitality and absolute health in general.
For these special reasons, Babchi oil was prescribed for treating problems of the reproductive system including the genital organs in both the genders. The powder of the Babchi fruits and seeds along with its essential oil were prescribed in Ayurveda for treating incontinence, impotence, premature ejaculation, frigidity and lack of sexual interest.
Massaging your lower back, lower abdomen and genital organs externally with 2 drops of Babchi oil, 2 drops of Ylang Ylang oil and 2 drops of Cinnamon oil blended with 3 ml of Jojoba oil can help in enhancing your mood, relaxing your nerves, uplifting your senses, augmenting your libido and sexual feelings, stimulating the reproductive organs and support in having a great time together with your partner.
You can also add 2 drops of Babchi oil with 1 drop of Rose oil and 1 drop of Sandalwood oil in warm bathing water before going to bed for elevating your mood.
5. Helps in the treatment of cancer:
Numerous research studies support the effectiveness of Babchi oil in treating various types of cancers including lung cancer. Studies report that the presence of chemical components like corylfolinin, psoralen and bavachinin arrest or slower down the quicker growth of lung cancer cells and osteosarcoma.
A 2013 study on "Compounds isolated from Psoralea corylifolia seeds inhibit protein kinase activity and induce apoptotic cell death in mammalian cells published in the Journal of Pharmacy and Pharmacology" states that certain compounds extracted from P. corylifolia exhibited a high potential to treat oxidative stress, apoptosis or programmed cell deaths and other cellular damage in cancer patients with its immune stimulant and chemoprotective effects.
Other health benefits:
Babchi and its essential oil is also helpful in the treatment of inflamed nodules, diabetes, urinary tract disorders, kidney problems, cardiac problems, bleeding disorders, worm infestation, constipation, anemia and inflammation.
Disclaimer:
This article is meant only for the purpose of information and is not intended for diagnosis, treatment or prevention of any medical condition. Do not use this as a substitute for prescribed medicines or any professional medical advice. We are not healthcare experts and this information is shared only with the view of enlightening the long-established prosperity of Ayurveda, the oldest healing sciences in this universe.
Never use essential oils internally and ensure that you use them in a diluted form for dermatological uses only.  This is mainly because organic and pure essential oils are highly concentrated substances and may cause allergic reactions if used on the skin directly. Consult with your Ayurvedic practitioner or medical expert before choosing the right essential oils for your unique individual constitution or prakriti and your health condition.
Do not go out in sun immediately after the use of Babchi oil on skin as direct exposure to the sun might cause allergies and keep away this oil from your eyes and children.
Thought for the day:
Mother Nature made me the way I am, and I should be happy. -Karolina Kurkova
Suggested Reading:
Reference Links: