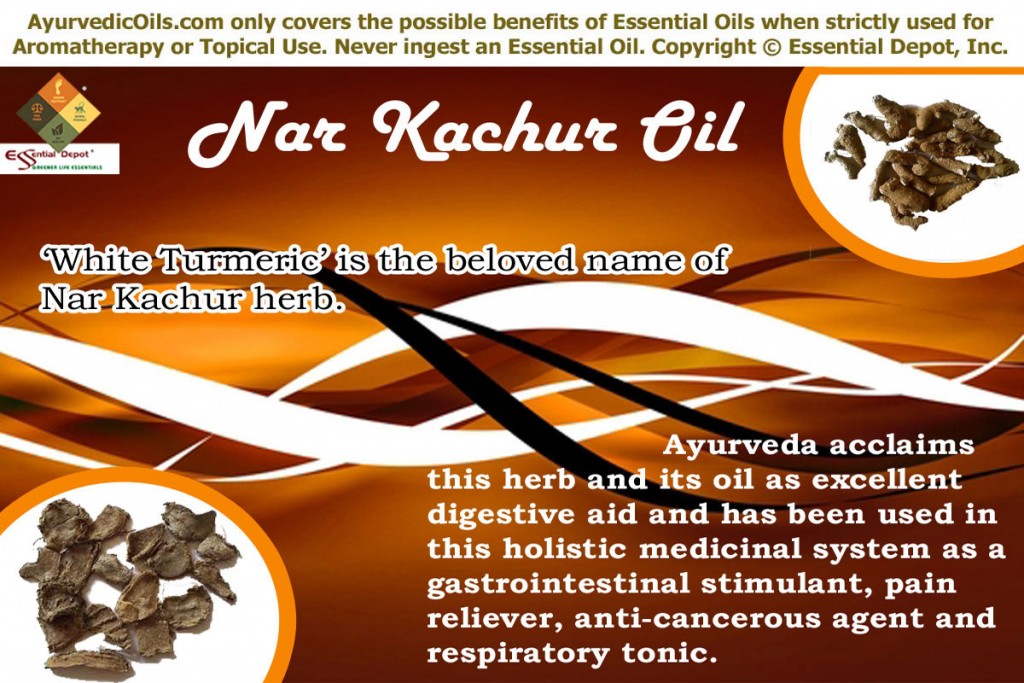 Can Turmeric be white? Yes! And here it is. Much similar to Turmeric, Nar Kachur herb is known as White Turmeric. Then am I not right in calling it as White Gold?
Indigenous to India and Indonesia, Nar Kachur is a well-liked herb found all over in the Indian sub-tropical regions.  Popularly known as Zedoary, the essential oil of Nar Kachur is extracted from the rhizomes of the plant Curcuma zedoaria, which is a member of the ginger family Zingiberaceae.
The world of Ayurveda acclaims this herb and its oil as an excellent digestive aid and in particular it has been used in this holistic medicinal system as a gastrointestinal stimulant. Nar Kachur essential oil is also used in the Traditional Chinese Medicine in the treatment of numerous chronic disorders including cancer.
Purchase Nar Kachur Oil – Retail – CLICK HERE
Purchase Nar Kachur Oil – Wholesale – CLICK HERE
Historical uses of Nar Kachur:
Known with many popular names across the world, Zedoary was a not so familiar herb in the Western world until it was spread across as a popular spice reminding of ginger, turmeric and mango put together.
It is known as Karchur in Sanskrit, Kachur in Hindi, Meitei Yaingang in Manipuri, Zedoary in English, Ezhu You in Chinese and Shatkachuro in Gujarati. This herb is spread across the natural beds of the Eastern Himalayan region and Karnataka and is cultivated in many countries.
The fresh Nar Kachur herb is used in Indian cooking and also in preparing pickles mainly because of its gingery-mango and energizing taste. It is locally called as amb halad where amb means mango.  Indonesians use Nar Kachur paste in preparing traditional curries.
The powdered herb was used in treating menstrual pain and for regularizing menstruation. Nar Kachur is trusted to tone the uterus and benefit the reproductive system in numerous ways. The ancient people used it as a natural aphrodisiac agent for its stimulating properties.
The juice extracted from the rhizomes of this plant was used in curing infections in the urinary tract and treat other urinary disorders with its diuretic properties. It also serves as an effective remedy in treating colic and flatulence.
Zedoary or Nar Kachur is still used in the Indian folklore medicine as an anti-venom for poisonous snake bites like the Indian Cobra bites. The fresh paste of this herb has been in use for treating wounds, pain, inflammation and certain other skin problems.
Chemical constituents and therapeutic properties of Nar Kachur Oil:
Curzerene, curcumenol, germacrone, zederone, curmanolide A, furanodienone, curcumenone, beta-elemene, pyridine, tau-elemene, isocurcumenol and numerous other components form a part of Zedoary essential oil. The remedial values of this oil are stomachic, diuretic, aphrodisiac, stimulant, anti-inflammatory, carminative, analgesic and emmenagogue.
Ayurvedic health benefits of Nar Kachur essential oil:
As a member of the Ayurvedic family Adrak kul, Nar Kachur is an effective herb that treats many health conditions.
Ayurveda is a holistic healing system that trusts human beings as a part of nature and any medication for their illness are readily available in nature itself. With this underlying principle, Ayurvedic therapy revolves around natural remedies like herbs, Ayurvedic essential oils, healthy and balanced diet, yoga, physical exercises and meditation.
Every individual is diagnosed in a unique manner in Ayurveda as it appreciates individual differences and believes that every human being is made up of 3 vital energy elements known as doshas. They are vata, kapha and pitta doshas where vata represents air as its major element, pitta stands for fire and kapha signifies water.
Every person is said to have any one these doshas as a predominant dosha and this predominance determines the Ayurvedic body type, personality, character and certain other behavioral attributes.
According to Ayurveda, vata energy controls the process of metabolism and elimination of toxins from the body. Pitta influences digestion, brain power, energy creation and body temperature and kapha governs the flow of fluids in the body like blood, mucous etc, while contributing to skin health, strength and lubrication of muscles and joints.
Balance between these three doshas indicates that a person is hale and hearty and the imbalance of any one of these or all the three doshas ends up in illnesses.
Your first Ayurvedic consultation with the expert will help you identify your predominant body type, individual constitution, diet that suits your health and physical and mental exercises that would help you in preventing diseases in the future.
Nar Kachur essential oil suppresses excess vata and kapha energies and aids in increasing pitta dosha in case of deficit. This is the main reason that Nar Kachur and its essential oil are helpful in treating digestive disorders, respiratory problems and impurities in the blood while enhancing the natural health of one's skin.
Let's have a look at the major Ayurvedic health benefits of Zedoary or Nar Kachur essential oil.
1. Excellent digestive aid:
Since the prehistoric period, Nar Kachur herb is used to treat problems in the digestive system especially in the gastrointestinal tract. This herb and its essential oil are said to be beneficial in treating indigestion, colic, loss of appetite, spasms, flatulence, infestation of worms, tastelessness and irregular bowel movement. It is considered as a natural aid for preventing ulceration due to stress.
Nar Kachur oil is proven safe for using it on the skin. Add 3 drops of Nar Kachur essential oil with almond oil and gently massage it on your tummy for relieving from colic, dyspepsia, flatulence, indigestion, irregular bowel movement and spasms.
You can also add 2 drops of this oil to warm bathing water for stimulating your digestion, improving your appetite and assist in expelling the worms through excretion. Adding 2 to 3 drops of Zedoary oil to your diffuser will also help in enhancing your appetite, reducing vomiting sensation and promoting speedy digestive process.
2. Treats respiratory problems:
Respiratory problems mainly occur due to the excess of kapha dosha, due to which fluids like mucous and phlegm gets deposited in the lungs and other parts of the body. It blocks the nasal passages and ends up in breathing difficulties and other respiratory disorders like cough, asthma and cold.
Adding 3 drops of Nar Kachur oil to steaming water and inhaling the medicated steam releasing the camphoraceous aroma of this oil can assist you in loosening the phlegm and mucous deposits and ease breathing. You can also add 2 drops of this oil in your rubs and gently massage it on your neck, chest and back to treat congestion, cold and blocked nose.
3. Relieves pain and inflammation:
As an effective anti-inflammatory agent, Nar Kachur oil helps in treating wounds, inflammation and certain other skin ailments. This herb was used in the Indonesian fold medicine for its effective anti-inflammatory property specifically in treating ulcerative colitis known as an inflammatory bowel disease. It was also used in protecting the lungs of the asthmatic patients by restraining the release of inflammatory mediators during the short-term treatment.
The diuretic properties of this oil supports in eliminating the excess fluids and toxic substances in the body especially in the joints causing pain and inflammation in case of rheumatism and arthritis. It is also used in reducing the body temperature during fever by promoting sweat and purging infectious microbes through urine.
Nar Kachur essential oil is also effective in treating abdominal pain, amenorrhea and certain other menstrual problems. Add 3 drops of this oil to warm bathing water or to hot compress to help relieve rheumatic pain, inflammation and menstrual discomforts. You can also blend 4 to 5 drops of Nar Kachur oil with coconut oil and gently massage it on the affected area for quicker assistance.
4. Fights against cancerous cells:
A 2013 research on 'Zedoary oil (Ezhu You) inhibits proliferation of AGS cells' proves that Zedoary, a Chinese medicinal herb has anticancer properties. This study concluded saying, "Zedoary oil inhibited AGS cell proliferation through cell cycle arrest and cell apoptosis promotion, which were related to Bax/Bcl-2 protein expression."
Another study on 'Applications of Nanoparticles in Herbal Medicine: Zedoary Turmeric Oil and Its Active Compound beta-elemene' published in the American Journal of Chinese Medicine states that Zedoary turmeric oil has been approved by the Chinese SFDA as safe for treating various cancerous tumors that affect ovaries, brain, lungs, colon, breast, liver and certain other tissues.
Other uses:
Nar Kachur oil is also used as a mosquito repellant by applying it on the skin after blending it with almond or coconut oil. This herb has also been proved effective in the treatment of gonorrhea, erectile dysfunction, urinary problems, hiccups, blood disorders, piles and certain other skin problems.  Nar Kachur essential oil is also used in soap fabrication and perfumeries.
Disclaimer:
Never use essential oils internally. Always remember to use essential oils in a diluted form as pure essential oils are highly concentrated liquids. Consult your Ayurvedic practitioner before using the right essential oil for your unique constitution and health conditions.
Thought for the day:
Nature always wears the colors of the spirit.      -Ralph Waldo Emerson
Suggested Reading:
Gastrointestinal and Liver Disease Nutrition Desk Reference from CRC Press
The Illustrated Encyclopedia of Essential Oils: The Complete Guide to the Use of Oils in Aromatherapy & Herbalism by Julia Lawless
Way of Ayurvedic Herbs: The Most Complete guide to Natural Healing and Health with Traditional Ayurvedic Herbalism by Karta Purkh Singh Khalsa, Michael Tierra
Reference Links: