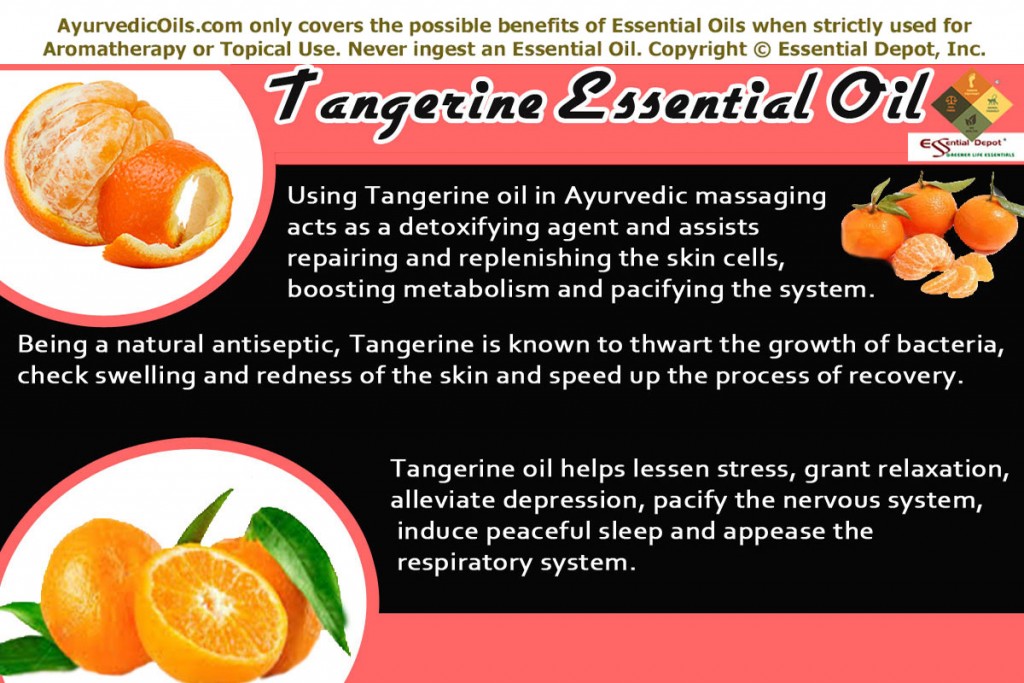 Who will hate the citrus, tangy, warm, refreshing and uplifting aroma of tangerine essential oil? Not many of us knew that this invigorating oil has a natural tonic effect on our digestive system and checks tension and stress. Indigenous to China, tangerine and the essential oil extracted from the peels of the tangerine fruit by cold press method has been a vital part of TCM (traditional Chinese medicine).
Ayurveda, the science or knowledge of life calls tangerine as Santra Sal and this fruit is highly regarded as a natural detoxifying agent, helping to eliminate the toxins known as ama from the human body. Elimination of toxins according to Ayurveda is the initial step for purifying the tissues, getting rid of toxic substances left by poor nutrition and disease, strengthening the immune system, augmenting mental clarity and nurturing the overall health condition of an individual.
Purchase Tangerine Essential Oil – Retail – CLICK HERE
Purchase Tangerine Essential Oil – Wholesale – CLICK HERE
Historical uses of Tangerine essential oil:
Tangerine has its birth recorded more than 3000 years ago and this is the predominant cause behind its popular use in the world of integrative medicine. More than the fruit, the external rind or the peel from which the essential oil of Tangerine is extracted is said to have enormous medicinal benefits.
The ancient Chinese philosophers used Chen Pi or tangerine peel to treat digestive disorders like vomiting, indigestion, diarrhea and stomach upset. It was trusted to increase the flow of liquids throughout the body. Chinese medicine call life force as Qi and tangerine peel is believed to control, reconcile and stabilize the flow of Qi.
The decoction extracted from tangerine peel was used in various medications for treating morning sickness in pregnant women, gout and sexual problems in men like premature ejaculation and impotence. Tangerine peel was an important ingredient in Chinese Dr. Huang's internal injury poultice for treating inflammation, sports injuries, sprain and muscular problems. French and other European medical practitioners used tangerine essential oil for dealing with digestive problems in children and the elderly people.
Ayurvedic texts denote tangerine oil as one of the mildest essential oils that can be used by pregnant women also. It is used to detoxify the body, purify the soul and for tranquilizing the entire system. This was also mentioned in the book 'Ayurveda and Aromatherapy' where Bryan Miller and Light Miller said that Tangerine oil is one of the favorite oil of pregnant women and children because of its uplifting and soothing qualities.
Chemical constituents or Gas Chromatography Report (GC) of Tangerine oil:
According to the Gas chromatography report, Tangerine oil constitutes of 9 chemical components that contribute to its fragrance, therapeutic attributes, consistency and quality of this oil. Of which, Limonene contributes to the highest proportion of Tangerine oil with about 95.8% of its total composition.
Just click on:
I trust that this must certainly help you in getting to know the exclusive information about the prime chemical constituents of Tangerine oil.
The table crafted below clearly depicts the unique nature and contributions of these bio-chemical constituents to the healing magnificence of Tangerine essential oil.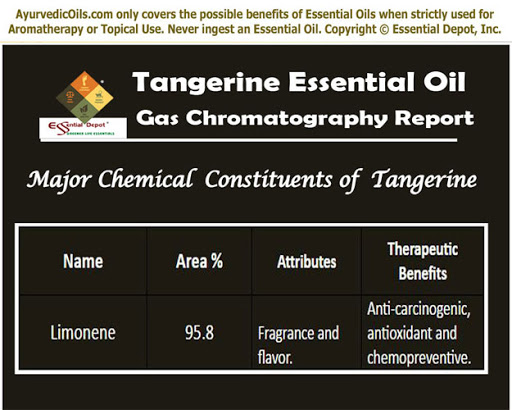 Ayurvedic health benefits of Tangerine essential oil:
Ayurveda trusts in healing humanity through the use of five senses therapy namely the sense of smell, sight, touch, sound and taste. Besides treating illnesses, Ayurvedic methodology focuses on a disciplined lifestyle that would help in preventing illnesses.
Prana is the essence or life force of any living being on earth. The Vedic texts denote that essential oils were used as a part of Ayurvedic treatments trusting that essential oils, the vital life force or prana of plants will certainly aid in enriching the prana of human beings.
Among the three dynamic forces of nature or doshas namely vata, pitta and kapha that form the constitution of an individual, tangerine oil is said to benefit the vata and pitta doshas with its drying and cooling energies.
Let's have a look at the Ayurvedic health benefits of Tangerine essential oil based on their usage.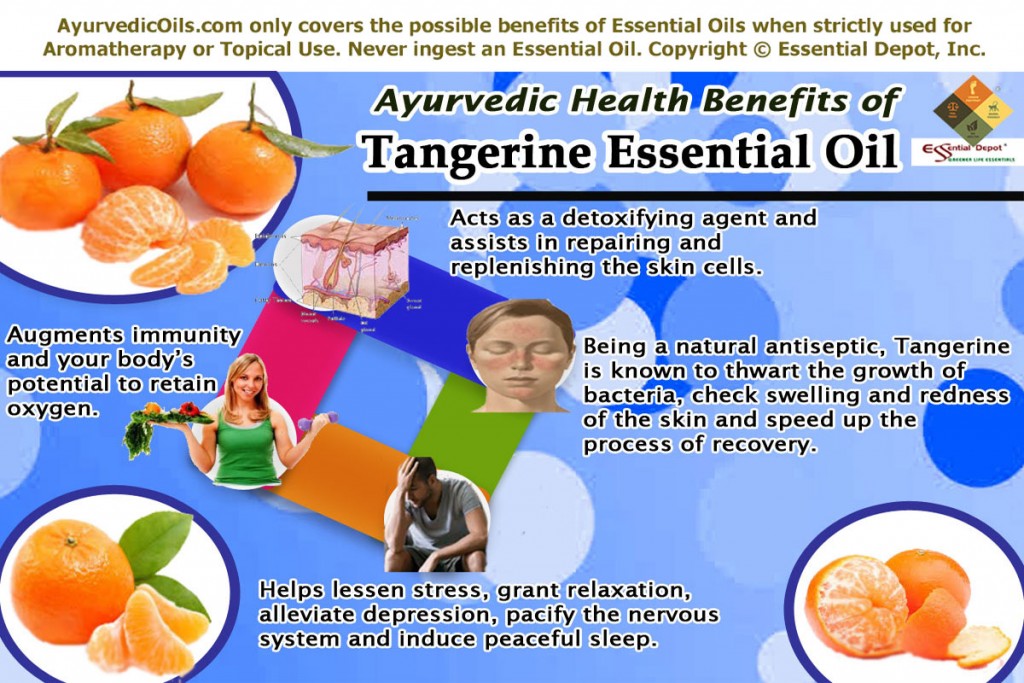 1. Abhyanga or the Ayurvedic massage therapy:
This treatment method falls under the sense of touch where the tissues of the body are maneuvered gently and firmly by hands, forearms, elbows, feet and few other effective massaging equipments. Ayurveda suggests the use of essential oils and certain other herbal oils, without which an Ayurvedic massage cannot be fulfilled.
The simple concept behind this healing methodology is that the therapeutic values of the essential oils used for massaging enter your body through the pores of your skin and deeply penetrates into your bloodstream. This way, a systematic massage with healing essential oils can have a positive effect on your mind, body and spirit.
Massaging with few drops of Tangerine essential oil blended with carrier oils like jojoba oil, almond oil or coconut oil can assist in healing numerous health conditions.
Calms your system:
Tangerine essential oil is a calming agent that is proven effective in relaxing your body absolutely. It treats mood fluctuations, assists nervous afflictions and completely pampers the troubled nervous system. Anxiety, stress, depression, pain, impulsive responses and emotional imbalances are controlled with its soothing and uplifting properties.
Boosts metabolism:
The stomachic and tonic properties of Tangerine oil supports in boosting the process of metabolism. It stimulates the proper flow of digestive juices ensuring appropriate secretion of bile and other digestive acids, aids in absorbing the essential nutrients from the food, heals irritation in the stomach lining and intestines and supports the entire process of digestion. For all these reasons the essential oil of Tangerine is used in relieving pain, treating ulcers, inflammation and wounds in the stomach.
Detoxifying agent:
Tangerine essential oil is an excellent detoxifier that facilitates in removing the toxic substances and other impurities in the body. The depurative property of this oil purifies the blood. It excretes the toxins and other harmful substances like pollutants, excess salt, uric acid and excess water in the body through urine, excreta and sweat.
Any human body free from toxic substances is the base for absolute health and grants complete newness to the aura. Tangerine essential oil is also efficacious in treating severe coughs, asthma, spasmodic cholera, convulsions, muscular cramps, spasms, severe pain and other breathing problems.
Repairs and replenishes the skin cells:
The active components and cytophylactic properties of Tangerine oil, makes it valuable in treating damaged tissues in the body. It promotes cell division and creation of new skin cells. This oil also aids in rejuvenating the existing cells and cure all kind of damages in the cellular system. This is why Tangerine essential oil is known as woman-friendly oil for treating stretch marks in pregnant women and other marks or scars due to accidents, obesity, acne etc.
2. A natural antiseptic:
Tangerine is one such mild essential oil that can be directly applied on cuts, wounds, sores and burns. The natural antiseptic values of this oil helps fight against the most harmful Staphylococcus Aureus bacterium, which is said to be responsible for wounds and infections to turn septic and contagious.  Applying tangerine oil directly on the affected areas or a mix of few drops of this oil to your skin care lotions or cream is known to thwart the growth of bacteria, check swelling and redness of the skin and speed up the process of recovery.
3. In vaporizers and burners:
Tangerine essential oil can be used in aroma lamps, vaporizers, burners and diffusers to lessen stress, grant relaxation, alleviate depression, pacify the nervous system, induce peaceful sleep, appease the respiratory system and boost the digestive mechanism. The aromatic compounds of this oil enter the body through the nasal passages and reach the limbic system of the brain, which is said to control the functions of the body and influence your feelings, desires, emotions, creativity and other vital actions.
4. In bath tub:
Add 2 to 3 drops of Tangerine essential oil to your bath tub especially in the morning. This is because the revitalizing and encouraging aroma of this oil fosters your energy level, increases blood circulation, treats digestive problems, supports the functions of the nervous system and can give a great start to your day.
5. As a captivating perfume oil:
The fresh and energizing citrus aroma of Tangerine oil will be cheering and comforting to your mind and senses. You can add few drops of tangerine oil to your perfume, detergent or fabric conditioner, handkerchief, pillows etc to embrace your mind, body and spirit flawlessly. Inhaling the aroma of Tangerine essential oil augments your body's potential to retain oxygen and stay fresh and keyed up all throughout the day.
Tangerine essential oil is also a natural tonic with antioxidant properties and can boost the immune power, making your body resistant against infections and illnesses.
Disclaimer:
Tangerine essential oil is safe on skin and is also recommended for children and pregnant women but is said to show photo toxicity effect in certain skin types. Essential oils are highly concentrated liquids so consult your Ayurvedic practitioner before taking them internally or applying them directly on your skin.
The MSDS (Material Safety Data Sheet) of Tangerine oil is readily available for your enhanced safety and better usage.
Gas Chromatography Report (GC analysis) of Tangerine oil.
Thought for the day:
Look deep into nature, and then you will understand everything better.   -Albert Einstein
Suggested Reading:
Reference Links:
Save