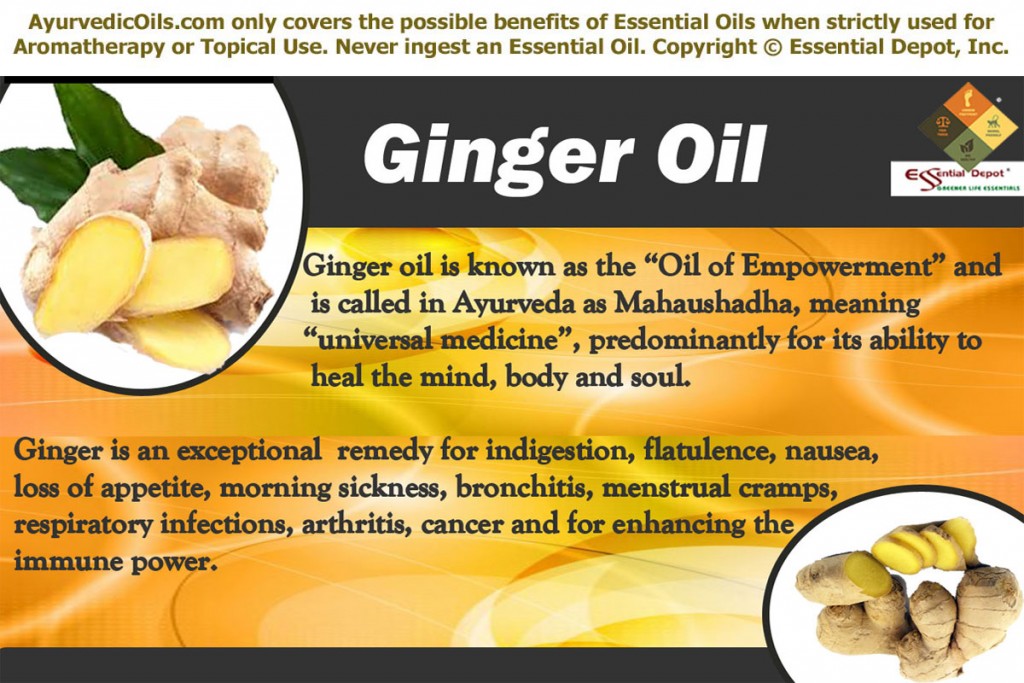 Ginger oil is known as the "Oil of Empowerment" and is called in Ayurveda as Mahaushadha, meaning "universal medicine", predominantly for its ability to heal the mind, body and soul, which are the three vital pillars of perfect health in Ayurveda.
Along with turmeric, galangal and cardamom, Ginger is yet another potent limb of the Zingiberaceae plant family. As a common culinary spice, Ginger is found in countless kitchens across the world and takes the pride of being used as a natural home remedy for addressing digestive and respiratory disorders.
Botanically named as Zingiber officinale, this powerful herb is called as Singara, Katubhadra and Srngaveram in Sanskrit. Ginger in any form, say fresh ginger, dried ginger or ginger extracts like juice, essential oil or powder has a bunch of absolute healing wisdom.
Ayurveda, the oldest healing system on earth prescribes Ginger as a remedy for indigestion, flatulence, nausea, loss of appetite, morning sickness, bronchitis, menstrual cramps, respiratory infections, arthritis, cancer and for enhancing the immune power. It is also recommended for treating fear, hopelessness, instability and for rekindling the inner fire for ultimatum.
Purchase Ginger Oil – Retail – 1 oz – CLICK HERE
Purchase Ginger Oil – Retail – 4 oz – CLICK HERE
Purchase Ginger Oil – Wholesale – CLICK HERE
Historical importance of Ginger:
Ginger is one among the oldest of spices used for more than 4400 years across different cultures universally. With more than 1,200 species, Ginger has been proved scientifically for treating numerous health disorders. Its name is extracted from a Sanskrit word 'srngaveram', which means 'horn root'.
According to the report by the University of Maryland Medical Center, "It has a long history of being used as medicine in Asian, Indian, and Arabic herbal traditions." It has also been said that Ginger has been used in the Traditional Chinese Medicine for treating toothache, nausea, stomach upset, diarrhea and certain other digestive disorders.
Ginger and its other extracts have been a vital part of the ancient Ayurvedic remedies for obesity, poor metabolism, abdominal pain, motion sickness, impotence, weak memory, arthritis, flu, menstrual pain and as a heart tonic. It has its name etched in the most respected epic of India, Mahabharata.
This aromatic spice was recommended by King Henry VIII of England in the 16th century for fighting against the great plague. Greeks used Ginger as to combat the harmful effects of poison.
It is said that the West African women in Senegal knit belts of Ginger to restore their partner's reproductive potency. Even today, Ginger is used in various dishes across the world for granting the finesse flavor and taste of this miraculous spice with mammoth health benefits.
Chemical constituents and therapeutic properties of Ginger essential oil:
The major chemical components of Ginger essential oil are camphene, a-pinene, b-pinene, zingiberene, geraniol, borneol, neral, geranyl acetate, 1,8-cineole, citral, b-bisabolene, linalool, nerol, geranial and y-terpineol.
These components contribute to its healing properties like carminative, antibacterial, anti-inflammatory, expectorant, analgesic, aphrodisiac, antioxidant, stimulant, antiseptic and emmenagogue.
Ayurvedic health benefits of Ginger essential oil:
Nothing is as astonishing as Mother Nature and the best wonder in the world is the human body that works like a magic to keep one going on and on. Ayurveda states that human beings are a part of nature and their illness and health depends upon their harmony with nature.
It further lights up this thought by stating that nature is made up of five vital elements, namely earth, water, fire, air and space and to our wonder, it's also been said that a human being also has all these five elements.
Where earth is the muscles and bones, water is the blood, fire is the energy for various vital functions, air is our breath and space is the soul that co-ordinates all other functions and keeps us living.
The concept of healing in Ayurveda solely depends upon nature as it says that all the other things on earth are made for making mankind happy and healthy. For example, earth has 92 elements like calcium, potassium, magnesium, iron etc, and the human body also has all these 92 elements.
When a person lacks magnesium or calcium energy, he/she can take Ginger, which is rich in magnesium and calcium, whereas Ginger grows by absorbing the magnesium and calcium element from earth. How interesting it is, right?
Ayurveda regards every individual as a unique part of nature and suggests that the treatment should also be unique depending upon their individual constitution that is made up of three doshas namely vata, pitta and kapha.
Vata is a representation of air and ether, pitta stands for fire and water and kapha symbolizes earth and water. Vata controls respiratory and nervous functions, pitta takes care of metabolism and body temperature and kapha governs the structure, sustenance and movement of fluids in the body.
Balance between these three doshas indicates health, and imbalance due to unhealthy food habits and change in lifestyle symbolizes illness. Ayurvedic remedies aim at correcting these dosha imbalances with the help of herbs, essential oils, yoga, meditation, physical exercises, Ayurvedic routine, balanced diet and prayer.
Ginger essential oil is said to pacify kapha and vata dosha and aggravate pitta dosha with its warming, spicy, rich, woody and drying energy and aroma.
The Ayurvedic health benefits of Ginger essential oil are: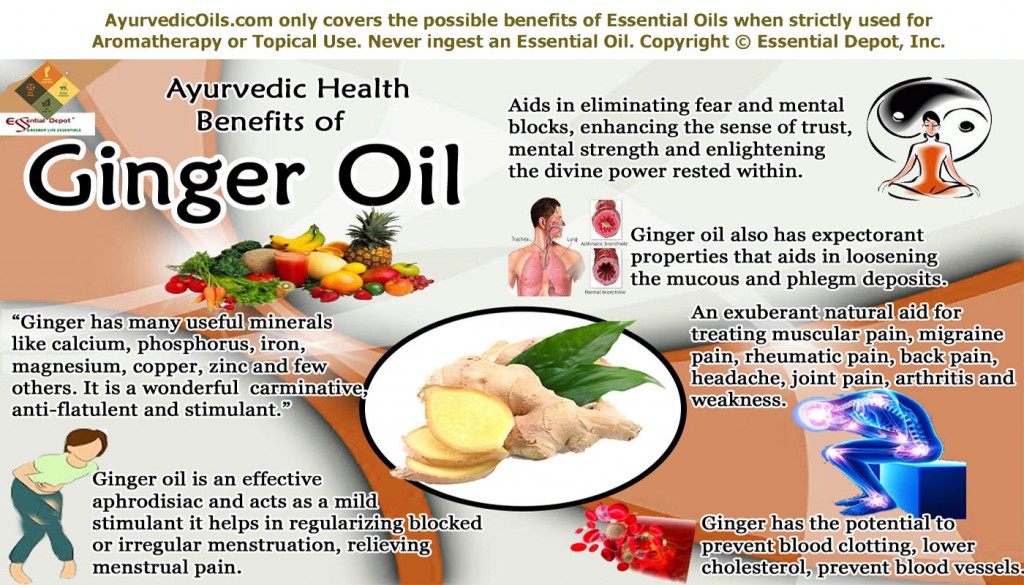 1. Benefits to the digestive system:
Ginger is popularly known as Adrak in India and is a quick natural remedy for relieving indigestion, bloating, flatulence, dyspepsia, vomiting, spasms, nausea, loss of appetite, piles and colic.
Dr. Jaishree Bhattacharjee, a renowned Ayurvedic Consultant says, "Ginger has many useful minerals like calcium, phosphorus, iron, magnesium, copper, zinc and few others. It is a wonderful carminative, anti-flatulent and stimulant."
Ginger essential oil has the potential to increase pitta energy that is responsible for the digestive fire. Add 2 drops of Ginger essential oil to your diffuser or air freshener before meals and let it stay there till you complete your food.
Inhaling the warming aroma of this oil enhances the appetite and improves the process of digestion, supports absorption of essential nutrients by the body and aids in alleviating the toxic substances with its hot potency, but for which the toxins or ama may otherwise cause serious illnesses.
You can also add 2 drops of Ginger oil to warm bathing water before going to bed or before starting a hectic day. This refreshing bath aids in promoting peaceful sleep, free from bloating, indigestion, gastric pain and other digestive disorders. If it is for the morning, Ginger has a handful of bright benefits like stimulating your nerves, rejuvenating your cells, improving your appetite and augmenting your mental power for facing your day to day challenges.
Ginger and its essential oil have been proven best for treating motion sickness even in children. Numerous studies have witnessed the effectiveness of Ginger is better than the effects of dimenhydrate, which is the most important ingredient in over-the-counter motion sickness and seasickness remedies like Dramamine.
It works by stimulating the flow of saliva and other digestive juices, pacifies the stomach, relieves pain due to gas and diarrhea, controls vomiting and supports easy discharge of stools. Mix 1 drop of Ginger essential oil with 10 drops of sesame oil and massage it gently on your stomach and abdomen for treating constipation and motion sickness.
2. Benefits to the mind:
Ginger essential oil is an effective natural remedy for treating emotional problems like fear, abandonment, and lack of self-confidence and of motivation. Using 2 drops of Ginger essential oil in diffuser, aromatic candles or in bath can help in improving memory power, treat mood swings, tendency to procrastinate, disconnectiveness, hopelessness, stress, anxiety, exhaustion, restlessness and depression.
Ginger oil is an excellent stimulant to the mind, body and soul. The encouraging aroma of this oil rekindles the inner fire and grants the power and confidence to step ahead and lead with courage and confidence.
Massaging your upper and lower abdomen (the root, sacral and solar plexus chakra) with 2 drops of Ginger oil with 1 ml of coconut oil aids in eliminating fear and mental blocks, enhancing the sense of trust, mental strength and enlightening the divine power rested within.
3. Benefits to the reproductive system:
Ginger is simply hot to support your intimacy with your partner as it has enormous aphrodisiac properties that have been assisting in the treatment of impotency, loss of libido, loss of sexual interest and premature ejaculation.
Gill Farrer-Halls in his book 'The Aromatherapy Bible' states that Ginger oil is an effective aphrodisiac and acts as a mild stimulant also. 2 drops of Ginger oil blended with 1 drop of Sandalwood oil and 1 drop of Rose oil added to your diffuser can drive in the positive energy required both physically and mentally for a complete "we time" together, by toning up the sexual organs and pacifying your mood.
Massaging your lower abdomen with 2 drops of Ginger oil blended with 1 ml of olive oil can be of great help in treating the problems of the female reproductive system by regularizing blocked or irregular menstruation, relieving menstrual pain and treating other problems associated with menstruation like nausea, dizziness, fatigue and mood fluctuations. Inhaling the reviving aroma of Ginger oil can aid in treating nausea and morning sickness during pregnancy.
4. Benefits to the respiratory system:
Ginger essential oil has the power to reduce kapha dosha. According to Ayurveda, excess of kapha energy is the main reason for respiratory problems like bronchitis, cold, sinusitis, asthma and congestion.
Ginger oil also has expectorant properties that aids in loosening the mucous and phlegm deposits and with its antiseptic properties, it assists in curbing the growth of microbes that spread respiratory infections.
Researchers of the Columbia University have proved that the components in Ginger root have properties that help asthma patients to breathe easily. The post-doctoral research fellow in the Columbia University Department of Anesthesiology, Elizabeth Townsend says, "In our study, we demonstrated that purified components of ginger can work synergistically with β-agonists to relax ASM."
Adding 2 drops of Ginger essential oil in steam inhalation can assist in reducing cough, clear chest and nasal congestion, relieving sinusitis and helping in treating cold and flu symptoms. You can also rub your chest, back and throat with your regular Vapor rub mixed with 1 drop of Ginger oil for quick relief. Even today Ginger tea is a delicious and healthy way to keep away from cold, cough and flu in the Indian kitchens.
5. Benefits to the muscular system:
Muscular pain is a common illness that most of us experience in our day to day lives. Headache, back pain, knee pain and pain all over the body after a strenuous work are not a surprise to many of us.
What we all do is, rush to the pharmacy and grab pain relieving creams and sprays that grant relief. Most of us fail to realize that these over-the-counter remedies give temporary relief only and force us to use them again when the pain peeps out even worse the next time.
Ginger essential oil has anti-inflammatory, anti-rheumatic and analgesic properties that make it an exuberant natural aid for treating muscular pain, migraine pain, rheumatic pain, back pain, headache, joint pain, arthritis and weakness.
Excess of vata and kapha energy in the body lead to swelling, water stagnation, accumulation of toxic substances, inflammation, sore muscles, weakened nerves and muscular tension.
With its potent to reduce vata and kapha dosha and increase pitta or the fire energy, 3 drops of Ginger essential oil blended with 1 teaspoon of almond oil massaged gently on the painful area, spreads warmth in the body, reduces swelling and inflammation by eliminating toxic substances and water deposits from the body through urine and sweat and relieves pain by causing numbness in the painful parts.
6. Benefits to the entire system:
Ginger and its essential oil also act as a heart tonic and helps in improved circulation. According to the University of Maryland Medical Center, few studies have proved that ginger has the potential to prevent blood clotting, lower cholesterol, prevent blood vessels from getting blocked, which may otherwise lead to stroke or heart attack.
Ginger essential oil has antioxidant properties that have been proved efficacious in the prevention and treatment of cancerous cells.  A 2011 study on 'Antioxidant activity of the volatile oils of Zingiber officinale (ginger)' published in Spatula-DD, A peer reviewed journal on complementary medicine and drug discovery says "Ginger extracts have reduced total cholesterol, triglycerides and phospholipids levels, as well as cellular cholesterol accumulation, reduce DPPH absorption, scavenge free radicals and it has potential to improve the histopathological lesion occurring in different layers of the arterial tissue. In other word it is effective in attenuating of atherosclerosis development."
This dominant herb has also been witnessed effective in the treatment of ovarian cancer. A 2006 study by the University Of Michigan Comprehensive Cancer Center presented in the annual meeting of the American association for Cancer Research stated that using Ginger solution (made with Ginger powder and water) on ovarian cancer cells ended up in their death. These cancerous cells died either due to autophagy (attacked/digested themselves) or due to apoptosis (committed suicide).
The book "A Complete Guide To Understanding and Using Aromatherapy For Vibrant Health and Beauty," says that Ginger essential oil is effective in treating varicose veins and cellulites.
With rich vitamin C, Ginger oil can also help in treating scurvy. Mix 1 drop of Ginger oil with 10 drops of jojoba oil and apply it on the affected area for enhancing the skin health and reducing the symptoms of aging with its antioxidant properties.
Other health benefits:
Ginger essential oil can also assist in treating rheumatism, arthritis, muscular pain, loss of libido, problems of the lymphatic system, sore throat, chills, disconnectiveness, improper blood circulation, increased blood sugar levels, back pain and mood swings.
Disclaimer:
This article is only for the purpose of information and is not meant for treating or replacing any prescription drugs or professional medical advice. Always consult your Ayurvedic practitioner before choosing the right essential oil for your unique health condition and individual constitution.
Never use essential oils internally and always use essential oils in a diluted manner as pure and organic essential oils are highly concentrated liquids and may cause allergic reactions if used directly on the skin. Care should be taken, if you are a pregnant or nursing woman.
Thought for the day:
Deep in their roots, all flowers keep the light.
-Theodore Roethke
Suggested Reading:

Reference Links: