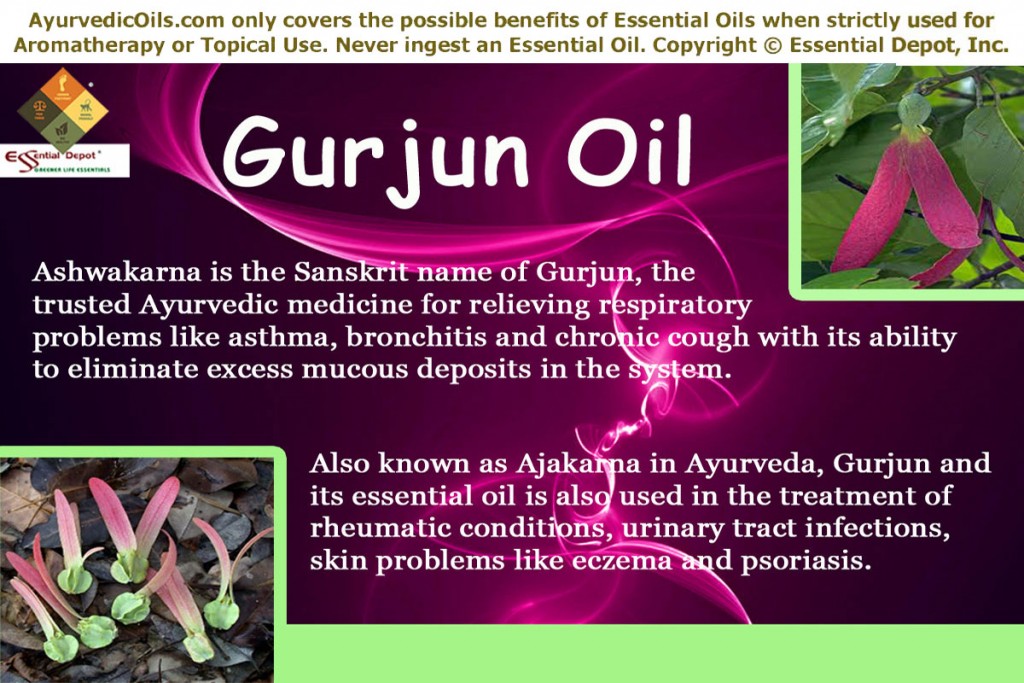 Ashwakarna is the Sanskrit name of the Common Gurjun tree and the trusted Ayurvedic remedy for relieving respiratory problems like asthma, bronchitis and chronic cough, for its ability to eliminate excess mucous deposits in the system.
Gurjun essential oil is extracted from the woods and the oleo-resin (well-known globally as East Indian copaiba balsam), extracted from the woods of the Gurjun tree by steam distillation method.
Known as Dipterocarpus turbinatus botanically, Gurjun is indigenous to the Andaman Islands and the eastern parts of India. Gurjun is also called as Gurjun Balsam and referred as Chhaagakarna and Ajakarna in Ayurveda and used in the treatment of rheumatic conditions, urinary tract infections, skin problems like eczema and psoriasis and chronic respiratory problems.
Purchase Gurjun Oil – Retail – 4oz – CLICK HERE
Historical uses of Gurjun:
Celebrated often as a key commercial timber species, the woods of this tree is considered vital in making of plywood. These notable reddish brown woods have been used in various countries including China, Cambodia, India and Yunnan. The resin extracted from the woods is used in making torches in Cambodia and the wood is employed in tea cabinet work, wood work and for sawing.
Gurjun tree is cultivated in India and China as a perfume as well as therapeutic plant. It is also used as a substitute for crude paint material. The leaves, wood and the resin of this tree have been in use in various Complementary and Alternative Medical systems for treating psoriasis, gonorrhea, bronchitis, leprosy, asthma and certain other skin disorders.
Chemical components and therapeutic properties of Gurjun oil:
The essential oil extracted from the oleo-resin of the Gurjun trees contains beta-caryophyllene, bicyclic sesquiterpene hydrocarbon, humulene and sesquiterpene alcohol. The remedial properties of this oil are diuretic, antifungal, antimicrobial, spasmolytic, anti-ulcer, stimulant, anti-rheumatic and decongestant.
Ayurvedic health benefits of Gurjun essential oil:
Cherished as the mother of all healing sciences, Ayurveda is the oldest of all healing systems on earth, trusted to have its roots deeply vested in the ancient history of the Indian mythology. The magnificence of Ayurvedic healing lies in its holistic healing approach that revolves around the principle of "The three – body, psyche, and soul – act as a tripod. The world stands upon them, and within them, the world abides."
Health is not just a physical attribute according to Ayurveda and it depends upon the emotional, spiritual and environmental factors that affect an individual's life.
The ancient Ayurvedic texts state that the world is made up of five elements namely water, air, fire, earth and space and every individual on earth is also made up of these vital elements. This paves way for the unique individual constitution that comprises of three biological energies known as doshas, namely vata, pitta and kapha.
Every human being has a predominance of any one of these doshas that determines his physical attributes, character, mental makeup and his behavior. Balance between these doshas is a symbol of perfect health and imbalance causes illnesses. Ayurvedic remedies like essential oils, herbs, yoga, physical exercises, Ayurvedic routine, meditation and a healthy lifestyle aim at striking absolute balance between these doshas.
Gurjun essential oil is said to lessen aggravated kapha, pitta and treat vata deficit.
The major Ayurvedic health benefits of Gurjun oil are: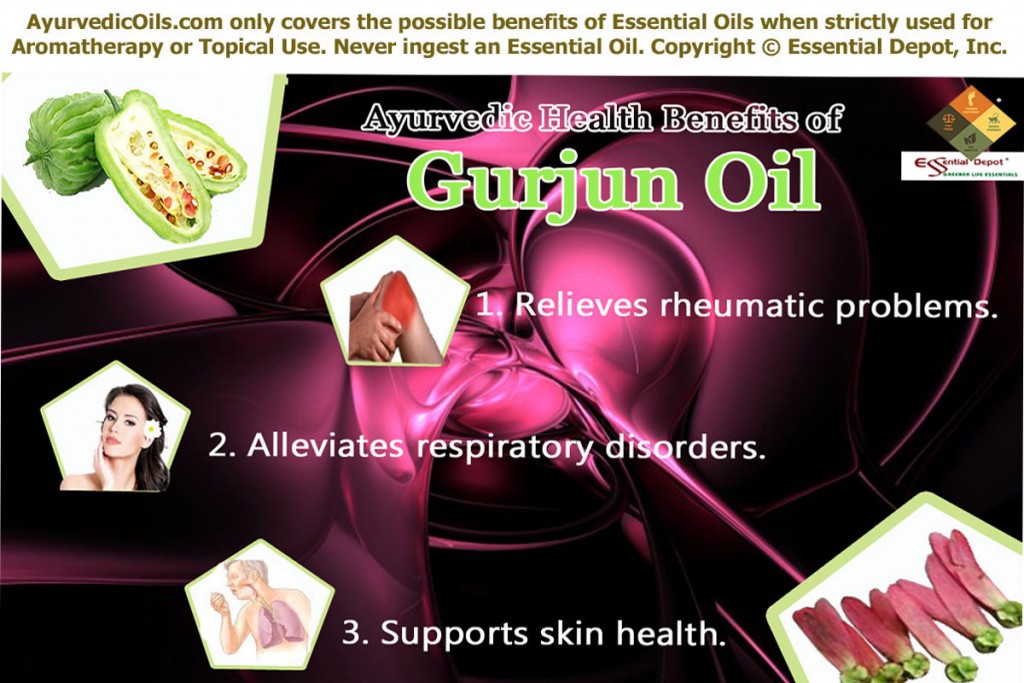 1. Relieves rheumatic problems:
Rheumatism is known as 'Amavata' in Ayurveda and is recognized by severe pain and inflammation of the joints, ligaments, muscles and tendons. Ayurvedic healing begins with the analysis of the root cause of an illness and aims at treating it instead of treating the illness alone.
The major underlying causes of rheumatic disorders according to Ayurveda are amassing of toxins or ama in the joints and the system, where these toxic substances are formed mainly due to poor metabolism, improper digestion and excretion; over exposure to cold weather conditions and infections in the gall bladder, teeth and tonsils.
Gurjun essential oil is regarded as one among the best Ayurvedic remedies for its potential to eliminate the toxic deposits in the joints and the entire system through urine, with its diuretic properties. This oil also has the power to reduce kapha dosha, which is responsible for excess water deposits, inflammation and swelling.
Blend 2 drops of Gurjun oil with 1 ml of coconut oil and massage it gently on the affected parts for guaranteed relief. You can also add 2 to 3 drops of this oil in hot compress for relieving pain and redness of the inflamed areas. The decoction prepared with the bark of this tree is prescribed in Ayurvedic medicine for treating rheumatism.
You can assist this natural remedy along with a healthy nutritious diet, Ayurvedic routine and yogasanas like Dhanur Asana and Hala Asana for complete relief from rheumatic conditions.
2. Alleviates respiratory disorders:
Respiratory system is known as Pranavaha Srotas in Ayurveda and it includes the nose, trachea and lungs, and the illnesses in this system are known as 'Swasa Roga'. Vitiation of the respiratory system causes disorders that affect its normal functioning, which cause breathing difficulties and chronic conditions.
Imbalance of vata, pitta and kapha doshas cause different problems in the respiratory system, where excessive mucous deposits, obstruction and blockage in the nasal and respiratory passages are caused by excess of kapha dosha.
Ayurvedic medications that lessen kapha dosha are proven effective in the treatment of respiratory problems like bronchitis, asthma, chronic cough, chest congestion and mucous deposits in the nasal and bronchial passages. Gurjun essential oil reduces aggravated kapha dosha that assists in discarding excess mucous and phlegm deposits that obstructs normal breathing and relieves nasal and chest congestion.
The ideal way to use essential oils for treating respiratory problems is in steam inhalation. Add 2 drops of Gurjun oil in steam inhalation for relieving from problems associated with the respiratory system. You can also add 1 drop of this oil to vaporub or medicated ointments and rub it gently on the chest, back and throat for relief.
3. Supports skin health:
Gurjun Balsam oil is a popular ingredient in many Ayurvedic skin care formulations used in the treatment of wounds, bedsores, ringworm, cuts, boils, diaper rashes and psoriasis. Gurjun oil has antifungal and antimicrobial properties that curb the growth of harmful organisms like bacteria and fungi.
It speeds up the healing of wounds and prevents wounds from getting septic by fighting against the growth of bacteria like Staphylococcus aureus, which make the wounds to turn septic. Mix 2 drops of this oil in your regular skin care cream or lotion or with 1ml coconut oil and apply it on the infected parts for quicker healing. It works by combating micro organisms and retaining the natural moisture in the skin.
Other health benefits:
Few other documented use of Gurjun oil is its ability to increase blood pressure, stimulate the functions of the heart and treat ulcer. The fresh nutty, woody and balsamic fragrance of this oil has made its use vital in the perfume industry and in flavoring tobacco products.
Disclaimer:
This article is only for the purpose of information and is not intended to treat or replace any prescribed medication or professional medical advice. Never use essential oils internally and always use it in a diluted form as pure and organic essential oils are highly concentrated substances. Always seek professional advice from your Ayurvedic expert for choosing the appropriate essential oil for your unique health condition and individual constitution.
Thought for the day:
I believe a leaf of grass is no less than the journey-work of the stars.
-Walt Whitman
Suggested Reading:
Gurjun, Apitong, Keruing, Kapurand Allied Timbers by S H. Clarke
The Aromatherapy Encyclopedia: A Concise Guide to over 385 Plant Oils by Carol Schiller, David Schiller
Reference Links: