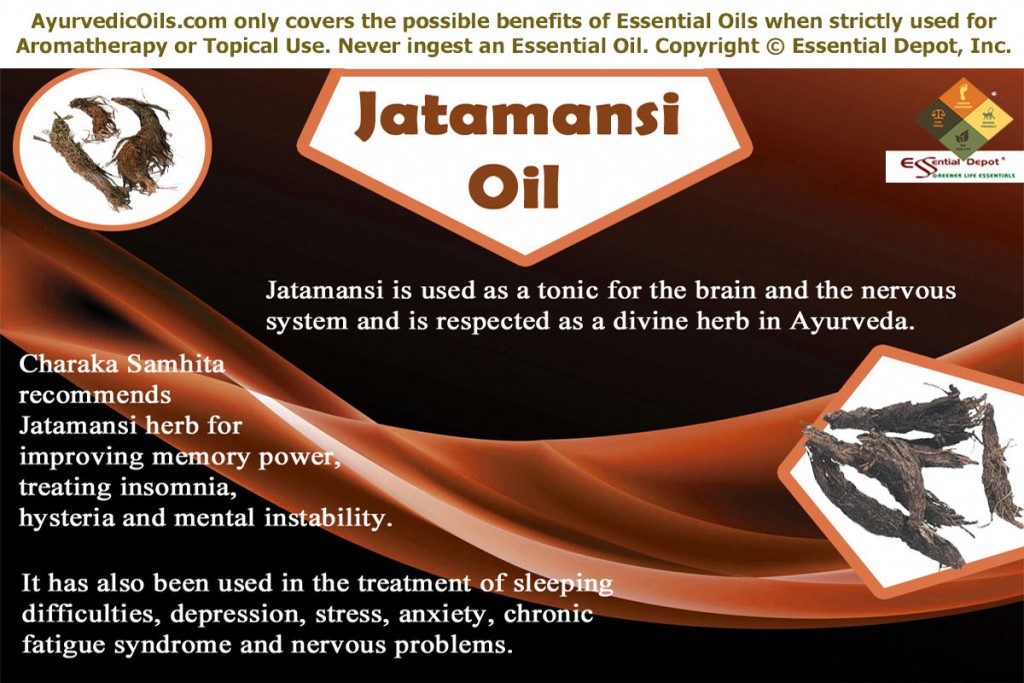 Respected as a divine herb in Ayurveda, Jatamansi is used as a tonic for the brain and the nervous system. It has been suggested by numerous Ayurvedic texts for treating sleeping troubles, depression, stress, anxiety, chronic fatigue syndrome and nervous problems.
Charaka Samhita, the celebrated Ayurvedic Encyclopedia recommends Jatamansi herb for improving memory power, treating insomnia, hysteria and mental instability. Scientifically known as Nardostachys jatamansi, this herb is known as Balchara or Mamsi in Ayurveda and is also known by other names like Indian Spikenard, Nardus root, Jaila, Musk root, Nardin and Nard.
Purchase Jatamansi Oil – Wholesale – CLICK HERE
Historical uses of Jatamansi and its essential oil:
Indigenous to the Himalayas, Jatamansi grows up to 1 m at an altitude of 3,000 to 5,000 feet. This plant bears red, pink or blue color flowers and has been used in various traditional medicines for its medicinal and aromatic rhizomes.
There are many Biblical references of this herb and it is used to represent St. Joseph in the Catholic iconography. It is mentioned in the New Testament where Mary, the sister of Lazarus uses a pint of pure Jatamansi oil to anoint the holy feet of Jesus Christ. It is also noted in the Song of Solomon as nard and is included in the coat of arms of Pope Francis in reference to St. Joseph.
Jatamansi oil was an important part of the Ayurvedic tradition since the primordial times where the medicated oil is known to cure insomnia, digestive problems, epilepsy, hysteria, weak mental health, improper blood circulation and as a tonic to the entire system. This herb was used as a diuretic and as a herb for the heath of heart and liver in Unani medicine.
The powdered rhizomes of Jatamansi were taken internally to treat hepatitis, infertility, menstrual disorders, cleanse the uterus, mental agitation, enhance the appetite and helpful in the treatment of Parkinson's and Alzheimer's disease.
Jatamansi was also used by renowned Physicians like Dioscorides and Apicius. The Persian and Arabian Physicians praised this herb as Sumbul-i-Hindi. The medicated Nard oil was offered on the precious incense altar when Tabernacle was positioned in the First and Second temples of Jerusalem.
Spikenard or Jatamansi was also used as a flavoring agent in the ancient Roman cuisines and as a seasoning in the Medieval European food varieties. It is used in making attars, perfume (L'eau De Jatamansi), incense sticks, hair care products and numerous beauty products. Jatamansi is also used along with certain other herbs in Vedic prayers performed with fire since the ancient period.
Therapeutic properties and chemical constituents of Jatamansi oil:
The principal constituents of Jatamansi oil are valeranone, nardostachone, bornyl acetate, jatamansinol, dihydrojatamansin, isobornyl, terpineol, jatamansinone, tetramenthyloxatricylodecanol, oroselone, aromadendrene, Menthylthymyl-ether, nardosinone, seselin, nardostachyin, valeranal, cineol-1,8, spirojatamol and jatamansic acid and few other coumarins. The remedial properties of this oil are nervine, antiseptic, diuretic, laxative, anti-inflammatory, tonic, anti-pyretic, deodorant, fungicidal, sedative, anti-depressant and calmative.
Ayurvedic health benefits of Jatamansi essential oil:
Ayurveda is a righteous science that trusts that every creature on earth is a part of nature and it believes that one's illness and wellness depends upon their balance or imbalance with nature. Ayurvedic texts strongly state that human body is a temple where the spirit dwells in, so it is very important to keep the body, mind and spirit clean and composed just like preserving a place of worship.
Ayurveda is called as a holistic healing methodology as it approaches health as being mentally, physically, emotionally and spiritually fit. It is for this reason; Ayurvedic physicians recommend herbs, essential oils, yoga, physical exercises, balanced diet, meditation, Ayurvedic routine and prayers to keep one hale and hearty.
Every individual is treated in a unique manner even if they are affected by the same illness because the theory of Ayurveda identifies every human being as a unique part of nature and as a distinct creation with a unique individual constitution. This constitution is built up of three major bio-energies known as doshas. They are vata, kapha and pitta. These doshas govern various functions of our body and imbalance of these energies cause sickness.
Each and every human being has a predominance of any one these Ayurvedic body types that determine their personality, physique, mental attributes, behavior and preferences. Ayurvedic remedies aim at balancing the dosha imbalances as perfect balance between these doshas are a clear sign of healthy and heartiness.
Jatamansi is a promising Ayurvedic remedy that has the potent to pacify all the three doshas, especially pitta and kapha energies.
And it's time to look at the amazing Ayurvedic health benefits of Jatamansi essential oil.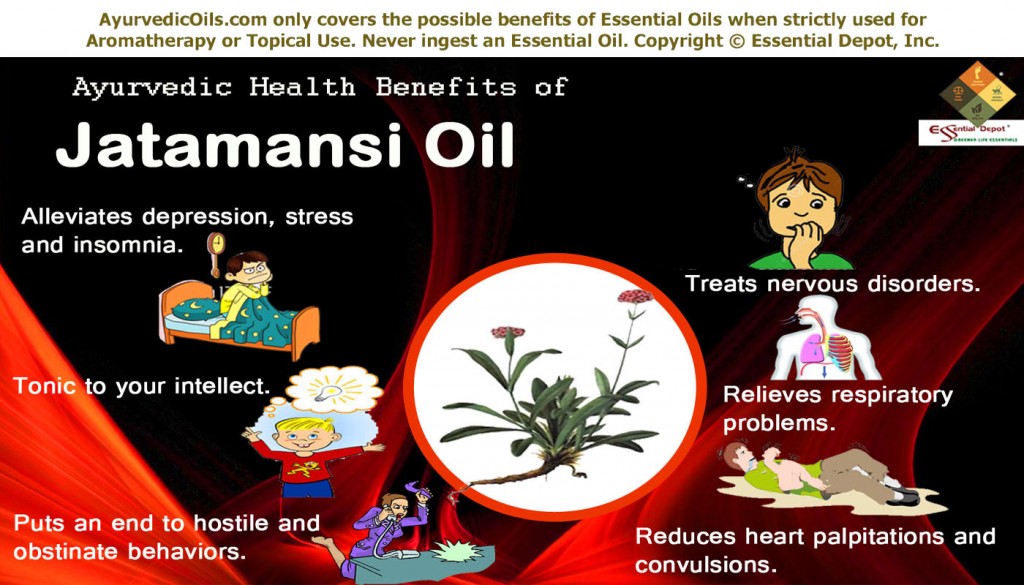 1. Alleviates depression, stress and insomnia:
The rhizomes of Jatamansi herb have strong anti-depressant properties that calms the mind, relaxes the body and grants absolute peace to the entire system. 2 drops of Jatamansi oil added to your diffuser, burner, vaporizer or to bathing water is said to alleviate depression, chronic stress, anxiety, insomnia and tension.
Blend 5 drops of this oil with 2.5 ml of sesame oil and massage your body for relieving from chronic fatigue syndrome, nervous headache, negative feelings, sleeping difficulties, lack of self-confidence and sluggishness. Jatamansi is loved as a herb for the mind and emotions with its anti-depressant, anti-stress and antioxidant properties that help in lessening oxidative stress thus mitigating chronic fatigue syndrome.
Since the traditional times, several studies have proved the effectiveness of Jatamansi as a promising de-stressing and sedative agent by increasing the rest time. A 2012 study on 'Nardostachys jatamansi protects against cold restraint stress induced central monoaminergic and oxidative changes in rats' stated that this herb has potent anti-stress qualities representing its therapeutic significance in disorders related to stress.
A 2008 study on 'Inhibition of MAO and GABA: probable mechanisms for antidepressant-like activity of Nardostachys jatamansi DC. in mice' revealed that the ethanolic extracts of Jatamansi emerges to be a potent anti-depressive means when compared to reference drugs like Sertaline and Imipramine in decreasing depressive signs in mice. This study also state that "the extract may have potential therapeutic value for the management of mental depression."
2. Tonic to your intellect:
Jatamansi and its essential oil have been used in many Ayurvedic preparations as a neuro-protective agent and brain tonic for improving memory power, cognitive performance and thinking capacity. It has been trusted to promote intellectual power, improve mental weaknesses, instability and mental sluggishness.
A 2006 study on 'Nardostachys jatamansi improves learning and memory in mic'e by Joshi and Parle, Department of Pharmacognosy, College of Pharmacy, India proved that Jatamansi extracts significantly enhanced memory power and learning in both aged and young mice.
This study also reiterates the clinically proven use of Jatamansi herb in Ayurveda as an antioxidant, anti-ischemic, neuro-protective and anticonvulsant agent and it also states that Jatamansi can also be used as a memory uplifting agent in the healing of dementia in elderly people.
You can wear 1 drop of Jatamansi oil on your wrist, handkerchief or a tissue paper at the time of studying or in your room whenever you feel like refreshing your mind power. You can also add 2 drops of this oil in air freshener, diffuser, burner or vaporizer for adding muscles to your brain power and intellect.
3. Puts an end to hostile and obstinate behaviors:
The essential oil of Jatamansi has calming, soothing, cooling, restoring and relaxing qualities that assist in holding back the burning sensation of the mind and body. Being a natural coolant that calms pitta or the fire energy, Jatamansi essential oil can work wonders in controlling your negative emotions like anger, aggressiveness, stubborn behaviors, tension and intimidating attributes.
Adding 2 drops of Jatamansi oil in warm bathing water or in your diffuser or aromatic lamp can effectively control resentment by tranquilizing your mind and body. You can also opt for a calming massage by blending 5 drops of Jatamansi oil with 2.5 ml sesame oil.
4. Treats nervous disorders:
Jatamansi is held high in Ayurveda as a powerful neuro-protective agent that calms vata energy, clears pitta force and decreases kapha dosha. By this way, Jatamansi nourishes and cools the worn out and burning nervous system.
It aids in treating various nervous disorders along with bipolar disorders, delusions and certain other psychological problems. Jatamansi have been clinically proven effective since the primeval period in the treatment of epilepsy, insomnia, Parkinson's disease, nervous breakdown and hysteria.
Abhyanga or the art of Ayurvedic massaging is the best method to use Jatamansi for treating nervous disorders. Mix 5 drops of Jatamansi oil with 2.5 ml of coconut oil and massage it gently on the affected parts. The deep penetrating quality of this oil supports in improving nervous problems.
5. Relieves respiratory problems:
Jatamansi oil has the potent to reduce kapha energy, the excess of which is responsible for the creation of mucus and phlegm. This oil assists in expelling the excess mucous deposits and phlegm accumulated in the chest, nasal passages and respiratory tract.
Adding 2 drops of Jatamansi oil to 1ml of coconut oil or your cold rub and massaging it on your throat, back and chest can aid in opening up blocked nasal passages, clear chest congestion, treat cough and cold, spasmodic cough, asthma, whooping cough and sinusitis. You can also add 2 drops of this oil in steam inhalation for quick relief from respiratory troubles.
6. Reduces heart palpitations and convulsions:
Palpitations of the heart are caused when vata energy shoves pitta dosha and leads it to rush through the channels characterized by unnoticed skipped beats, increased heart rate, breathing difficulty and dizziness.
The oil of Jatamansi is used in the treatment of palpitations of the heart and convulsions mainly because of its anti-convulsive and anti-arrhythmic activity. 2 drops of Jatamansi oil added to warm foot bath or bathing water or gently massaged on the affected area after blending it with 1 ml olive oil can ease tension and grant relief from convulsions and palpitations.
Other health benefits:
Jatamansi is indeed a miraculous part of nature that has innumerable healing properties ingrained in it. The essential oil of Jatamansi has been used as a uterus stimulant for promoting menstruation, cleansing the uterus, treating dysmennorhea and inflammation of the uterus. It was also used as an aphrodisiac in treating impotence and seminal debility. It is also known for promoting the growth of hair, retain its natural color and slow down the process of graying.
Jatamansi oil is a natural antiseptic that assists in healing wounds, eczema, burns, rashes, allergies and certain other skin infections due the infestation of microbes like bacteria and fungi. It is also effective in the treatment of renal colic, liver enlargement, hepatitis, jaundice, pancreatitis, fever and lung problems.
Disclaimer:
This article is only for the purpose of information and is not destined to substitute any professional medical advice or prescribed medication. Never take essential oils internally and use it topically in a diluted form only, as organic and pure essential oils are highly concentrated liquids and can harm you if used in a concentrated form. Remember to consult your Ayurvedic practitioner before using the appropriate essential oil for your health condition and unique individual constitution.
Thought for the day:
Change your opinions, keep to your principles; change your leaves, keep intact your roots.     -Victor Hugo
Suggested Reading:
Reference Links: