Ajowan is a spicy little wonder that has colossal healing values and has been recognized as a 'hub of remedies' by the most commendable medical geniuses of the world like Acharya Charaka, Dioscorides, Galen, Sushruta and Avicenna.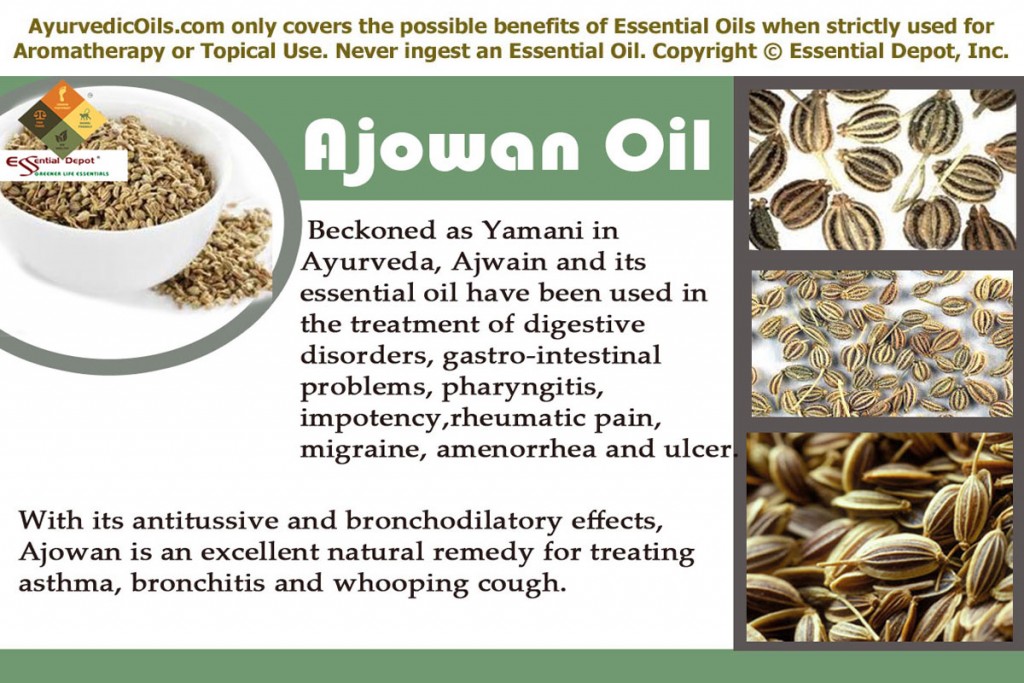 Have you ever chewed the fresh peppery Ajowan leaves? If not, I would strongly recommend you to do that when you come across such an amazing opportunity. Yes! I've tasted those zesty leaves and the instant newness and direct energy that it transfers to your soul and your system is simply out of the world!!!
Highly acclaimed as one among the best digestive aid for its excellent carminative properties, Ajowan or Ajwain has been a part of the Indian traditional regimen and is also used as a popular spice. Botanically termed as Trachyspermum Ammi or Trachyspermum copticum, Ajwain resembles cumin, fennel, caraway and smells like thyme.
Called as Yamani or Dipyaka in Sanskrit, Ajwain and its essential oil have been used in Ayurvedic medicine for treating digestive disorders, gastro-intestinal problems, bronchitis, pharyngitis, asthmatic attacks, impotency, rheumatic pain, migraine, amenorrhea, ulcer and chronic cough. It has also been employed as a powerful respiratory stimulant and tonic for the heart and kidneys.
Purchase Ajowan Seed Oil – Retail – 4 oz – CLICK HERE
Purchase Ajowan Oil – Wholesale – 1 kg – CLICK HERE
Historical significance and uses of Ajowan and its essential oil:
Ajowan is an herb of absolute marvel since the pre-historic period in various traditional provinces of the world like the Indian traditional medicine, including Ayurveda, the Greek traditional medicine and the Persian traditional medicine, including Unani.
The brownish gray fruit pods or seeds of this plant are regarded for nutritional and medical uses. Ajowan is found growing extensively in India, Iran, Pakistan, Egypt, Afghanistan and few other Mediterranean countries.
Ajowan is often the most cherished herb in the Ayurvedic medication for its positive effect on the digestive system, respiratory tract, plasma, nervous system and the bone marrows.
Known as 'Ajwain Ark' in Ayurveda, Ajowan or Omam water, the medicated tonic extracted from these seeds is often an instant remedy for addressing diarrhea, colic, indigestion, atonic dyspepsia, cholera, indigestion and flatulence. Due to its mild and proven effectiveness, this medicated water is recommended for everyone including babies and aged people.
Even today, Ajowan oil and other remedial extracts of these little seeds are used in many parts of India, Pakistan, Iran and many other medieval provinces for treating earaches, stomach problems, difficulties in digestion, menstrual disorders, breathing problems and urinary infections.
The oil of Ajowan is an important source of thymol, the most powerful therapeutic ingredient known for its antiseptic, antimicrobial, anesthetic and pain-relieving qualities. It is for this property, Ajowan seeds were exported in large quantities to USA, Germany and many other European countries before the World War I and during the World War II.
Chewing Ajowan seeds with betel leaves have been suggested in the traditional and folklore medicine for treating dry cough, dyspepsia and flatulence. Mixed with hot water, these seeds are effective in treating chest pain, nasal congestion, bronchitis, whooping cough, cold, sore throat, pharyngitis and asthma.
Mixed with butter milk, Ajowan is acclaimed as the best digestive aid for stomach upset and indigestion. Few Ajowan seeds with honey for a week have been recommended for alleviating pain and urinary infections associated with kidney stones.
The Traditional Persian Medicine has used Ajwain seeds since the pre-historic period as an aid for curing earaches, paralysis, liver spleen, abdominal cramps, renal calculi, pleurisy, leucoderma, chronic fever, cough, neurological disorders, nausea and reflux. It was also used as an aphrodisiac, antidote for numerous toxic agents along with various pharmacological uses.
Ajowan seeds are also used for culinary purposes, especially for its enhanced effect on promoting quicker digestion.
Therapeutic properties and chemical components of Ajowan oil:
As mentioned earlier, Ajowan is a hub of various nutrients and its resulting remedial values. These seeds contain iron, calcium, thiamine, niacin, carotene, riboflavin, phosphorus and fiber.
Ajowan essential oil extracted from these seeds through steam distillation process possess about 50% of thymol along with dipentene, carvacrol, p-cymene, a-terpinene, limonene, a-pinene, styrene, b-phyllanderene, carvone and dillapiole.
The promising therapeutic attributes of Ajowan oil are carminative, anti-bacterial, diuretic, antimicrobial, anti-inflammatory, nematicidal, antiviral, germicidal, anti-hypertensive, anesthetic, antiseptic, anti-ulcer, stimulant, aphrodisiac, bronchodilatory, antitussive, hepatoprotective, antispasmodic, expectorant, anti-platelet, antihyperlipidemic, antifungal, analgesic, insecticidal, anthelmintic, antioxidant, spermicidal and estrogenic.
Ayurvedic health benefits of Ajowan essential oil:
Ayurveda is the most popular and the most thriving talk of the town, especially in the Western world. This world means "the knowledge or science of life".
The initial traces of Ayurvedic science is said to have its existence for more than 5,000 years and has been an influencing medical system for all other healing sciences on the globe including the Traditional Chinese Medicine, Unani medicine, Homeopathy, Chiropractic, Acupressure, Siddha and the medicinal writings by Hippocrates, Avicenna and many more.
Ayurveda is a part of Atharvaveda, one among the 4 Vedic or sacred books of the Indian tradition. It was further illuminated with the writings of the ancient Ayurvedic physicians, Acharya Charaka and Acharya Sushruta, namely Charaka Samhita, Sushruta Samhita and Ashtanga Hridaya.
These Ayurvedic encyclopedias throw light on the management and the therapeutic information of a vast pool of health conditions, where the most complex caesarean delivery and plastic surgery methods were talked about before thousands of years, sans the existence of modern medical equipments or clinical methodologies.
Celebrated as the most comprehensive healing system in the world, Ayurveda simply states that illness is the symbol that the body is not in harmony with nature. Disharmony with the natural environment ends up in diseases. Ayurvedic system of healing focuses on re-establishing the self's harmony with that of the environment, where the root causes of the diseases are diagnosed and it is prevented in the future as well.
Every individual and every disease is regarded as a unique entity in Ayurveda as it is a common-sense science that follows the principle that no two persons or no two diseases are the same. As no illness affects two people in the same way, Ayurveda believes that no two remedies are exactly alike. So every individual and every disease in an individual is treated in a unique manner.
Ayurvedic healing attempts to understand the nature of a person, the nature of the disease and the nature of the medication. This philosophy states that everything in this world including human beings are made up of five elements namely space, earth, water, air and fire.
Every individual has a unique individual constitution known as prakriti and is determined during the conception of the child itself. It is a combination of 3 biological energies or doshas namely vata (space and air), pitta (fire and water) and kapha (water and earth). These doshas are a representation of the five elements.
Every person has a predominance of any one of these doshas and it acts as the determining factor for an individual's personality, character and behavioral traits.
Absolute balance between these doshas indicates health and heartiness. Doshic imbalances and inequalities within the body due to various factors like the lifestyle of a person, changes in habits, environment, food, climatic conditions and indulgent activities are thoroughly learned before prescribing medications.
Ayurvedic therapies include the prescription of herbs, Ayurvedic essential oils, yoga, simple physical exercises, meditation, Ayurvedic routine, Panchakarma or the detoxifying technique, Abhyanga or Ayurvedic massaging, prayers and certain other lifestyle changes.
Ajwain is an excellent Ayurvedic remedy for pacifying kapha and vata doshas and augments pitta dosha. 'Ajwain ka phool' is a famous Ayurvedic remedy in India where the crystallized Thymol is said to heal numerous illnesses.
The key Ayurvedic health benefits of Ajowan essential oil are: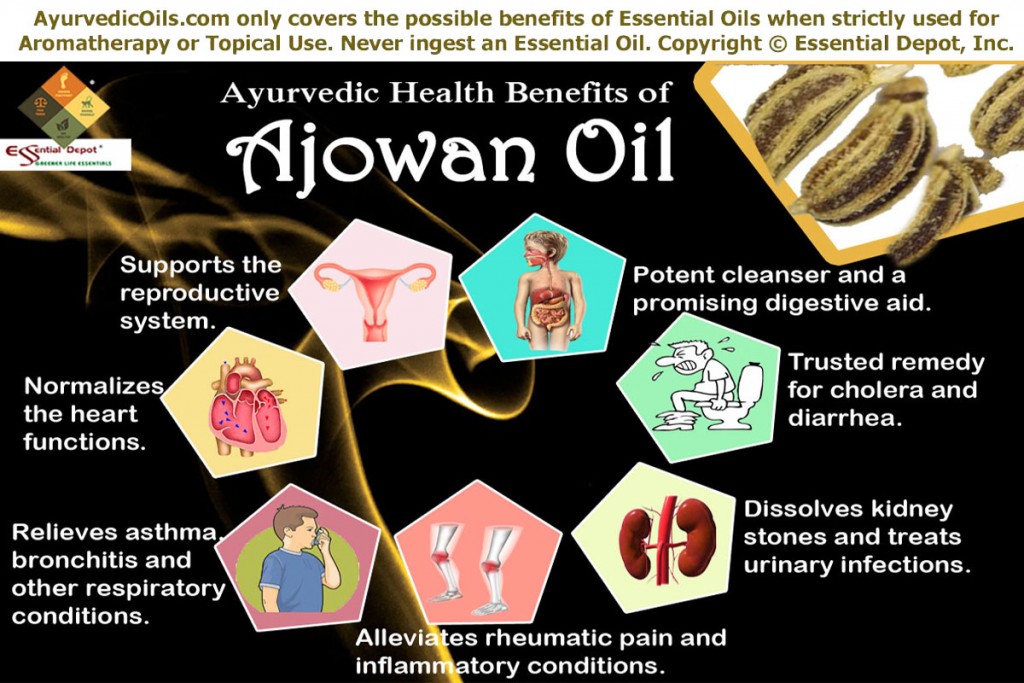 1. Potent cleanser and a promising digestive aid:
Ajowan is a time-tested natural remedy for treating digestive problems ranging from flatulence to intestinal parasites. The essential oil of Ajowan has proven anthelmintic and nematicidal properties that help in curtailing the growth of intestinal parasites and other harmful pathogens that affect the normal functioning of the digestive system.
A 2012 study on "Trachyspermum ammi" by Ranjan Bairwa, R. S. Sodha, and B. S. Rajawat School of Pharmaceutical Sciences, Jaipur National University, Jaipur, Rajasthan, India, published in PubMed, NCBI has witnessed that the "Anthelmintic activity of T. ammi shows its effect against specific helminths, e.g. Ascaris lumbricoides in humans and possess cholinergic activity with peristaltic movements of the gut, thus helping in expulsion of intestinal parasites."
It further reports that the presence of thymol and carvacrol constituents in Ajowan essential oil is responsible for its nematicidal activity, thus proving its effectiveness against PWN bodies (Pinewood Nematode bodies that mainly cause problems like Pine Wilt disease).
Ajowan essential oil also has fungicide, microbial and germicide properties that make its use inevitable in the healing of ailments like intestinal dysbiosis. The most advantageous fact is that it curtails the growth of harmful pathogens without disturbing the helpful flora in the digestive system.
The digestive stimulant, carminative, anti-ulcer, anthelmintic, antispasmodic, antimicrobial, anti-flatulent, detoxification and gastro-protective properties of Ajowan oil add true colors to its digestive benefits.
Abhyanga or the ability of maneuvering the human body through massaging in an Ayurvedic manner is one among the best ways to use essential oils for therapeutic purposes. This is due to the known fact that skin is the largest organ of the human system and any kind of medication applied to the skin easily penetrates and reaches the blood stream, where the remedial process is transmitted in a jiffy.
Massaging your abdomen with 2 drops of Ajowan oil along with 2 drops of Dill seed oil in a blend of 2 ml of Sesame oil can help in cleansing the microbes in the stomach and intestines, stimulate digestion, relieve flatulence and gas pain, eliminate toxic remains and alleviate distention and ulcer pain.
Inhaling the spicy aroma of this strong herbal oil by adding 1 drop to your hankie or added to your diffuser can enhance your appetite, help reduce nausea and stimulate the secretion of gastric acids, bile and other digestive juices. You can also add 2 drops of Ajwain oil in warm bathing water for enhancing the bowel movements and for soothing the digestive system.
2. Trusted remedy for cholera and diarrhea:
Ajowan has gentle effects on the stomach lining and the intestinal walls, for which it has been recommended since the pre-historic period even for tender babies to relieve colic, stomach pain, diarrhea and vomiting.
Ajowan water is the first thing that comes to rescue in almost all the traditional Indian families for dysentery, diarrhea and colic pain as it immediately arrests the sickening loose stools.
The antimicrobial, antifungal, soothing, stimulant, anti-colic and antifilarial effects of this wonder herb aids in soothing the intestines, regularizing the bowel movements, lessening pain and killing the harmful microbes and other foreign bodies responsible for such digestive mayhems.
Gently massage your tummy with 2 drops of Ajowan oil with and 2 drops of Caraway oil along with 2 ml of coconut oil for relieving from chronic colic, diarrhea, nausea, intestinal infections, pain, dysentery and the early stages of cholera. 1 to 2 drops of Ajowan oil added to warm or cold compress can also support the healing process.
3. Relieves asthma, bronchitis and other respiratory conditions:
As a highly rich source of macro as well as micro-nutrients, Ajowan essential oil supports the body in withstanding the attack of seasonal health problems like flu, cough, cold and fever.
Ajowan has expectorant property that aids in relieving cough and cold while supporting in the elimination of mucus and phlegm deposits in the lungs and the respiratory passages. This assists in treating asthma, bronchitis, chronic cold, whooping cough and many such respiratory conditions.
A 2013 study on "An Overview of Ajwain (Trachyspermum ammi) Pharmacological effects; Modern and Traditional by Shiraz University of Medical Sciences, Iran published in the Journal of Natural Remedies", states that Ajowan seeds possess antitussive and bronchodilatory effects.
The results of various studies in this regards prove that "Ajwain seeds revealed significant reduction of cough number which may be a result of its potent antitussive effect" and "the relaxant and bronchodilatory effect of essential oil fractions may be due to the amount of Carvacrol and it has a relatively bronchodilatory effect on asthmatic airways compared to the effect of Theophylline concentrations used".
Adding 2 drops of Ajowan oil in steam inhalation can help you sweat out all your toxic remains in the body along with the microbes worsening your respiratory problems. It does this so spontaneously with its enormous diaphoretic values that increases perspiration and promotes the discarding of toxins through the skin.
Massaging your foot soles with 2 drops of Ajowan oil mixed with 1 drop of Black Cumin Seed oil and 1.5 ml coconut oil can work like a magic in reducing your fever with its antiseptic, febrifuge and immune-enhancing properties.
Mixing 1 drop of Ajowan oil in a cup of warm water and gargling with this medicated water has been proven effective in relieving toothache, hoarseness of voice, sore throat, pharyngitis along with infectious and congested throat.
Gently massaging your forehead, throat, chest and back with 2 drops of Ajowan oil blended with 1 drop of Clove oil and 1 drop of Thyme oil and 2 ml of Sweet Almond oil can help in relieving the symptoms of cold including runny or stuffed nose, itchy and watery eyes, headache, chest or nasal congestion, fatigue and breathing difficulties.
This also aids in promoting good sleep as the therapeutic agent, Thymol present in Ajowan oil works like an anesthetic agent that fights against bacteria, virus and fungal infections and enhances the body's relaxing mechanism.
4. Dissolves kidney stones and treats urinary infections:
Ajowan is simply an excellent Ayurvedic essential oil for relieving pain and other discomforts of kidney stones and infections caused in the urinary system.
Ajowan has enormous cleansing values with its diuretic and lithotriptic properties. Adding 2 drops of Ajowan oil in warm bathing water along with massaging your lower abdomen and back with 4 drops of Ajowan oil mixed with 2 drops of Cumin oil and 5 ml of sesame oil increases the frequency and quantity of urination through which the toxic remains, salt, fat, uric acid and other harmful substances causing urinary infections and renal calculi are eliminated.
This also helps in influencing the normal functions of the urinary bladder and kidneys, which support in dissolving the formation of calculi or stones in the kidneys and gall bladder. Half teaspoon of powdered Ajwain seeds along with 1 teaspoon of pure honey taken in empty stomach every morning for two weeks regularly is a folklore remedy for treating urinary problems and renal calculi.
5. Alleviates rheumatic pain and inflammatory conditions:
According to Ayurveda, rheumatism is often a vitiation of kapha dosha. It ends up in amassing of excess water in the system glued with toxic remains, salt, fat deposits, uric acid and free radicals, especially in the joints. As a strong and warm essential oil, Ajowan has kapha reducing attributes that helps in draining out the excess deposits of water along with its detrimental remains through sweat and urination.
Free radicals are generally caused by the oxidation of bio molecules including carbohydrate, lipid, protein, and nucleic acid. These free radicals trigger chain reactions within the cellular structure and are often the reason behind cellular damage, leading to chronic health conditions like rheumatism and cancer. Antioxidants protect the cells from damage by fighting against these free radicals.
A 2013 research on "Evaluation of antioxidant activity of essential oil from Ajwain (Trachyspermum ammi) seeds by the Department of Biotechnology, The IIS University, SFS, India, published in the International Journal of Green Pharmacy substantiates "the essential oil of Ajwain could contribute as a highly significant bio resource of antioxidants to be used in our day-to-day life in food and pharmaceutical industry".
With its diuretic properties, Ajowan oil enhances the quality and quantity of urination through which the accumulated water deposits in the joints and muscles are discarded. Massaging the affected parts with 5 drops of Ajowan oil along with 2 drops of Thyme oil, 3 drops of Fennel oil and 5 ml of Evening primrose oil can aid in relieving pain with its enormous analgesic properties and combat against the toxic remains in the system, thus helping in the treatment of arthritis and rheumatic conditions.
6. Normalizes the heart functions:
Ajowan as a herb is a powerful heart tonic and a proven pain killer. Grandmother's traditional remedy for heartache and certain other heart problems includes Ajowan seeds, where 1 teaspoon of these stimulant seeds are recommended for use along with hot water for relieving heart pain and for promoting the normal functions of the heart.
Ajowan is said to contain thymol compound and vitamin niacin, both of which are known to regularize the functioning of the heart, called as the center of the human functions. Massaging your chest area with 2 drops of Ajowan oil blended with 1 ml of coconut oil can promote health blood circulation in the heart by enhancing the functions of the nerve impulses.
7. Supports the reproductive system:
Ajowan seeds and its essential oil are known for its excellent health benefits for both the male and female reproductive system. With its established aphrodisiac properties, Ajowan oil is known for enhancing virility and the secretion of estrogen and progesterone hormones.
It was used as a cleansing Ayurvedic remedy for rinsing out the uterus during the post-delivery period. Massaging your lower abdomen, thighs and around your genital area with 2 drops of Ajowan oil mixed with 2 ml of Jojoba oil can stimulate the secretion of reproductive hormones in both men and women and promotes blood circulation in the reproductive system.
This can aid in treating premature ejaculation, impotence, loss of sexual interest, lower count and quality of sperm in men. This is also said to treat female reproductive problems like menstrual menaces including painful periods, excessive bleeding, female infertility, blocked or irregular menstruation and menopausal problems. It was also used as a galactogogue for promoting the secretion of milk in nursing mothers.
Adding 2 drops of Ajowan oil to your bathing tub or to your diffuser, especially during the night time relieves fatigue, mood fluctuations and sleeping difficulties. Isn't it a great idea to fuel up your monotonous life? Yes it is!!!
Other health benefits:
Apart from these major remedial uses, Ajowan and its essential oil are recommended in traditional medication for treating inflammatory conditions, paralysis, diabetes mellitus, neuralgic pain, venomous bites, acidity, amenorrhea, liver problems, earache, skin problems like ringworm, blackheads, pimples, rashes and scars and certain other health conditions.
Disclaimer:
This information is only for the use of education and is not meant to treat or diagnose any health condition or substitute any professional advice or prescribed medications. We are not Doctors or other medical professionals and this article is an outcome of our study on the internet and books. It is shared only to enlighten the glory of the world's oldest healing system, Ayurveda, also acclaimed as the Mother of all medical sciences on earth.
Never ingest essential oils. Topical application is recommended in a diluted form as direct use on the skin may cause allergic reactions, mainly because of the fact that unadulterated and organic essential oils are highly concentrated liquids. Care should be taken if you are a nursing mother or carrying. Keep out of reach of children.
It is always advisable to seek the guidance of your Ayurvedic physician or healthcare expert before choosing the appropriate essential oils for your unique individual constitution and medical condition.
Thought for the day:
Dreams are the seeds of change. Nothing ever grows without a seed, and nothing ever changes without a dream. – Debby Boone.
Suggested Reading:
Reference Links: