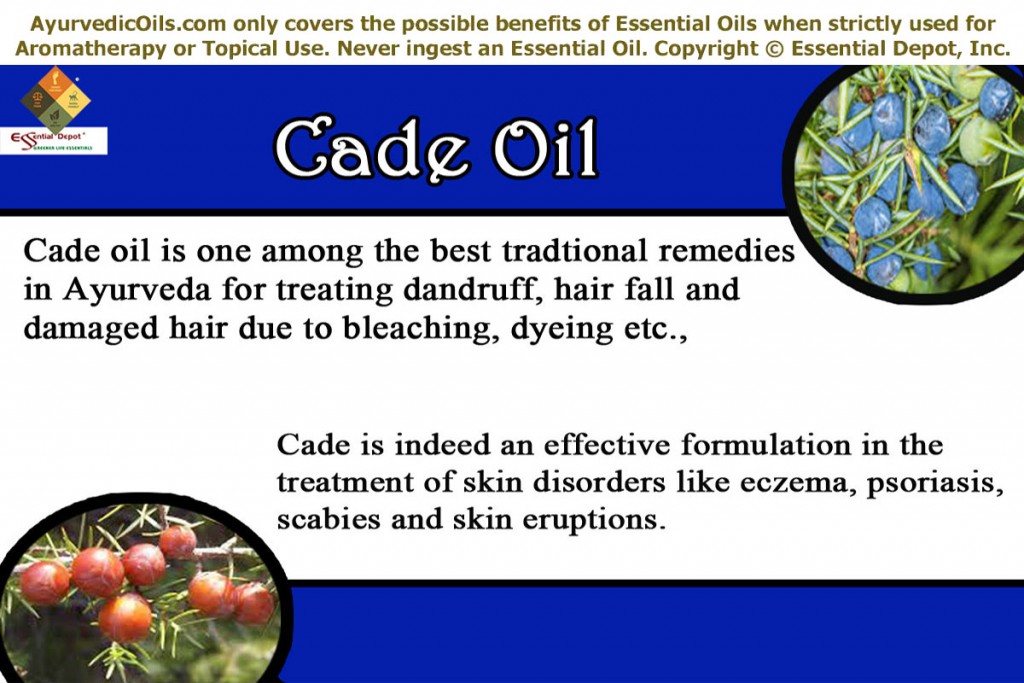 Well known in ancient India as one of the best natural remedies for dandruff, damaged hair due to bleaching, dyeing etc, and hair fall, Cade oil is a significant Ayurvedic oil for treating skin and hair problems. It is also called by other names like Juniper tar, Prickly cedar, Sharp cedar, Cade Juniper and Prickly Juniper and is scientifically known as Juniperus oxycedrus. This small tree is a member of the Cypress family, Cupressaceae.
Cade essential oil is extracted from the branches and heartwood of the tree by steam distillation method. Ayurveda recommends Cade and its essential oil in the treatment of various skin disorders like eczema, psoriasis, scabies and skin eruptions along with burning hair problems like hair fall, dandruff and other hair damages.
Purchase Cade Oil – Wholesale – CLICK HERE
Historical uses and importance of Cade and its essential oil:
Ancient people of various traditions in the prehistoric times believed that Cade helped them in keeping away from sickness, depressing emotions, negative thoughts and from evil spirits as well. Cade was also used in pagan rituals in Sumeria and Babylonia as a sacrifice to the Gods, while Inanna and Ishtar considered this herb to be holy. The Europeans however considered Cade as a medicinal plant and used it to protect life stock.
The word 'oxycedrus' means "sharp cedar" and this particular species is considered to be the Cedrus or the original Cedar of the ancient Greeks. Cade is said to have been originated in the Mediterranean region across Portugal and Morocco, south to Lebanon and Israel, east to westernmost Iran and France and grows up to a height of 1600 m altitude above the sea level on rocky areas.
The Native Americans used it to treat ailments in animals. Many experts refer to the Juniper tree as a source of protection with perfect loveliness and succor, which are the terms derived from the plant language. Towards the 19th century, the French adopted Cade as well and began the use of the same in the treatment of lice, leprosy, skin infections, snake bites and toothaches.
As of today, modern aromatherapy use Cade oil to treat various kinds of skin infections like dandruff, scalp infections accompanied by hair loss, eczema, dermatitis, psoriasis and other skin irritations/eruptions. Due to its skin and hair benefiting properties that help in treating scalp and skin problems, Cade is used in the manufacturing of soaps, lotions, creams and perfumes, and of course these products do have a wonderful aroma as well.
Chemical constituents and therapeutic properties of Cade oil:
Cade oil is said to contain cadinene, creosol, cadinol, p-creosol, terpenes and guaiacol. The major healing properties of this oil are antiseptic, analgesic, antimicrobial, antipruritic, disinfectant, anti-parasitic, vermifuge and vulnerary.
Ayurvedic health benefits of Cade essential oil:
The word Ayurveda (Ayur + Veda) means 'the knowledge of life' (Ayur means life and Veda means knowledge). Celebrated across the globe as the world's oldest healing methodology, Ayurveda is lovingly beckoned as the mother of all healing sciences and the most popular medicinal practices that followed Ayurveda are Homeopathy, Siddha, Traditional Chinese Medicine, Allopathy, European Traditional medicine, Chiropractic, Acupuncture and Unani.
The most inspiring reason behind the progressive lead of Ayurvedic medicine is its holistic healing approach that states that health is a combination of the physical, mental and spiritual well-being. This noble fact has been highlighted in Charaka Samhita, one among the oldest Ayurvedic encyclopedia as ""The three – body, psyche, and soul – act as a tripod. The world stands upon them, and within them, the world abides."
Ayurvedic medicine rooted the principles of natural healing by treating the root cause of an illness instead of its symptoms and aims at prevention of diseases by helping to lead a disciplined lifestyle and by maintaining perfect balance with nature. According to Ayurveda, everything on earth is a part of nature and nature by itself is made up of five vital elements namely water, earth, space, air and fire.
Earth represents bones and muscles, water stands for blood and other fluids in the body, fire is responsible for metabolic functions and body temperature, air aids in breathing and space is the spirit that keeps us alive.
Every human being on earth is a unique creation built up with a unique individual constitution just like our fingerprints. This constitution comprises of three dynamic energies called as doshas, which are an arrangement of the five vital elements of nature.
Vata dosha stands for air and space and takes care of respiration, circulation and nervous functions of the body. Pitta dosha symbolizes fire and water and is in charge of metabolic functions and body temperature.
Kapha represents water and earth and is responsible for physical structure, sustenance and reproductive health. Every individual has a predominance of any one dosha, which decides their personality, traits and behavioral attributes.
Perfect balance between these doshas as per nature's law signifies health and doshic imbalances cause illnesses.Ayurveda prescribes natural remedies like herbs, essential oils, yoga, simple physical exercises, meditation, prayer, Ayurvedic routine, Panchakarma, Pranayama and other Ayurvedic techniques for fostering natural balance between these doshas.
Cade oil finds its use in Ayurveda for treating vata imbalances including skin disorders and hair problems and kapha problems like bronchitis and congestion. It serves good for the treatment of itching, pneumonia, diarrhea, diabetes, peptic ulcer, high blood pressure, bronchitis, and many more.
The major Ayurvedic health benefits of Cade oil are: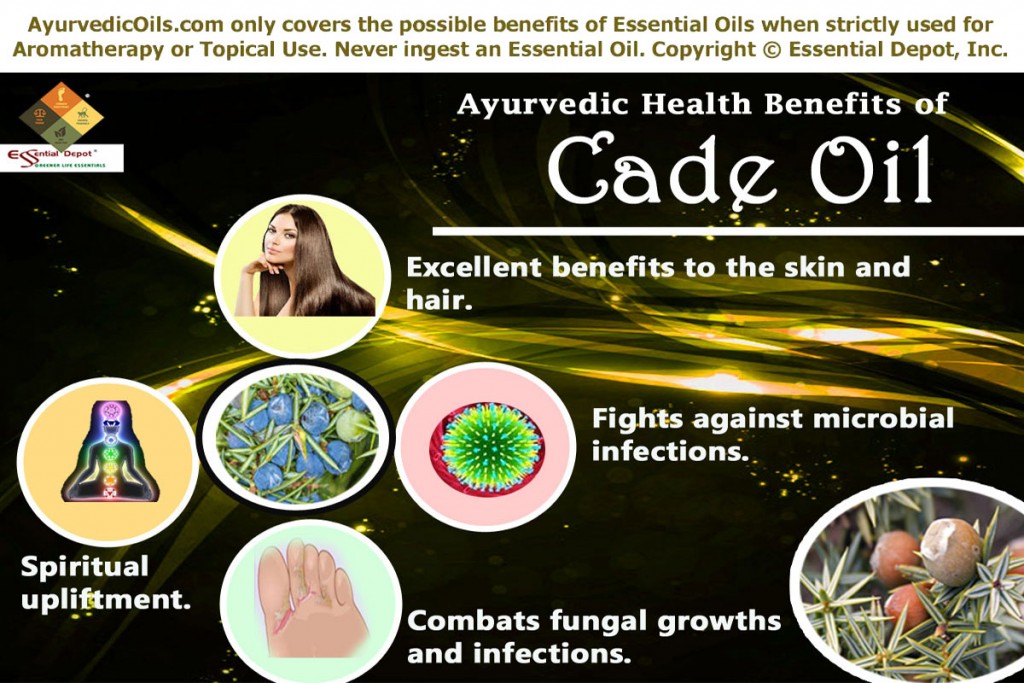 1. Excellent benefits to the skin and hair:
Cade oil has numerous benefits to the skin and hair for which it has been used since the ancient period for treating health problems including dermatological cancers, eczema, psoriasis, skin eruptions, parasitic and fungal infections on the skin, chronic rhinitis and other skin infections.
Cade oil is also a proven remedy for treating alopecia or excessive hair loss, dandruff and other scalp problems. It is for these reasons, Cade oil is used as an effective formula in making ointments for treating wounds, psoriasis, eczema, and the treatment of fungal, viral and bacterial conditions of the scalp.
Numerous studies have proved the potential effects of Cade oil and its use in medicinal manufacturing of skin creams, ointments, and anti- dandruff shampoos as well. Cade essential oil is used as an ingredient in liniments and ointments for chronic skin diseases and problems of the scalp.
Mixing 4 drops of Cade oil blended with 4 drops of Rosemary oil, 4 drops of Thyme oil, 4 drops of Cedarwood oil with 20 ml coconut oil can be used as an effective massage blend for the body for treating all kinds of skin problems, allergies, microbial infections and hair problems as well. This massaging helps in fighting against dead skin cells, promoting quicker healing of wounds, and its disinfectant properties fights against microbes that worsen skin infections.
2 drops of Cade oil added to bathing water or to 10 ml of mild shampoo can act as a potent remedy for treating psoriasis, eczema, ringworm, seborrhea, wounds, herpes, dandruff, lice, loss of hair and other scalp problems as it works by nourishing the skin and scalp, promoting the growth of hair by enriching the hair follicles and support the growth of healthy hair by combating the growth of infectious microbes.
Cade oil hair mask for dandruff: To start with, try it out only for few applications and check the results. Make the mixture using the following ingredients, 1tsp castor oil, ½ tsp soya oil, 10 drops of Cade oil and 2 drops of wheat germ oil. Now mix all the ingredients and store in a dark bottle. Massage this oil deeply into the scalp as required.
Leave it at least for 2 hours and wash it off using a mild shampoo. Try it twice a week and do check with your medical expert on your diet, as hair loss and other scalp disorders can also be related to other dietary and other lifestyle changes.
2. Fights against microbial infections:
The essential oil of Cade is a well-known anti-microbial oil and the antimicrobial activity of Juniperus oxycedrus oil was studied through aqueous and methanol extracts of its leaves in the Pelitli Village of Gebze, Kocaeli, in the Marmara region of Turkey, where Cade was extensively used by the people of the same terrain for the treatment of numerous diseases. The effects of the extracts from the tree were employed in its research in the field of medicine.
Cade essential oil is dark, aromatic and smells like smoke. This oil is also used as mixtures in cosmetics and creams employed in medicinal applications for skin problems. A 2003 study on the 'Antimicrobial activity of aqueous and methanol extracts of Juniperus oxycedrus L,' was conducted on the laboratory strains belonging to 56 bacterial species, and 31 isolates of 5 fungi species.
This study proves that the methanol extract of Cade oil proved promising in the inhibitory effects on the growth of 57 strains of 24 bacterial species in the genera of Pseudomonas, Staphylococcus, Bacillus, Brevundimonas, Brucella, Acinetobacter, Enterobacter, Escherichia, Micrococcus and Xanthomonas.
Another Egyptian study on the 'Antimicrobial activity/Cytotoxic activity of essential oils of leaves and berries of Cade oil', witnessed that Cade oil showed major activity against most of the tested strains including gram positive bacteria like Enterobacter cloacae and Staphylococcus aureus, and gram negative bacteria like Escherichia coli, Salmonella, Pseudomonas syringae etc.,
The best way to use Cade oil for fighting against bacteria, fungi, virus and other microbial infections is to add 3 to 4 drops of Cade oil along with 2 drops of Lavender oil in bathing water to fight against existing microbial infections and to guard you against the effects of harmful microbes throughout the day. You can also add 2 drops of this oil to 1 ml of olive oil and apply it gently on the affected area.
3. Combats fungal growths and infections:
With its antifungal effects, Cade oil fights against the growth of fungus and checks various fungal infections like ringworm, athlete's foot, dandruff etc.,. This property is attributed to its presence of chemical constituents tested by GC-MS and its 42 compounds that represent 96.73% of total oil, α-pinene (39.63%), manoyl oxide (12.34), Z-caryophyllene (4.1%) and extensively high amounts of monoterpenes hydrocarbons and sesquiterpenes. The existence of these strong properties makes the oil prove best in its antifungal activities.
A 2013 study on the 'Chemical composition and antifungal activity of essential oil isolated from Juniperus oxycedrus' states "the antifungal testing by in vitro contact assay showed that the oil significantly inhibits the growth of nine plant pathogenic fungi." Applying 2 drops of Cade oil mixed with 1 ml of sweet almond oil on the infected parts can help in reducing the severity of the infection and prevent the infestation of new microbes as well.
4. Spiritual upliftment:
Cade is an amazing Ayurvedic remedy that has been used in incense and utilized especially during prayers, meditation and Pranayama or the art of balanced breathing. The most inspiring reason is the enormous spiritual benefits of Cade oil.
Adding 2 drops of this oil in your diffuser, room freshener, vaporizer or aromatic candles during prayers and meditation can be of great assistance in helping you forget the pain of being abused, quit addiction, fear of being neglected, alleviate negative emotions and re-align the spiritual and emotional elements of the system. Regular meditation, simple physical exercises, prayers and Pranayama assisted with Cade oil can aid in augmenting your spiritual quotient and elevate your bonding with the divine.
Other health benefits:
Cade essential oil have also been in use since the ancient times in the treatment of pain, joint aches, leprosy, toothaches, snake bites, lice, dandruff, cancer, peptic ulcer, pneumonia, high blood pressure, skin irritation, bronchitis, diarrhea, itching and few other infections.
Disclaimer:
This article is for educational uses only. We are not medical professionals and this information is not directed to diagnose, cure or prevent any medical conditions or to substitute any prescribed drugs or professional medical advice. This info is shared with the motive of spreading the Ayurvedic healing wisdom, which is the world's oldest medicinal system.
Care should be taken while using essential oils topically, as pure and organic oils are highly concentrated liquids and should always be used in a diluted form. Never use essential oils internally and keep them out of reach of children.
Make certain that you talk with your Ayurvedic practitioner or healthcare professional before choosing the appropriate essential oil for your individual constitution and medical condition. This oil should be avoided during pregnancy and breast feeding and do not use it directly on broken or inflamed skin.
Thought for the day:
Nature is a mutable cloud which is always and never the same. -Ralph Waldo Emerson
Suggested Reading:
References: