'Amaze' is the only word that can strike every mind that thinks about Mace and its magical healing values. With its power from being a brain stimulant to its effectiveness in treating depression and rheumatism, Mace fills every heart with total astonishment.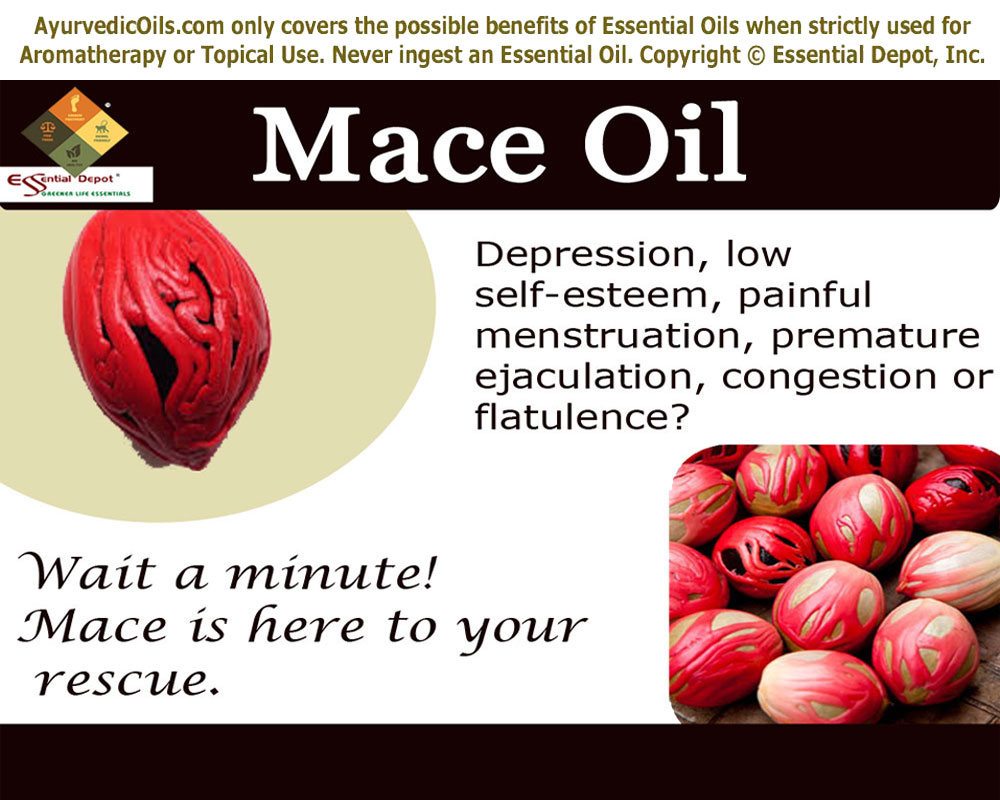 Botanically called as Myristica fragrans, Mace is the twin sister of Nutmeg and is the golden color aril that covers the hard shelled nutmeg (seed kernel).
Called as Jatiphala or Jatisasyya in Ayurveda, Mace has been prescribed for healing various health conditions like halitosis, insomnia, congestion, rheumatism, colic, indigestion, impotence, erectile dysfunctions, dysmennorhea, asthma, headache, lumbago, jaundice and as an excellent tonic for the brain.
Purchase Mace Essential Oil – Wholesale – CLICK HERE
Purchase Mace Essential Oil – Retail – CLICK HERE
Historical importance and uses of Mace and its essential oil:
Mace is a native of the tropical rainforests of Indonesia, the Maluku – Banda islands. Jatiphala is an evergreen tree that takes about 20 years to bear fruits that contains the hard-shelled 'nutmeg' and its protective layer 'mace'.
The traditional Arabians used Mace and Nutmeg as effective carminative and aphrodisiac herbs, aiding in the treatment of indigestion, impotence and premature ejaculation. It was initially the Arabians who traded Mace to Venetians from where it slowly spread throughout Europe in the medieval period.
Mace was used as a folklore remedy for rheumatic problems, intermittent fevers, mouth sores, insomnia, flatulence and diarrhea. The book 'Indian Materia Medica' by Dr. K.M. Nadkarni denotes that Mace has excellent stimulant and carminative properties, making it a trusted gastric tonic since the medieval period.
TCM or the Traditional Chinese Medicine used Mace for its effectiveness in treating dysmennorhea or painful menstruation, abdominal pain and liver problems. The essential of Mace is extracted from the dried hairy arils and have been used in the pharmaceutical and perfume industries for its ample health benefits.
Even today, many natives of India chew mace or the dried arils after meals for promoting quicker digestion.
People also use whole nutmeg as a candy to stimulate the secretion of digestive enzymes and gastric juices that enhance metabolic functions (Nutmeg is indeed a rock like candy that would never melt or reduce in size but still older people have it in their mouth to stimulate their taste buds and to support digestion).
Applying the herbal cream prepared with Nutmeg and Mace powder was applied directly on blood clots, eczema, ringworm and athlete's foot. It has been a promising traditional remedy for treating Alzheimer's disease, lack of concentration and cognitive disorders.
Grandmother's remedy with Mace includes its use in curing diarrhea, insomnia, nausea, flatulence, headache due to stress and to promote menses in case of blocked or delayed periods.
Nutmeg became an expensive remedial spice for its curative powers in warding off plague during the Elizabethan rule. Mace and nutmegs were used for culinary purposes in various international cuisines including the Japanese, Asian, Indonesian, Dutch, European and Middle Eastern. It is also used in the production of toothpastes, cough syrups, sweets, beverages and baked goods.
Remedial properties, nutrients and chemical constituents of Mace essential oil:
Myristicin, camphene, a-pinene, b-terpineol, b-pinene, camphene, myrcene, myristicol, sabinene, limonene, elemicin, safrole, isoelemicin, dipentene, methoxyeugenol, linalool and safrole along with 2 resorcinols namely malabaricone C and malabaricone B (antimicrobial and antioxidant properties).
Mace essential oil has antifungal, anti-inflammatory, antioxidant, antibacterial, larvicidal, emmenagogue, aphrodisiac, carminative, expectorant, analgesic, tonic, anti-asthmatic, antimicrobial, stimulant and anti-depressant properties.
Mace is a powerhouse of enormous nutrients including vitamin A, thiamin, vitamin C, riboflavin, niacin, calcium, sodium, iron, potassium, zinc, magnesium, copper, manganese, phosphorus and the list goes on.
Ayurvedic uses of Mace essential oil:
Revolutions happen frequently in today's digital era. Everything has taken a greater twist and turn. All that was found in nature at ease became a part of Ayurvedic medicine in the ancient period. Along with the depletion of nature, natural remedies like Ayurveda looked as if it has taken a back seat.
This gentle reminder is that the much simpler life that you lead with more of natural things and less of artificial stuffs is indeed an Ayurvedic way of living. You don't need to be a saint or a disciple of an Ayurvedic Guru for taking up Ayurveda into your routine.
Remember that the deep breath (Pranayama) that you take in the morning to start your day till the use of soothing essential oils in your diffuser (Aromatherapy) before going to bed has Ayurveda.
Ayurveda is the pioneer and the mother of all healing systems on this globe. People across the sphere have given various names for different treatments as per their taste and cultural differences.
For example, Ayurveda prescribes natural medications and aims at the treatment, prevention and longevity through augmenting the life force called as 'prana'. The same is the ideal behind TCM or the Traditional Chinese Medicine that uses natural medicines for increased life span by stimulating the life force known as 'Qi'.
Ayurveda is in everything that you use daily and the wisdom lies in the way you use it as the word 'Ayur+veda' simply means 'Life + Knowledge' i.e., the knowledge of life. It is that knowledge for leading your life in absolute peace and bliss with less or no chaos around.
World started with a single man and a single woman and gradually spread its root everywhere across the globe, known to us today as the human race. End of the day, when we turn back or dive deep into our history, all of us would just have the same ancestors and the same forefathers in some way or the other.
All I wanted to say is just one thing that Ayurveda is the priceless gift of our ancestors and it is the innate souvenir that they left behind in each of us. All we need to do is to rekindle the Ayurvedic thoughts that are deeply vested in our souls to lead a healthy and hearty life.
These kind of deeper thoughts strike our spirits when our mind is in a highly elated and conscious state during meditation, which is why meditation is also a remedial practice in Ayurvedic healing.
I'm not going to write the usual Ayurvedic stuff in this post as well. If you want to know the technical and traditional Ayurvedic terms, then just check our other posts on Ayurvedic oils.
Mace is undoubtedly one among the spectacular herbs whose remedial values become a blessing to all those who use Mace in any form. In an Ayurvedic perspective, Mace and its essential oil possess excellent warming, stimulating and invigorating properties that fuel the mind, body and the spirit.
Ayurveda prescribes unique remedy for every individual as it firmly believes that every person on earth is a unique creation with a distinct Prakriti or individual constitution, which is a combination of the 3 vital energies known as doshas. Every individual has a combination of all the three doshas with a predominance of one dosha, which determines his/her nature, temperament, physique and behavioral patterns.
According to Ayurveda, balance between these doshas as per the law of nature determines health and doshic imbalances due to lifestyle changes, irregular food habits, change in weather conditions, and lack of physical exercises, sedentary lifestyle and few other factors lead to illnesses.
Ayurvedic remedies include herbs, essential oils, yoga, Pranayama or the art of Ayurvedic breathing, Ayurvedic routine, Panchakarma or the detoxification therapy, meditation and prayers as tonics to the soul. These holistic remedies aim at striking perfect balance between the doshas to regain health and prevent it in future.
Mace essential oil has the potent to augment pitta (responsible for metabolism, body temperature, decision-making and leadership traits) energy and pacify kapha (responsible for sustenance, physical set up, love and trust) and vata doshas (responsible for nervous functions, respiratory functions, circulatory functions, creativity and sociability).
Chalo! Let's walk through the many… many benefits of Mace essential oil…………..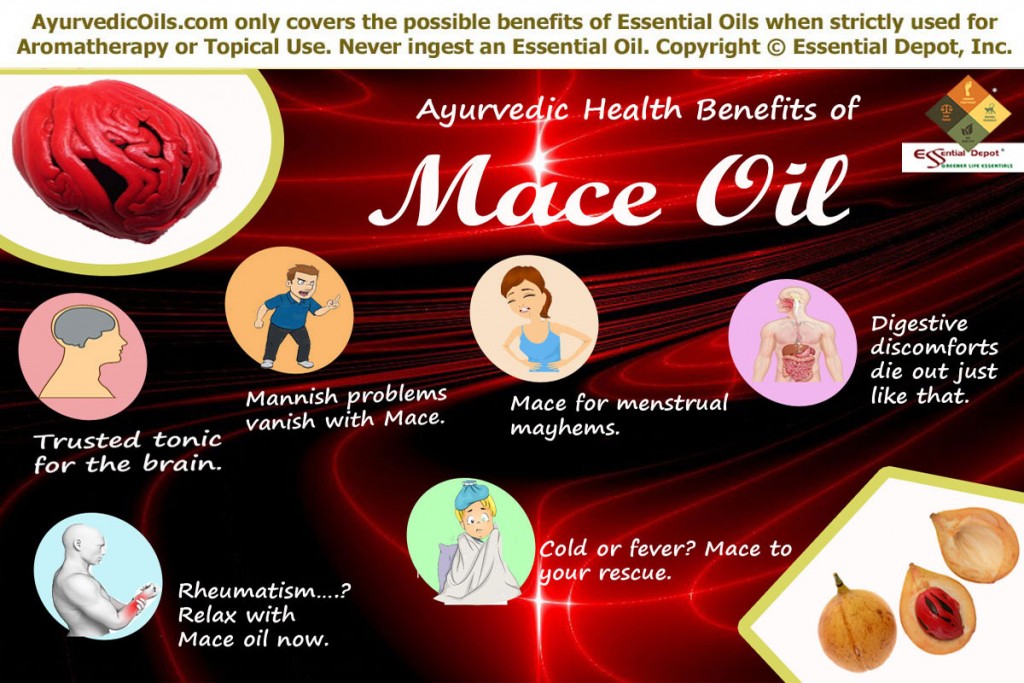 1. Trusted tonic for the brain:
Brain is often the supreme part of the body, simply questioned for any under-performance or distorted tasks. The intellectual powers, cognitive abilities and brilliance are always associated with the functioning of the brain.
Stress, mental exhaustion, anxiety, fatigue and overindulgence in any chore beyond one's natural potency deteriorate the normal performance of the human brain. This in turn ends up in loss of memory, depression, lack of concentration, negative feelings, and lack of self-esteem, inferiority complex and even Alzheimer's disease.
Mace and Nutmeg essential oil has an organic compound called Myristicin (along with elemicin), which has been proved in various research studies as an effective constituent that stimulates enzymes in brain. These enzymes support in enhancing the memory power and helps significantly in the treatment Alzheimer's disease.
Mace and Nutmeg essential oil has the power to enhance the cerebral functions and awakens your inner consciousness. An extremely enlightening blend of 2 drops of Mace oil, 1 drop of Calamus oil, 1 drop of Brahmi oil along with 1 drop of Rosemary oil in your diffuser or vaporizer, especially during the early hours of the day, when your mind is in deep meditation or during prayers can bring in all the vital energy that your brain requires to bounce back into action.
The remedial properties of these brain herbs pass through your nasal passages and reach the limbic system, the ultimate control center of human brain. Practicing this invigorating ritual every day can assist in improving your concentration power, optimistic thoughts, mental stability, sense of consciousness, memory power, functions of the brain cells and the power to focus without any digression.
Massaging your system with 10 drops of Mace oil, 5 drops of Rosemary oil, 5 drops of Ylang Ylang oil, 5 drops of Clary Sage oil, 5 drops of Petitgrain oil and 4 ounce of Coconut oil can help in pacifying the nerves, alleviating mental exhaustion, fatigue, anxiety, stress, pessimistic thoughts and feelings of loneliness by granting a sense of courage, self-confidence, increased attention, spontaneous thinking and strengthened nervous functions.
2. Mannish problems vanish with Mace:
Mace has a handful of masculine health benefits. With its tonic, stimulating and aphrodisiac properties, this revitalizing oil has been prescribed for treating impotence, premature ejaculation, loss of libido and lack of sexual interest.
Adding 5 drops of Mace oil, 2 drops of Ashwagandha oil along with 2 drops of Ylang Ylang oil in your bathing tub, especially before your bedtime, preferably with your partner can help in boosting the functions of your reproductive system by strengthening the pelvic muscles, increasing your sperm count, relaxing your system, granting a sense of secured feeling with your partner and augments your sexual drive.
You can also add 2 drops of Mace and 2 drops of Patchouli oil in your diffuser during the bedtime for influencing positive feelings and sense of absolute comfort during your special moments together.
3. Mace for menstrual mayhems:
The essential oil of Mace has emmenagogue properties that help in supporting the uterine functions and hormonal imbalances in women. Gently massaging your lower abdomen, thighs and lower back with 3 drops of Mace oil, 2 drops of Wormwood oil along with 10 ml of sesame oil can aid in fostering blocked or delayed menstruation, soothe painful periods or dysmennorhea, control nausea, mood fluctuations, headache and certain other symptoms associated with menstruation.
4. Rheumatism….? Relax with Mace oil now:
According to Ayurveda, ama or toxic remains due to improper digestion is the root cause of water retention diseases (kapha vitiation) like rheumatism, obesity, edema and respiratory infections.
Excess of water deposits along with toxic substances, salt, uric acid and harmful fat deposits lead to chronic pain, inflammation, soreness, redness, improper blood circulation and muscular stiffness associated with rheumatism, arthritis and edema.
With its power to pacify kapha energy along with its anti-inflammatory, diuretic, analgesic, anti-rheumatic and circulatory properties, a gentle massage on the affected parts with 3 drops of Mace oil along with 1 drop of Chironji oil and 2 drops of Ginger oil with 5 ml of coconut oil can help in relieving pain, promoting blood circulation, reducing swelling and inflammation by discarding excess fluid and toxic remains through urine.
It increases the quantity and frequency of urination. A warm compress followed by this massage can support in quicker relief as it helps in passing the therapeutic components to the bloodstream quickly.
5. Digestive discomforts die out just like that:
Mace and its essential oil have pitta or digestive fire enhancing quality that contribute to its excellent carminative, stimulant, antispasmodic and laxative properties that help in treating indigestion, gall stones, sluggish digestion, gastritis, vomiting, flatulence, diarrhea, intestinal spasms and bad breath.
Inhaling the soothing aroma of Mace oil by adding 1 drop of it in a tissue or a hankie, especially before your mealtime and massaging your tummy with 2 drops of Mace oil, 1 drop of Grapefruit oil, 1 drop of Orange oil and 5 ml of sesame oil can enhance the secretion of hydrochloric acid, digestive enzymes and gastric juices responsible for trouble-free digestion.
6. Cold or fever? Mace to your rescue:
Common cold, congestion, whooping cough, throat infection, headache, blocked nasal passages, fever and certain other respiratory problems are the effects of kapha imbalances allowing the fluid retention to build up as mucous and phlegm deposits in the bronchial, respiratory and nasal passages.
The essential oil of Mace has gentle warming and expectorant properties with its power to lessen the increased kapha energy. 2 drops of Mace oil with 1 drop of Peppermint oil and 1 drop of Eucalyptus oil added to steam inhalation and as a gentle massage of your throat, chest and back with the same blend in your vaporizing ointment can facilitate in loosening the dangerous phlegm and mucous thus alleviating nasal congestion, sore throat, runny nose, itchy eyes, fever, cough, headache, asthma and congestion in the bronchial passages.
Other health benefits:
Mace oil is also used in the treatment of kidney infections and renal calculi. It is also an excellent sedative that promotes uninterrupted sleep at night. With the presence of eugenol, Mace is also a proven remedy for treating toothache and halitosis. Mace oil is also effective in relieving backache, bruises, pain in the joints and migraine headache. It is also used as a flavoring ingredient in the production of tobacco, shaving creams, soaps and air fresheners.
Various research reports have proved that essential oil of Mace and Nutmeg has the power to prevent and fight against cancer by restraining the growth of blood vessels that support cancerous tumors.
Disclaimer:
This original piece of information is meant only for the purpose of education and is not recommended to diagnose, prevent or to treat any kind of ailments. It is neither meant to replace any prescribed medicines or the advice of a healthcare professional. We, the team of Essential Depot are not experts in Traditional medicine and these facts are shared only for unveiling the myths of Ayurveda and for spreading its glory in healing humanity across the globe.
Essential oils are not recommended for internal use and remember to dilute essential oils in suitable carrier oils before using it for topical applications. This is because absolutely pure and organic essential oils are highly concentrated liquids and may cause allergic reactions, when used on the skin without dilution.
Pregnant and nursing women, please excuse as Mace oil has potent to cause uterine contractions and may end up in miscarriage. Speak with your Ayurvedic expert or medical professional before choosing the suitable essential oils as per your state of health and unique individual constitution. And the final friendly advice is to do a patch test on your skin before enjoying its complete benefits.
Thought for the day:
Natural forces within us are the true healers of disease.– By Hippocrates
Suggested Reading:
Reference Links: