'Don't judge a book by its cover' is a celebrated phrase and it promptly applies to Castor oil, the often overlooked oil. Castor is indeed a Master in healing colossal medical conditions including alopecia, wrinkles, ovarian cysts, fibroids, constipation, phantom tumor, piles, asthma, rheumatoid arthritis, neuralgia and the list goes on.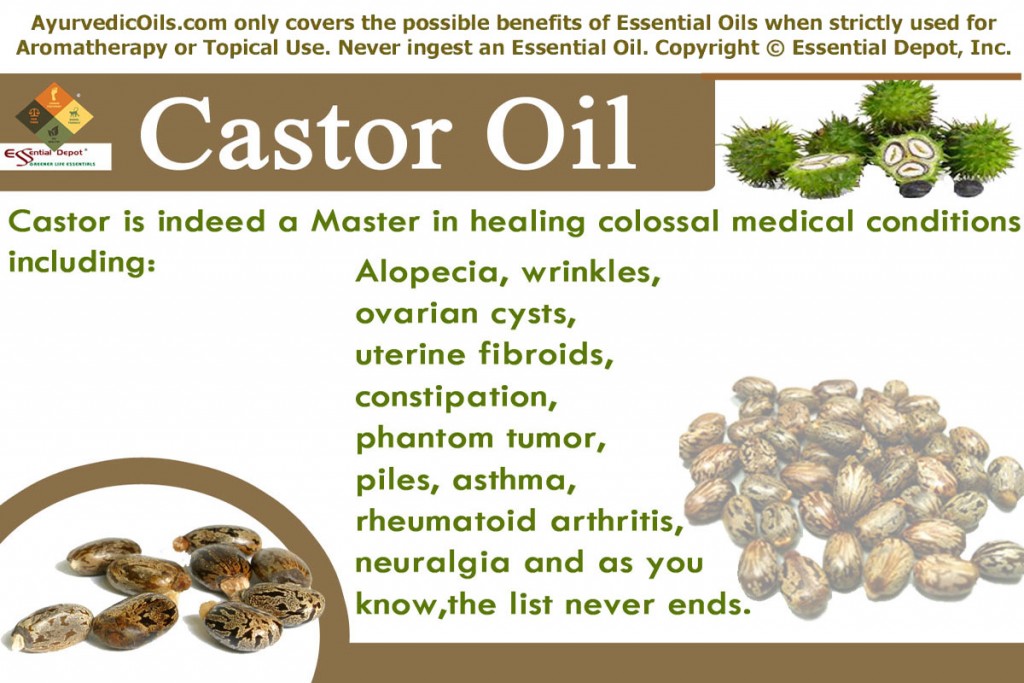 Called as Gandharvahasta or Eranda taila in Ayurveda, Castor oil is the handiest remedy for alleviating abdominal tumors and uterine fibroids in women and certain other inflammatory conditions.
It is also prescribed for enhancing sperm quality, cognitive functions, memory power, skin health, digestive ability, muscular strength, immunity and in cleansing vagina, semen and the abdomen.
Purchase Castor Oil – Retail – 1 Quart – CLICK HERE
Purchase Castor Oil – Wholesale – 1 Gallon – CLICK HERE
Therapeutic properties and chemical constituents of Castor oil:
The primary chemical components of Castor oil are ricinoleic acid that contributes to about 85 to 95 per cent of its oil along with other constituents like oleic acid, stearic acid, palmitic acid, a-linoleic acid, linoleic acid and dihydroxystearic acid.
Anti-inflammatory, emmenagogue, anti-infectious, anti-rheumatic, fungicidal, laxative, immune stimulant, insecticidal, anti-viral, labor inducing, anti-allergic, anthelmintic, rejuvenative, anti-aging, germicidal, disinfectant, and analgesic are the major remedial attributes of pure Castor oil.
Historical uses and importance of Castor oil:
Castor oil is extracted from the attractive and ornamental Castor seeds by cold press method. It is one among the most commonly used oil since the pre-historic times for cleansing the colon, reproductive system and as a powerful detoxifying agent.
Ricinus communis is the botanical name of the Castor plant from which this healing vegetable oil is extracted.
You'd be shocked to know that Castor oil was given as punishment to mischievous children and it was later restricted by the Physicians for using medicines as punishment.
Mussolini is known for the use of Castor oil as a penalty for political dissidents and it was popularly quoted that Mussolini's supremacy was supported by the 'bludgeon and castor oil'.
These negative facts about Castor oil vanished gradually after few decades of Mussolini's death in the Western world and with its enormous medical benefits that had proven positive effects.
The ancient Ayurvedic healing records the use of Eranda or Castor oil since 2000 BC as a traditional analgesic, purgative and laxative for treating arthritis, constipation and infestation of worms. It has also been used in lamps.
Castor oil is the hero in the Asian and African provinces and was regarded as a panacea for various infectious diseases and chronic health conditions.
Ayurveda and other alternative medicinal practices prescribe Castor oil as an effective remedy for rheumatism, lumbago, hair fall, wrinkles, cysts, warts, menstrual discomforts, constipation, yeast infections, acne, ringworm, arthritis and inflammatory nerves.
Castor oil has been listed as 'Generally recognized as safe and effective' (GRASE) by Food and Drug Administration (FDA) of the United States as an over-the-counter laxative.
Kolliphor EL is one among the most common Castor oil derivative that is included in various modern drugs as follows:
"Xenaderm ointment, a topical treatment for skin ulcers, is a combination of Balsam of Peru, castor oil, and trypsin.
Paclitaxel, a mitotic inhibitor used in cancer chemotherapy.
Miconazole, an antifungal agent.
Nelfinavir mesylate, an HIV protease inhibitor."
Even today, Castor oil is used as a natural emollient and moisturizer in numerous soaps, shampoos and various other cosmetics manufacturing.
Ayurvedic health benefits of Castor oil:
Castor oil is an excellent detoxifying, cleansing, nourishing and pacifying oil for the mind, body and spirit, especially when used in Abhyanga or Ayurvedic massage. Abhyanga is an ancient art of repairing and rejuvenating the tensed muscles and the system with the use of therapeutic Ayurvedic oils.
Charaka, the most celebrated Ayurvedic philosopher quotes massaging as:
"The body of one who uses oil massage regularly does not become affected much even if subjected to accidental injuries, or strenuous work. By using oil massage daily, a person is endowed with pleasant touch, trimmed body parts and becomes strong, charming and least affected by old age."
–Charaka Samhita Vol. 1, V: 88-89.
Many Ayurvedic experts and philosophers beckon Castor oil as 'the only oil that eliminates ama (toxic remains in the system mainly due to improper digestion) and crammed mala (faeces) and kapha vitiation (stagnation of water deposits).' Castor oil works best when it is employed with heat on the affected parts of the body.
Often rated as the best oil for treating vata imbalances, Castor oil has the potent to treat chronic constipation, Gastro-intestinal congestion, benign tumors, uterine fibroids, infections, cysts, dry skin conditions, matured skin, brittle hair, discards morbid vata, stiff joints, gout and bloating.
Castor oil pacifies vata and kapha dosha in excess and enhances pitta energy. It augments circulation with its warm attributes, thus encouraging the movement of lymph.
Being the oldest of all remedial sciences on earth, Ayurveda is the real inspiration and the root for all other medical systems on earth. This includes Siddha, Homeopathy, TCM (Traditional Chinese Medicine), Unani, Aromatherapy, Acupressure and Chiropractic.
Ayurveda abides by a 'cause and effect' technology that sticks to the popular adage, "There's no smoke without fire."
Any health condition, according to Ayurveda does not occur instantly and Ayurveda believes that there is a strong underlying root cause behind every illness. The mind, body and the spirit are interconnected with each other and imbalance of any of these factors would affect the others.
Ayurvedic healing endeavors to identify the root cause of a sickness and treat it for complete cure and prevention, instead of treating its symptoms that might be of temporary relief.
Ayurveda states that good state of health is a blend of emotional, physical and spiritual wellness of an individual. It aims at self-realization and attaining Divinity through purity along with hale and heartiness.
Thus, Acharya Charaka, the renowned Ayurvedic Guru and the author of Charaka Samhita, the first Ayurvedic encyclopedia says "The three – body, psyche, and soul – act as a tripod. The world stands upon them, and within them, the world abides."
Every person in this universe is a unique individual with a distinct individual constitution known as Prakriti. This is a combination of three doshas, namely vata, pitta and kapha.
World is made up of five fundamental elements called as Panchamahabhutas (earth, air, fire, space and earth.) Doshic energies are an arrangement of these five vital forces.
All the human beings have a predominance of any one dosha, which decides the physical, mental, spiritual and behavioral attributes.
Ayurveda strives to strike absolute balance between these doshas and treat the unevenness with Nature as imbalance with the natural buoyancy is often the beginning of any medical condition.
The most common Ayurvedic medications are herbs and herbal medicines in the form of powder, syrup and paste; Ayurvedic essential oils, Panchakarma or the practice of Ayurvedic detoxification, Pranayama or conscious breathing, Abhyanga or Ayurvedic massaging, yoga, Ayurvedic routine or Dinacharya, simple physical exercises, prayers and meditation.
The most effective but the less known Ayurvedic health benefits of Castor oil are: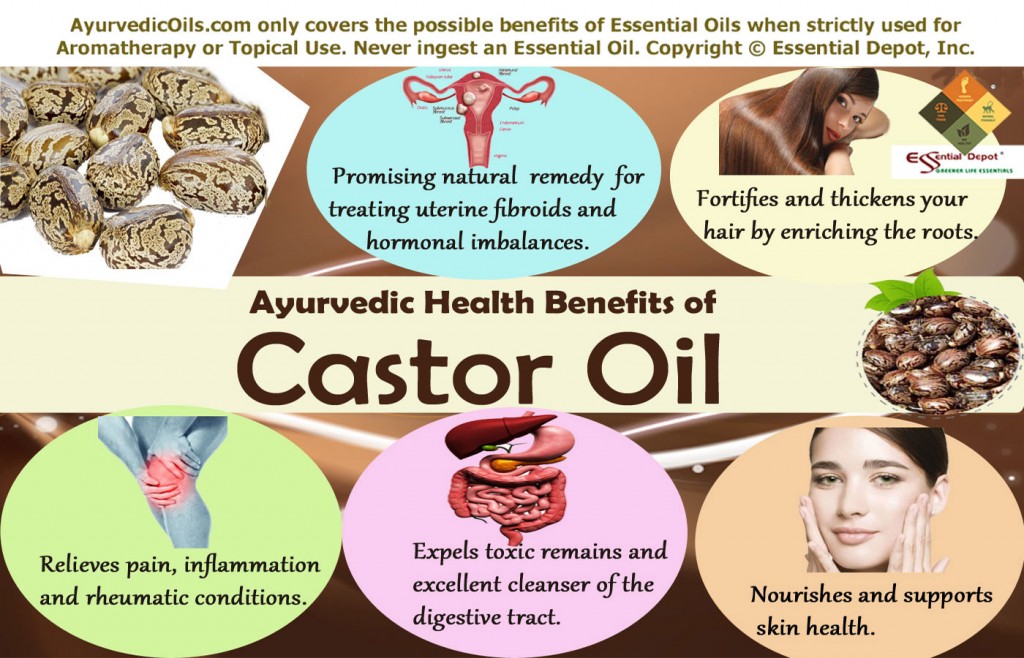 1. Promising natural remedy for treating uterine fibroids and hormonal imbalances:
Uterine fibroids are one among the most common problems in women, often present without any symptoms and in certain cases it causes extreme menstrual pain, pain in the pelvic area, frequent urination and fertility problems as well depending upon its location in the inner wall of the uterus.
The actual reason for fibroids in the uterus is not known but is generally stated as a change in the hormonal levels of women in the reproductive age. Fibroids tend to shrink with age as the level of estrogen reduces gradually.
Fibroids are benign tumors that require no treatment unless it causes severe pain or fertility problems. The most intricate solution for treating uterine fibroids is hysterectomy or removal of uterus.
Gulma is the Ayurvedic term for fibroids and other phantom tumors. Ayurveda recommends the use of warm Castor oil in massage and as a medicinal intake.
Castor oil is called as Gulma hara, which means that the best remedy for discarding tumors present in the abdominal area.
Abdominal tumors are often caused due to the vitiation of vata and kapha dosha. Castor oil is termed as one among the best natural medication for eliminating excess vata and kapha dosha, thus enhancing circulation and reducing the size and symptoms of fibroids, cysts and other abdominal tumors.
Vata dosha is the air and space energy that rush through the system in a jiffy and is prevalently the cause behind the imbalance of other two doshas. Vata doshas rules circulation and movement of the body and vitiated vata might end up in causing anxiety, dry skin, bloating, muscular stiffness, dehydration, improper blood circulation, insomnia and more.
This Sanskrit verse says it right, "THE LION OF CASTOR OIL ALONE CAN KILL THE MADDENED ELEPHANT OF 'VATA' AS IT STAMPEDES THROUGH THE BODY."
Castor oil is by far considered as the only oil that has the ability to eliminate ama or toxic remains, kapha imbalance (surplus fluid deposits) and congested mala (faeces). When used externally with heat, Castor oil is effective in decreasing the growth of excess tissues, cysts and tumors.
The rich therapeutic oil extracted from the seeds of the Castor plant is a promising alternative for treating Yoni Roga, which means the disorders of the genital tract in women and Udara, meaning abdominal diseases.
It is also termed as Adhobhaga Doshahara, which means its efficacy in flushing out doshic vitiations from the lower part of the system.
Massage your lower abdomen with 5 ml of warm Castor oil and cover it with a flannel cloth, followed by a plastic wrap. Use a heating pad or hot water bottle over the wrap and relax in a comfortable position for about 30 minutes to 1 hour.
Castor oil has deep penetrating properties, thus it enters the bloodstream quickly and passes on its therapeutic properties at ease. This power-packed massage therapy can help one in breaking up scar tissues, if any, eliminates uterus congestion, reduces and confiscates fibroids, cysts and other benign tumors in the abdominal area (uterus and ovary).
It works by increasing the blood circulation in the abdominal region and thus breaks down the clogged mass of fibroids, cysts and tumors.
Dysmennorhea or painful menses, delayed or obstructed menstruation are treated with the natural emmenagogue properties of Castor oil, which is attributed to the presence of ricinoleic acid.
Remember not to use Castor oil during menstruation as it might increase the flow of menses and the best time to use is before the onset of your periods.
Castor oil is an excellent cleansing remedy for the male and female reproductive system. Ayurveda calls Castor oil as Yoni vishodhana, medication for vaginal cleansing and as Shukra vishodhana, remedy for enhancing the quality of semen and purifying it.
Ayurveda recommends newly married couples to take Castor oil as an aid to purify the mind, body and spirit before giving birth to a new soul on earth. The oil of Castor is also used for treating Shukra gada or seminal problems.
2. Nourishes and supports skin health:
Are you into Soap making business? Then just choose Castor oil with your eyes closed and you'd definitely order bulk of Castor oil cans if you get to know the Ayurvedic benefits of it.
Castor oil is a promising Ayurvedic remedy for healing skin disorders (Kushtapaha); an excellent invigorating and anti-aging agent (Vaya sthapana); enhances the natural glow of your skin (Kantikara); boosts skin health (Twachya); enters even through the minute channels of the skin and repairs the damaged skin cells (Teekshna and Sookshma).
The most impressive use of Castor oil is its effectiveness in treating wrinkles, fine lines, crow's foot, spots and other symptoms of aging. This quality is attributed to its emollient benefits that influence the natural production of elastin and collagen, the secret agents of supple skin.
Massaging your skin with 4 ml of Castor oil blended with 1 ml of Jojoba oil can assist in revitalizing and revivifying the skin surface.
Castor oil can also be helpful in treating psoriasis, ringworm, eczema, stretch marks, skin inflammation, boils, acne, abrasions, corns, cysts and dry skin conditions.
3. Fortifies and thickens your hair by enriching the roots:
Hair and skin are the most promising indicators of a 'Healthy You'. Loss of hair, dandruff, dry, rough and gray hairs do not always occur because of environmental nuances. There are much more intense reasons behind the illness of your hair and scalp.
Stress, worries, anxiety, fatigue, insomnia, panic attacks and of course unhealthy diet and lifestyle practices contribute to the detrimental state of your hair.
Castor oil is an incredible natural asset for addressing most of your hair problems and has even been proven to influence the growth of hair on your eyebrows.
Unclogging the blocked pores, strengthening the hair follicles, nourishing the scalp conditions, moisturizing the hair and scalp and motivating the natural growth of hair is all that the magical touch of Castor oil can spell upon you.
Being a traditional remedy for addressing various hair conditions, Castor oil is also recommended in the United States of America as an economical substitute for the most expensive serums for the growth of hair and eyebrows.
To start with, blend 10 ml of Castor oil with 2 drops of Lime oil and 5 drops of Rosemary oil and heat it slightly. Massage this warm blend on your scalp and leave it for about an hour. Shampoo your hair with a mild herbal shampoo for best results.
Continue this enriching massage twice a week for about 3 months for repairing your hair damages and fostering the natural shine and luster of your bouncy locks.
Ayurveda beckons Castor oil as Keshya for its efficiency in encouraging hair growth and enriching the hair follicles.
The presence of Vitamin E, ricinoleic acid and other Omega-9 and Omega-6 fatty acids help in influencing good circulation of blood in the scalp, seal the moisture in the hair and scalp, treat split ends and breakage of hair.
The antimicrobial, antiviral and antifungal properties of Castor oil also assist in treating itchy scalp conditions, dandruff and other infections of the scalp.
4. Relieves pain, inflammation and rheumatic conditions:
Rheumatism and rheumatoid arthritis are the children of the toxic elements left in the system, especially amassed in the hands, legs and joints. This results in pain, inflammation, improper blood circulation, redness, soreness and irritation in the muscles and joints.
Castor oil is a winning rescuer from amavat (inflexibility and pain in joints) and rheumatic conditions with its wonderful effect to augment blood circulation, relieve pain, reduce swelling and treat stiffness in joints.
With its easily penetrating quality, Castor oil pierces into the bloodstream and starts working instantly on the affected parts. Castor oil is called as Shulaghnam for its analgesic values and is also known as Guhya shoola and Prushta shoola for supporting the treatment of lower back pain.
It's also been proven effectual in the treatment of Shotha (inflammation and swelling) and Katigraha (stiffness in the lower back).
Massaging the painful parts with 3 ml of warm Castor oil blended with 2 drops of Ginger oil can help in eliminating the toxic wastes and excess fluid deposits stagnated in the system through urine and metabolic wastes.
It can also be helpful in alleviating pain, soothing the tensed muscles, calming the nerves and instilling complete relief.
5. Expels toxic remains and excellent cleanser of the digestive tract:
Ama or toxic remains in the body are mainly due to indigestion, irregular diet and other lifestyle practices. Ayurveda states that build up of noxious substances in the system might pave way to the rise of chronic and even fatal diseases.
As read already, Castor is one among the best Ayurvedic remedy for eliminating toxic (ama) remains, excess fluid, salt, uric acid and fat deposits in the body.
Castor oil is a grandmother's remedy for eliminating worms, parasites and toxic substances in the body, especially the digestive system. Pure Castor oil is ingested during the night and is trusted to stimulate the bowel movements and flush out the toxic waste through faeces in the morning.
Gas (anaha), bloating (Vatodara), gout (Vatashonita), chronic constipation (Vid bandha), prostitis (Ashtila), and heaviness are often treated with Castor oil, either as a tonic or massage oil.
Deepana is another medicinal term for Castor oil for its ability to enhance digestive power and is a promising natural laxative. For its anthelmintic properties that aids in discarding worms, parasites and other pathogens in the body, Castor oil is also known as Krimighnam.
Blend 2 drops of Peppermint oil with 3 ml of Castor oil and massage on the abdominal area for alleviating digestive discomforts.
Other health benefits:
In general, Castor oil is said to contribute to varied health benefits of the system including its power to nurture immunity or the power to resist against diseases (Balakara); improve cognitive and memory functions (Medhakara and Smrutikara); and augment general health and heartiness (Arogyakara).
Disclaimer:
This article is only for the purpose of education and is not destined to treat, prevent or diagnose any health conditions. It is not meant for substituting any prescription medicines or the advice of a medical professional. We, at Essential Depot are not healthcare experts and this information is shared only for thinning out the phenomenal healing of Ayurveda, the oldest of all medical sciences on earth.
All essential oils are recommended topical use only and not for ingestion. This is mainly because 100 per cent pure and organic oils are concentrated substances and may cause allergic reactions.
Take special care when using essential oils on pregnant or nursing women, children and people with chronic illnesses. Speak with your Ayurvedic professional or General practitioner before choosing the suitable oils for your unique individual constitution or Prakriti and the state of health or Vikruti. A patch test on your skin before enjoying the enormous benefits of Ayurvedic essential oils is recommended.
Thought for the day:
Wherever the art of medicine is loved, there is also a love of humanity.
– Hippocrates
Suggested Reading:
Reference Links:


Your resource for quality Essential Oils. Every batch is
GC tested to ensure purity and authenticity.