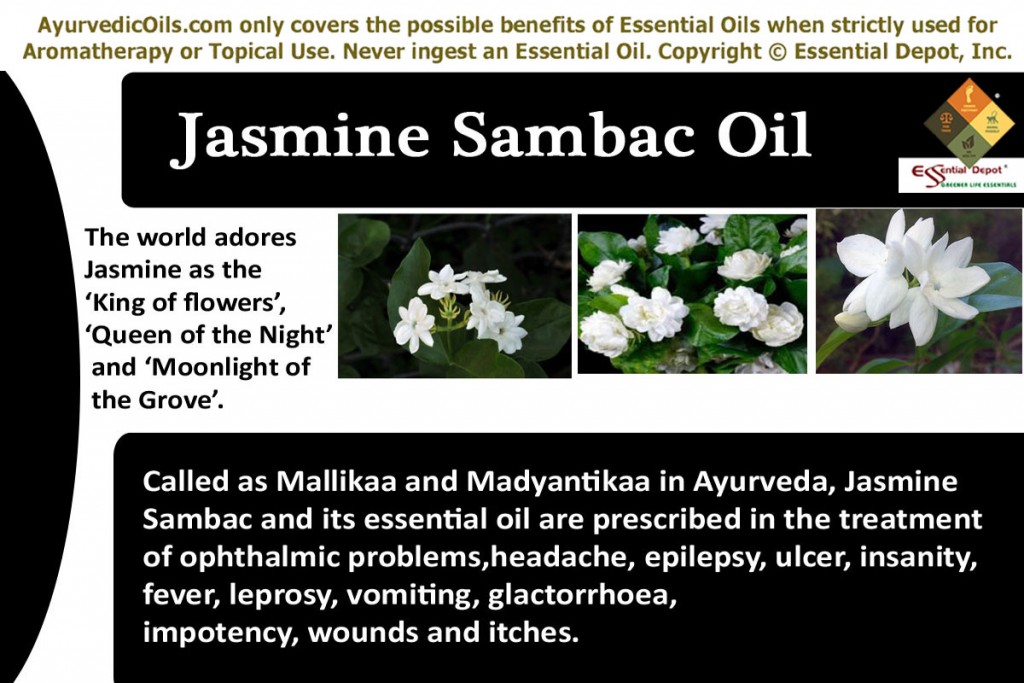 'King of flowers', 'Queen of the Night' and 'Moonlight of the Grove' are the ways by which the world adores Jasmine. The exotic, musky, mystifying, mesmerizing, sensual, zesty and the most masculine of all the flowery aromas in the world, Jasmine flowers grab the attention during their fullest blooms in the midnight.
Botanically known as Jasminum Sambac, Jasmine is known as Mallikaa, Nava-Mallikaa, Shita-bhiru, Madyantikaa, Vaarshiki and Madayanti in Ayurveda. It is commonly known as Arabian Jasmine.
According to the book, Indian Medicinal Plants Volume 3, the flowers, essential oil, leaves and the roots of this evergreen plant are widely used in Ayurvedic healing for treating ophthalmic problems, headache, epilepsy, ulcer, insanity, fever, leprosy, vomiting, glactorrhoea, impotency, wounds, itches and few other skin problems.
It takes about 8,000 hand-picked Jasmine blossoms to extract 1ml of its essential oil, which makes Jasmine as one among the most expensive oils on earth.
Purchase Jasmine Sambac Absolute 5% in Pure Jojoba– 4oz– CLICK HERE
Historical importance of Jasmine Sambac:
Jasmine Sambac is native to India and has its use etched in the history of various countries since the ancient times. The name Jasmine is extracted from the Persian name 'Yasmin' which means a fragrant flower.
It is the national flower of Philippines and one among the three national flowers of Indonesia. Known as Sampaguita (means "I promise you" and is a pledge of mutual love) in Philippines, Jasmine Sambac is regarded as a symbol of strength, simplicity, sacredness, humbleness and purity and is also used as a herbal remedy for fractures, abdominal distention, diarrhea, fever, swelling of the eyes and sprains.
The traditional Indians use the fresh juice of the ground flowers in treating sores, itching and wounds. The medicated root paste of Jasmine plant is used in treating labour pain for centuries in the rural parts of India.
Fresh Jasmine blossoms are used in making ceremonial garlands, crowns and other decorations on special occasions and as offerings to God in India, Indonesia and Philippines. Jasmine flowers are worn as hair ornaments by Indian women especially after marriage for its natural aphrodisiac, euphoric and sensual properties.
The Traditional Chinese Medicine has used Jasmine Sambac in the treatment of diarrhea, tumors, conjunctivitis, skin ulcers, dysentery and fever. The native Chinese used the roots in curing severe pain, headache, insomnia and pain and inflammation due to broken bones or dislocated joints mainly attributed to the analgesic, anti-inflammatory and anesthetic properties of this aromatic herb. The dried Jasmine flowers are used in making herbal tea in China.
The young leaves of Jasmine Sambac plant is used in making a herbal infusion for curing gallstones and the infusion of the roots were ingested to cure diabetes mellitus in Borneo. Jasmine Sambac has also been used for culinary purposes especially in making candies, teas, puddings, desserts, liqueurs and dairy products.
Therapeutic properties and chemical components of Jasmine Sambac essential oil: Jasmine Sambac oil is known to have antidepressant, aphrodisiac, antibacterial, analgesic, anesthetic, anti-inflammatory, antispasmodic, sedative, antiseptic, expectorant, antinociceptive, carminative, uterine tonic, cicatrisant, parturient, uplifting, stimulating, lactifuge and antitumor properties.
The major chemical constituents of Jasmine Sambac oil are cis-3-hexenyl acetate, benzyl acetate, methyl anthranilate, benzyl alcohol, cis-3-hexnyl benzoate, cis-3-hexnol, cis jasmone, linalool, methyl salicylate, benzyl benzoate, indole, α-franasene, linalyl acetate, α-cadinol and β-elemene.
Ayurvedic health benefits of Jasmine Sambac essential oil:
Ayurveda is the ancient wisdom of healing humanity for more than 5,000 years. It aims at prevention of illnesses along with healthy aging and longevity. Ayurvedic philosophy treats every individual in a unique manner even for the same disease as it trusts that every human being is unique in this world just like our finger prints.
It is the unique individual constitution of a person that helps differentiate his physical, mental and spiritual set up. According to Ayurveda, this constitution is made of three predominant biological energies known as doshas.
They are vata, pitta and kapha dosha. Each of these doshas represents a combination of two elements of nature. Whereas vata represents air and space, pitta represents fire and water and kapha is a representation of water and earth.
Vata energy governs circulation, process of elimination and the power of creative thinking. Pitta is responsible for digestion, absorption of energy along with leadership and decision making skills. Kapha controls the movement of fluids in the body, structure, sustenance and love.
Every human being is classified based upon the predominance of any one of these doshas and balance between these three Ayurvedic body types determines healthiness. Doshic imbalances denote that the individual's health is out of balance with nature.
Ayurvedic remedies aim at balancing the doshas and help an individual to lead a systematic, disciplined and healthy life. The major Ayurvedic remedies are essential oils, herbs, physical exercises, Ayurvedic routine, meditation, yoga, prayer and a healthy balanced diet. Jasmine Sambac essential oil is a tridosha essential oil that is good for pacifying all the three doshas especially good in treating vitiated pitta conditions.
Let's have a look at the major Ayurvedic health benefits of Jasmine Sambac essential oil.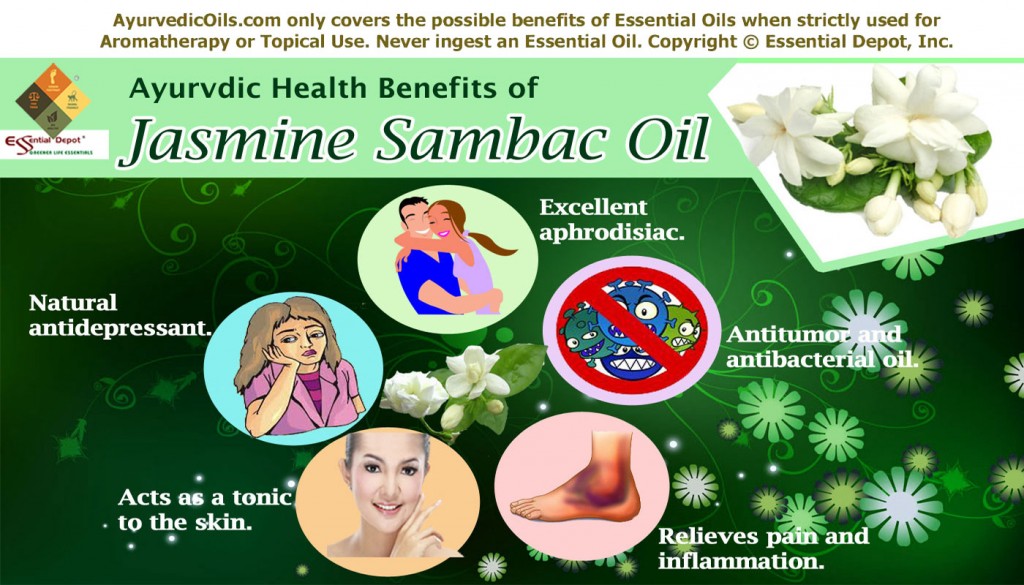 1. Excellent aphrodisiac:
Jasmine has an ecstatic, compelling, sensual and miraculous aroma that has magical powers vested in it. This mystical fragrance grants excellent relaxation, open up blocked sexual inhibitions, treat the senses, supports the strength of female energies and naturally fortify the vigor of male energies. Jasmine is also known to nurture the health of male and female reproductive system and stimulates the secretion of male and female hormones.
A recent study on the 'Comparative olfactory analysis of Jasminum Sambac and Jasminum Grandiflorum absolute' has come up with the findings stating that Jasmine Sambac has a more appealing aroma that has a positive effect on the olfactory system that plays a vital role in governing numerous feelings and emotions that are distinct yet interconnected.
It is for these special reasons; Jasmine blossoms are used in making garlands, hair ornaments and in decorating the rooms of the newlywed couples in India, Philippines and Indonesia. Blend 2 drops of Jasmine oil in warm bathing water and enjoy a romantic bath together before going to bed. You can also add 2 to 3 drops of Jasmine Sambac oil to your burner, aromatic lamp, diffuser or air freshener during the night to enjoy the special time with your life partner.
2. Natural antidepressant:
Depression has become a common phenomenon in people of all ages including teenagers, professionals (both men and women) and aged people. Ayurveda recommends meditation, yoga and the use of pacifying aromatic oils like Jasmine Sambac oil. The aromatic compounds in Jasmine oil pass through the nasal passages and reach the limbic system of the brain, which is the control center of the brain.
Inhaling the aroma of Jasmine Sambac essential oil is said to pacify the senses, control negative feelings and paves way for venting out the depressed emotions that spoil one's day. Adding 2 drops of this oil to vaporizer, burner, diffuser or air freshener can assist in treating tension, fatigue, depression, nervousness, anxiety, postnatal depression and addiction.
You can also add 2 drops of Jasmine Sambac oil in warm bathing water or massage your body by blending 5 drops of Jasmine oil with 2.5 ml of Jojoba oil for uplifting your senses, instilling positive feelings, strengthen your mind, augment your self-confidence and boost your emotions from within.
3. Antitumor and antibacterial oil:
Such a small flower possessing antitumor properties is absolutely a wonder to me and this witnessed by numerous studies. A 2011 study on 'In vivo and In vitro Antitumor Activity of Jasminum Sambac (Linn) AIT Oleaceae Flower Against Dalton's Ascites Lymphoma Induced Swiss Albino Mice' evaluated the anticancer effect of Jasminum Sambac on mice affected by affected by cancerous tumor in the lymphatic system.
This study proved that the methanolic extracts of Jasmine Sambac flowers possessed significant cytotoxic and anticancer activity that helped in increasing hepatic levels of RNA and DNA in the mice.
The leaves and flowers of this plant are used since the ancient times in Ayurveda for treating and preventing breast cancer and controlling uterine bleeding. It is also used as anti-cancer, antiulcerative and antileprotic.
Jasmine Sambac essential oil also has antibacterial properties that aid in combating bacteria and other harmful microbes causing infectious diseases. A 2008 study on 'Antibacterial potential assessment of Jasmine essential oil against E.Coli' stated that Jasmine oil contains antibacterial activity that makes it effective in the treatment of removing corns, purify the kidney, treat ulcers and other inflamed conditions.
4. Relieves pain and inflammation:
Jasmine Sambac oil has mild analgesic, anesthetic and anti-inflammatory properties that help relieve pain and reduce inflammation. 'Preliminary Studies on Anti-Inflammatory and Analgesic Activities of Jasminum Sambac (L.) Aiton in Experimental Animal Models' have proved that Jasminum Sambac extracts exhibit anti-inflammatory and antinociceptive properties that are helpful in treating muscular aches, rheumatism, back pain, headache and inflammation.
Mix 2 drops of Jasmine Sambac oil with 1 ml of olive oil and massage gently on the painful area or add 2 drops of this oil to warm bathing water or to hot compress for effective relief from pain and inflammation.
5. Acts as a tonic to the skin:
Jasmine Sambac oil is extremely good for the skin and it acts as a natural tonic and improves the skin health. Add 2 drops of this oil to your regular skin care cream or lotion and massage it gently on to your skin for treating dry skin, sensitive skin, greasy skin and for fading away scars and stretch marks. Using 1 drop of Jasmine Sambac oil in vapor therapy can help in removing excess oil and blemishes in the skin and helps bring out its natural radiance.
Other health benefits:
Jasmine Sambac oil is also used as a tonic to the brain. The flowers are also used for reducing fever, treating hiccoughs, bee stings, swollen eyes, insomnia and vomiting. It is proven effective in the treatment of gastric ulcer and peptic ulcer with its antigastric ulcer effect. Being a lactifuge, Jasmine Sambac flowers are used traditionally for arresting the secretion of breast milk in a day or two.
Disclaimer:
This article is only for educational purposes and is not directed to diagnose or replace any professional medical advice or prescribed medication. Never take essential oils internally. Organic essential oils are highly concentrated in nature and are always advisable to use them in a diluted manner.
Certain compounds in Jasmine sambac oil can be allergenic and is good to do a small patch test on the skin to check the reaction or the sensitivity of your skin. Consult your Ayurvedic practitioner before using the right essential oils for your unique constitution and health condition, especially if you are pregnant or a nursing mother.
Thought for the day:
Plants that wake when others sleep. Timid jasmine buds that keep their fragrance to themselves all day, but when the sunlight dies away let the delicious secret out to every breeze that roams about.  -Thomas Moore
Suggested Reading:
Reference Links: