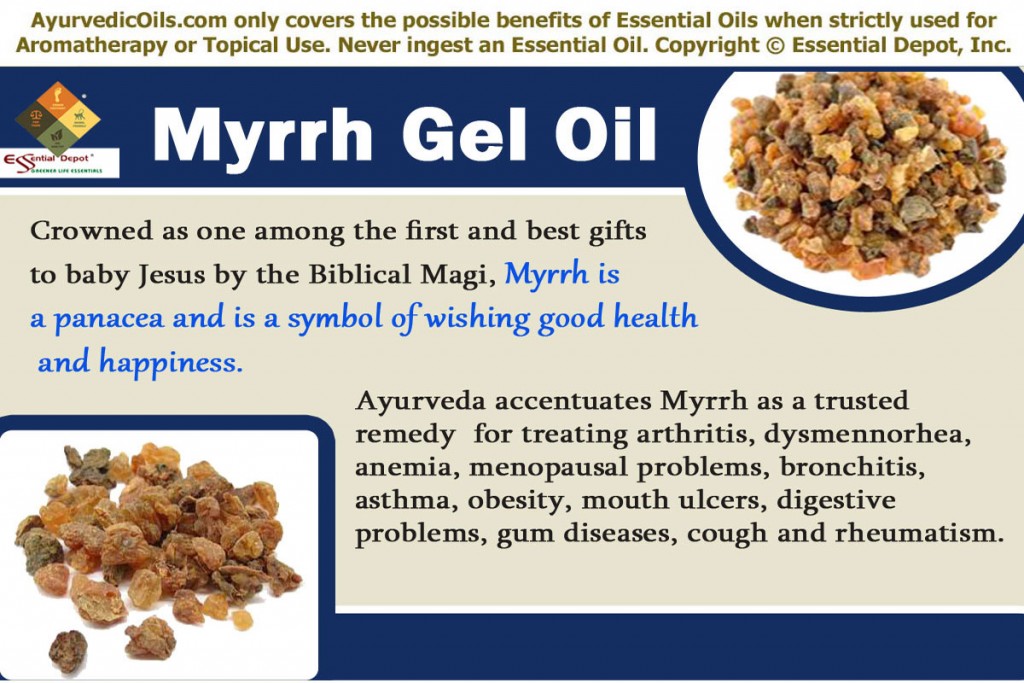 Crowned as one among the first and best gifts to baby Jesus by the Biblical Magi, Myrrh is asserted as a panacea for many diseases and is a symbol of wishing good health and happiness. This sacred herb has its name engraved in almost all the major religious practices of healing and has been in use throughout history as a promising medicine, renowned perfume and sanctified incense.
Myrrh essential oil is hydro distilled from the resin of Myrrh trees. Ayurveda accentuates Myrrh as a trusted remedy for treating arthritis, dysmennorhea, anemia, menopausal problems, bronchitis, asthma, obesity, mouth ulcers, digestive problems, gum diseases, cough and rheumatism. Myrrh resin has been a vital ingredient in many rasayana formulas in Ayurvedic treatment.
Historical importance of Myrrh:
Botanically known as Commiphora myrrha, Myrrh is indigenous to Somalia, Yemen, Ethiopia and Eritrea. The word 'Myrrh' is derived from the Aramaic word murr, meaning 'was bitter'. Myrrh has many religious rituals stringed to its historical fame. The Islamic herbal medicine encyclopedia quotes "The Messenger of Allah stated, Fumigate your houses with al-shih, murr, and sa'tar", where murr indicates Myrrh.
The book of Matthew states that gold, frankincense and myrrh were among the gifts to Jesus Christ. New Testament cites Myrrh as an incense presented at the time of Christian liturgical celebrations. The Eastern Orthodox Church makes use of Myrrh scented oil as a symbol of tradition during the sacraments of unction and chrismation.
Myrrh was held high in the Traditional Chinese Medicine as a special herb with 'blood-moving' powers to eliminate stagnant blood from the uterus and is also effective on spleen meridians, liver and heart. It is for this reason, Myrrh has been used in the treatment of uterine tumors, menopause, amenorrhea, rheumatic problems, dysmennorhea, arthritis and other circulatory problems.  It is also said that Myrrh has been used in the Chinese ma yao since 600 BC.
It is said that the Greek soldiers took Myrrh with them to the battlefield for cleansing and healing their wounds, as this herb has anti-inflammatory and antiseptic properties. It was used by the ancient Egyptians for treating hay fever, herpes and also in fumigations and embalming.
This herb is used in folklore medicine in making rheumatic plasters and for treating muscular pains. Tibetans trust the magical powers of Myrrh to assuage stress and certain other nervous disorders.
Myrrh is a popular ingredient in many liniments, tooth powders, gargles, toothpastes and mouthwashes especially for its antiseptic and analgesic properties that aid in treating many oral problems, wounds and skin ailments.  It is also used in making tinctures for healing wounds in the Veterinary practice. Assyrians and Babylonians burned Myrrh during religious ceremonies.
Therapeutic properties and chemical constituents of Myrrh essential oil:
The remedial values of Myrrh gel essential oil are analgesic, anti-inflammatory, emmenagogue, antiseptic, antimicrobial, carminative, stimulant, tonic, stomachic, astringent, antifungal, circulatory, diaphoretic, antispasmodic, anti-catarrhal, immune booster and expectorant. The chemical components contributing to these properties are eugenol, triterpenoids, polysaccharides, a-pinene, limonene, cresol, triterpene acids, cadinene, cuminaldehyde, sesquiterpenes and acetic acid.
Ayurvedic health benefits of Myrrh gel essential oil:
Myrrh is a part of many Ayurvedic medications, especially for its positive effects on the nervous system and the circulatory system. Everything in Ayurveda has a strong reason behind it and that is the focus on treating the root cause of an illness and preventing it in the future also.
Ayurvedic practices do not treat human beings and their illnesses as one among the ten instead it believes that every individual is unique by birth and each and every one of their health condition needs to be treated in a unique manner.
Ayurvedic principles trust that every one of us on earth is built up of three vital energies known as doshas. They are kapha, pitta and vata doshas. The wisdom of Ayurvedic healing lies in its holistic and inimitable approach towards humanity by identifying their attributes, personal traits and health mechanism based on their predominant dosha.
Generally vata predominant people are lean, tall, creative and have a dark complexion and its imbalance causes constipation, stress, sleeplessness, anxiety and loss of sexual interest. People with the predominance of pitta dosha have a fair complexion, sharp decision making skills, short temper and are perfectionists.
Pitta imbalance leads to loss of temper and digestive disorders like heartburn and ulcers. Kapha predominant people are kind at heart, affectionate and obese with an average complexion. Imbalance of kapha energy will lead to overweight, sluggishness and poor process of digestion.
Ayurvedic remedies are based on your individual constitution and center natural medications to treat the imbalance of doshas. Myrrh essential oil is known to pacify vata and kapha energies and increase pitta dosha.
It's time to have a look at the Ayurvedic health benefits of Myrrh gel essential oil.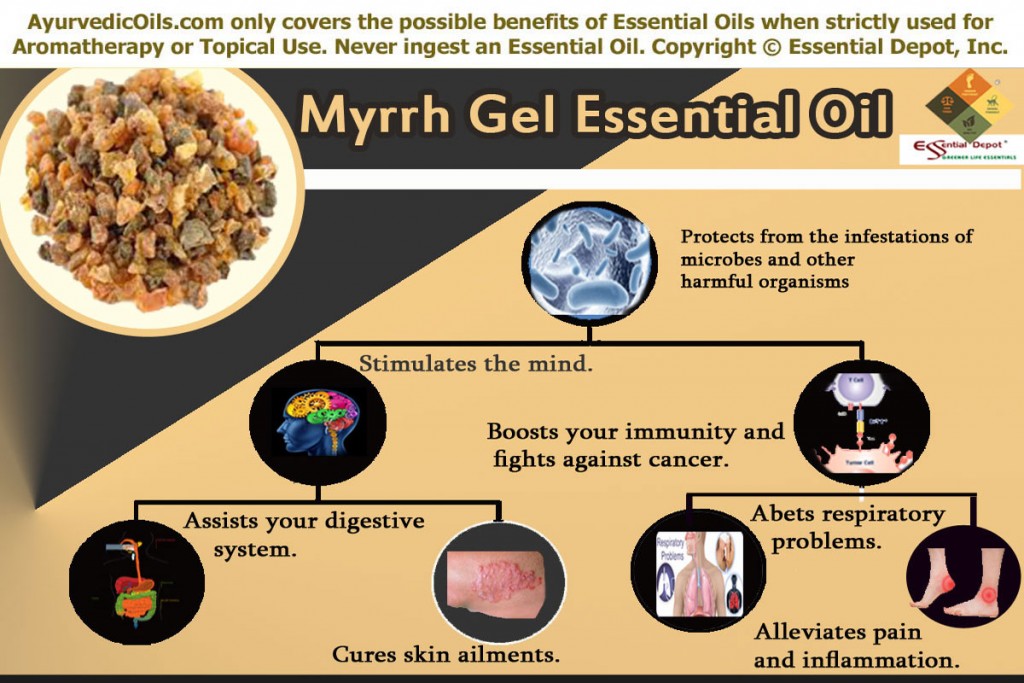 1. Protects from the infestations of microbes and other harmful organisms:
Myrrh essential oil is known for its anti-fungal, antiviral and antimicrobial properties. It assists in killing bacteria, fungi and certain other detrimental microbes by making the body resistant to such infections.
Myrrh oil has natural breath freshening properties that aid in treating bad breath known as halitosis. Add 2 drops of Myrrh oil in warm water and use it as a gargle for treating oral problems like toothaches, pyorrhea, abscesses, mouth ulcers, gingivitis and gum problems. This blend also helps in fighting bacteria causing cavities.
Applying 2 drops of Myrrh oil blended along with coconut oil on wounds, cuts, athletes foot, and other skin infections will aid in preventing the wound from getting septic as Myrrh oil fights Staphylococcus aureus, the bacteria responsible for wounds becoming septic. This oil is also used in treating cough, measles, pox, cold, fever, diarrhea, mumps, food poisoning and other health conditions caused due to microbial infections.
2. Boosts your immunity and fights against cancer:
A weak immune system is the underlying cause for the body becoming vulnerable to diseases and infections. Myrrh essential oil reinforces the immune system and augments the body's natural disease resistant power by enhancing the body's nutrient absorption capacity.
This way it protects the body from pathogens in case of airborne or waterborne diseases like diarrhea, cold, cough, dysentery, typhoid, bronchitis, vomiting and few other digestive problems. Add 3 to 4 drops of Myrrh oil with jojoba oil and massage gently on your body. This helps in transmitting the therapeutic molecules of Myrrh oil by penetrating deeply into the skin and to your blood stream.
Myrrh has been proved effective in fighting against the free radicals and aid in preventing cancer. A 2001 study by the Rutgers University in NJ found that Myrrh essential oil has certain compounds that assist in killing cancer cells and showing promising effect for treatment and prevention of prostate and breast cancer.
Elemene has been identified as the unique component of Myrrh essential oil and has been proven to show improved effect on treatment of cancerous brain tumors.  You can add 2 drops to your diffuser for regaining confidence and energy. Gently massage your affected parts with 5 drops of Myrrh oil blended with coconut oil for combating the growth of free radicals worsening the effects of cancer.
3. Cures skin ailments:
Myrrh essential oil has been used as a trusted natural remedy for skin problems since the Biblical times. This is mainly because of the antiseptic, analgesic, vulnerary and astringent properties of this oil.  A 2010 study by King Saud University, Saudi Arabia traced that Myrrh was particularly potential to increase the count of white blood cells in laboratory rats treated for gastric ulcers and skin injuries with Myrrh.
Blending 2 drops of Myrrh oil with coconut oil and applying it on wounds, cuts, boils, athlete's foot, bed sores, chapped skin, ringworm, eczema, skin ulcers, hemorrhoids, weeping wounds and itches can help heal such skin problems quickly and protect them from infections also.
Myrrh essential oil has been in use as a rejuvenating facial aid for more than hundreds of years mainly due to its ability to invigorate dull skin, revivify mature complexions, reduce wrinkles and leave it glowing from within. Mix 2 drops of Myrrh oil with jojoba oil and rub it on your face soothingly, leave it for 5 minutes and then wash your face with a mild cleanser for nourishing your skin and help it look supple and younger.
4. Abet respiratory problems:
Myrrh essential oil has expectorant and anti-catarrhal properties that help in treating respiratory problems like cold, asthma, sinus infections, cough, sore throat, congestion, bronchitis and breathing difficulties.
Add 2 drops of Myrrh oil to steaming water and inhale the aroma to get immediate relief from chest congestion and to support the expulsion of phlegm from respiratory tracts and lungs. You can also add 2 drops of this oil to hot bath or to your cold rub and gently massage it on the chest, back and throat for instant aid.
5. Assists your digestive system:
Myrrh oil is carminative and stomachic in nature, aiding in relieving gases and promoting the process of digestion. It helps in restoring the appetite, treating indigestion, nausea, flatulence, stomach pain and constipation by stimulating the flow of saliva, bile and other digestive juices. You can either use 2 to 3 drops of Myrrh oil in steam inhalation or diffuser for calming the digestive system. Massaging your tummy and abdomen with 2 drops of Myrrh oil blended with sesame oil can help in easing sluggish digestion.
6. Stimulates the mind:
Myrrh essential oil is said to grant mental clarity, alleviate stress, and treat depression, tension, fatigue and anxiety. It is used in Ayurvedic healing for enhancing the intellect and cleansing the blood. Inhaling the sacred aroma of Myrrh oil during meditation can help in opening the mind, increasing concentration and treating poor memory. Massaging your body with 4 drops of Myrrh oil along with sweet almond oil helps in uplifting the mind, relieving anxiety and nervous tension.
Myrrh essential oil has a calming and pacifying fragrance that helps open the heart chakra that is associated with love, forgiveness and acceptance. 2 drops of Myrrh oil added to burner, vaporizer or diffuser assists in discharging fear, hurting experiences and depressive feelings that stop you from going ahead. Myrrh oil strengthens your spiritual acquaintance, trust and self-confidence.
7. Alleviates pain and inflammation:
Myrrh has been a promising remedy in Ayurveda and other traditional healing methodologies for treating pain, gout, arthritis, osteoarthritis and rheumatoid arthritis. The essential oil of Myrrh has diaphoretic properties that increase sweating and helps expel excess water, toxic substances and extra salts from the body.
The anti-inflammatory properties of this oil supports in reducing inflammation. By eliminating the toxic substance and lessening inflammation, Myrrh oil is effective in treating arthritis and rheumatic pain.
Blend 2 drops of Myrrh oil, 2 drops of Frankincense oil along with coconut oil and massage soothingly on the affected parts for relieving pain and inflammation. You can also add 3 drops of Myrrh oil to hot compress or in hot bath for similar effects.
Other health benefits:
Myrrh essential oil is also helpful in treating menstrual cramps, delayed menstruation, uterine problems, hair fall problems and acts as a tonic for the entire system by stimulating the digestive system, nervous system and the circulatory system.
Disclaimer: Never take essential oils internally. Essential oils are highly concentrated liquids so always dilute them in suitable carrier oils before using it for topical application. This article is only for your information and is not meant to replace any prescribed medication or professional advice. Avoid using Myrrh oil if you are a pregnant or nursing woman. Keep it out of reach of children. Consult your Ayurvedic practitioner before using the appropriate essential oil for your unique individual constitution and health condition.
Thought for the day:
Adopt the pace of nature: her secret is patience.              – Ralph Waldo Emerson
Suggested Reading:
Reference Links: