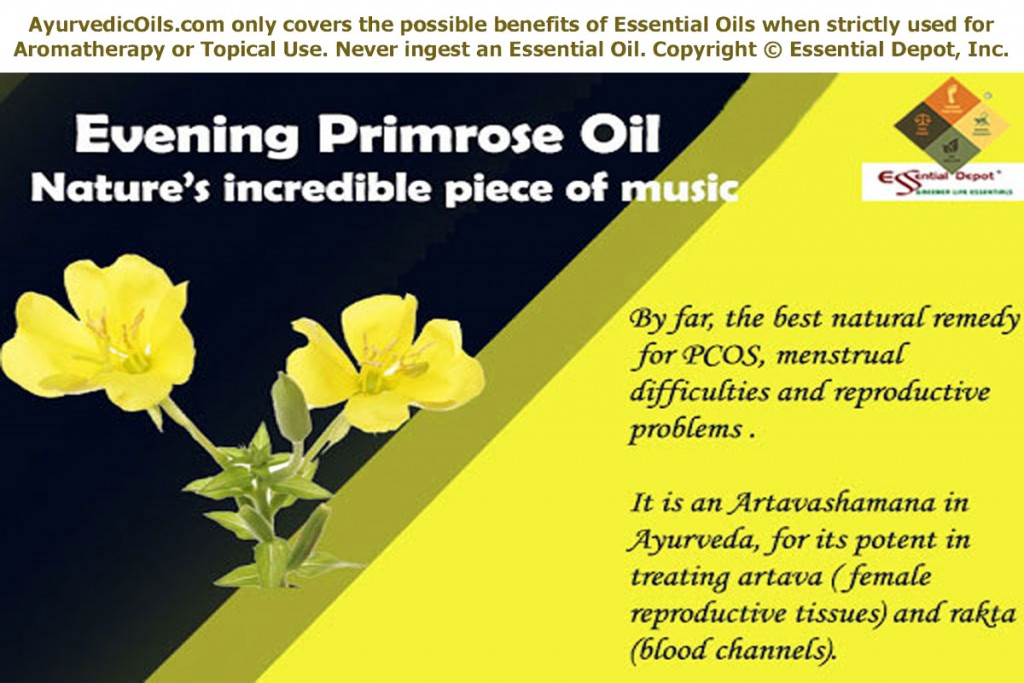 Evening primrose is known to the world as an imperial medication for the Kings and Queens and for which it was called as 'King's Cure All'. The fresh flowers, seeds, leaves, roots and its essential oil were used in the treatment of impotence, chronic fatigue syndrome, rheumatism, diabetes, PCOS (polycystic ovarian syndrome) and menopausal problems.
Called in Ayurveda as Medhya – tonic for the brain, Hrdaya – heart tonic, Artavashamana – regularizes menstruation; Evening primrose and its essential oil have been used for its effectiveness in treating artava or the female reproductive tissues, rakta or the blood channels, prana or the respiratory passages and majja or the nervous system.
This noble medication is prescribed in the treatment of PMS, menopausal problems, acne, poor memory, PCOS, loss of libido, asthma, atopic eczema and diabetes.
Purchase Evening Primrose Oil – Retail – 4 oz – CLICK HERE
Purchase Evening Primrose Oil – Wholesale – CLICK HERE
Historical uses and importance of Evening Primrose Oil:
Botanically called as Oenothera biennis, Evening primrose is indigenous to America and is a part of the Onagraceae plant family. This plant sings its glory of owning the large cup shaped, bright yellow flowers for which it is called as Sundrop.
Evening primrose is called as night candle or nachtkerz in Germany. These aromatic flowers bloom generally during the dusk or during cloudy days to invite insects for pollination. It is also called as Night willow herb, Fever plant, German rampion and large rampion.
The Native American populace used poultices made with the leaves, roots and seeds of this plant for treating sore throats, wounds, hemorrhoids, bruises and gastrointestinal problems.
The Cherokees treated obesity with leaves infusion and the Ojibura ethnic group treated cuts and bruises by applying the plant paste externally. Certain other American tribes also ate the boiled roots of this plant as their staple food.
Pliny the Elder, Roman Natural Philosopher quotes Evening Primrose as "it is an herbe good as wine to make the heart merrie. It groweth with leaves resembling those of the almond tree and beareth flowers like unto roses, of such virtue is this herbe that if it be given to drink to the wildest beast that is, it will take the same and make it gentle".
Evening Primrose plant plays a prominent role in the Greek mythology, where Theophrastus, the Greek philosopher named this plant as Oenothera, where 'oinos' means wine and 'thera' means hunt. The meaning of its name indicates its use potent to influence wine craving and to chase away the effects of overindulgence.
Since the early 1930s, Evening primrose and the essential oil extracted from the seeds of this plant were used for numerous medical conditions including multiple sclerosis, premenstrual syndrome, rheumatoid arthritis, high blood pressure, diabetes, eczema, hair loss and osteoporosis.
Chemical constituents and remedial properties of Evening Primrose oil:
The major therapeutic properties of Evening primrose oil are expectorant, anti-inflammatory, antidepressant, antihistamine, anticoagulant, immune-stimulant, bronchodilator, astringent, vulnerary, antispasmodic, vasodilator, sedative, demulcent, hormone regulator and analgesic.
The chemical components contributing to its therapeutic properties are essential fatty acids including omega 6 fatty acids like linoleic acid, gamma-linoleic acid, palmitic acid, oleic acid, stearic acid and pain-relieving components like phenylalanine.
Ayurvedic health benefits of Evening Primrose oil:
Evening primrose oil has refreshing and wholesome benefits to the system and has positive effects on the plasma, nervous, blood and female reproductive tissues. Ayurveda beckons Evening primrose oil as a Rasayana, means rejuvenative oil that augments immune power and ojas or the life essence.
Have you ever watched what had happened when you say that you are taking an Ayurvedic treatment? If your answer is no, then watch your friends or peer's reaction the next time you utter this statement. They would certainly be in awe! And would definitely think that you are closer to Nature and its ability to heal you securely. That is the magic of Ayurveda and its holistic healing techniques.
Ayurveda might look as a complex terminology but understanding its healing essence is as easy as falling off a log. The word 'Ayurveda – Ayur (Life) + Veda (Knowledge)' simply means 'knowledge of life'.
Knowing how to lead a simple and disciplined living with nutritious diet, easy physical exercises, meditation, fulfilling your duties to your family and to the society, prayers along with a feeling of absolute gratification is all about Ayurveda.
Ayurveda treats the individual and not his or her disease. The nobleness of this ancient remedy is that it attempts to identify and treat the root cause of an illness instead of the symptoms alone.
Diagnosing the root cause of an individual's illness based on his/ her unique individual constitution or biological forces known as doshas (vata, pitta and kapha), helps Ayurvedic philosophy in treating and preventing a disease and moving progressively towards healthy aging and longevity.
Ayurvedic medications like herbs, essential oils, yoga, meditation, Pranayama (balanced breathing), Panchakarma (Ayurvedic detox techniques), Abhyanga or Ayurvedic massaging, Dinacharya or Ayurvedic routine are prescribed to treat the doshic imbalances, which are often the reason behind any health condition.
Evening primrose oil treats health disorders associated with vata and pitta vitiations with its power to pacify excess of vata and pitta energies. This attribute make this oil effective in treating inflammatory skin conditions, hot flushes and other symptoms of menopause, improper blood circulation, autoimmune disorders, irregular menstruation, nervous disorders, acne, rheumatic problems, asthma, chronic fatigue, dermatitis, Alzheimer's disease and many other problems.
The major Ayurvedic health benefits of Evening primrose oil are: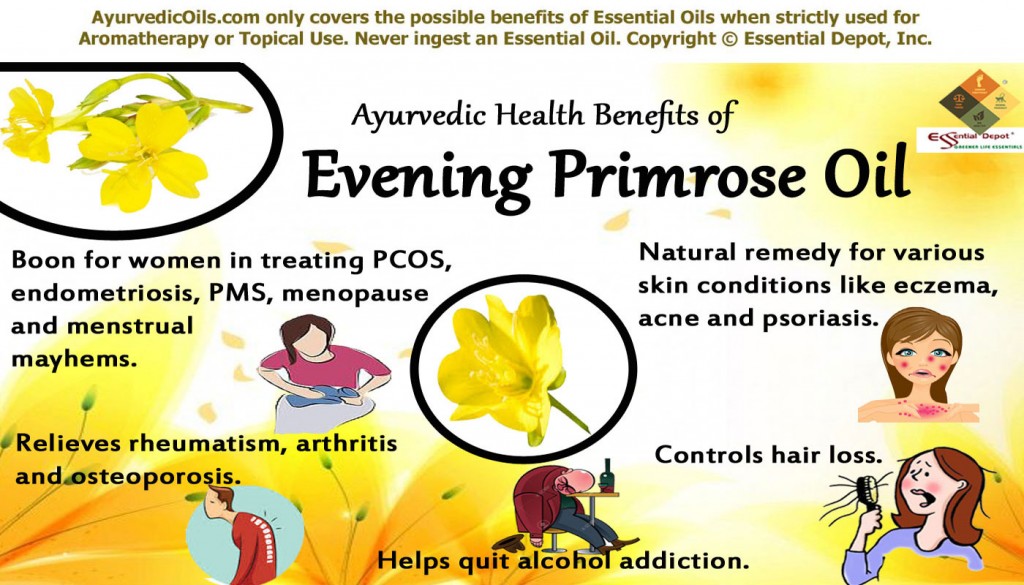 1. Boon for women in treating PCOS, endometriosis, PMS, menopause and menstrual mayhems:
Menstruation is indeed a blessing in disguise, as all the best things in the world happen only after pain. Wondering on what am I blabbering? There is no foolishness in my statement. Regular menses is often a symbol of perfect health and absolute hormonal balances in a female.
Menstruation is 'Mother Nature's Natural Cleansing Gift' showered on women. This is because your periods aids in releasing the excess iron content that might otherwise feed the free radicals that contribute to cardiovascular diseases, strokes and cancerous growths. It also discards microbes in the reproductive system.
"Women age more slowly than men because menstruation causes iron loss. Iron feeds free radicals, which increase the risk of heart disease, stroke, and Alzheimer's. Losing iron via blood can lengthen lifespan – which may be one of the reasons women live longer than men", says Dr. Thomas Perls, Chief longevity expert in U.S.
Hey!!! This topic is about the effectiveness of Evening Primrose oil on menstrual problems, menopausal symptoms, PMS (Premenstrual Syndrome) and PCOS (Polycystic Ovarian Syndrome). And I'm talking about the healthy benefits of menstruation?????
Please wait before you take any calls on my mental wellness. I'm absolutely alright. The trust that 'a pain or a difficulty is just mending our mayhems' would contribute significantly in secreting the positive hormones in your system and that is the secret behind the success of the 'Law of acceptance', instead of the hazardous negativity arising due to the cursing of a particular condition.
Experts state that PCOS, PMS, endometriosis, dysmennorhea, amenorrhea, menopausal symptoms and other problems associated with the female reproductive system are often due to the hormonal imbalances.
Dr. Booth says, "While most women associate premenstrual syndrome or PMS with their hormones, it's actually the absence of hormones during this period (a few days before menstruation) that leaves them feeling less than ideal."
"Women around the world take Evening Primrose Oil to naturally treat PMS symptoms and PCOS because of its rich essential fatty acid content. Getting enough Omega-6 fatty acids, such as linoleic acid and gamma linoleic acid, is shown to support overall hormonal function within the body", says Dr. Axe
He also adds, "Polycystic ovarian syndrome (PCOS) may be one of the most complex and common endocrine disorder in women of reproductive age. PCOS impacts fertility and has serious health implications as well, especially when left untreated. Some symptoms of PCOS include irregular menstrual cycle, absent period, obesity, acne, balding, excessive menstrual bleeding and ovary cysts."
Essential fatty acids generate a healthy setting for natural conception, especially in case of PCOS that obstructs conception process. Evening primrose oil aids in augmenting cervical mucus (little or no cervical fluid makes it difficult for the sperm to swim through the cervix for fusing with the egg) and metabolic functions, paving way to successful reproduction rate.
Evening Primrose oil is effective in beating the negative effects of PCOS and supports fertility by facilitating the production and synthesis of prostaglandins, which aids in controlling the functions of hormones (estrogen and progesterone) and direct proper cellular growth.
Massaging your lower abdomen, thighs and lower back with 2 ounce of Evening Primrose oil and 5 drops of Thyme oil can help in balancing the secretion of hormones responsible for pain, fatigue, irregular or blocked menstruation. It can also help in treating mood fluctuations, hot flushes, headache, irritability and other menopausal symptoms.
Research studies also state that Evening Primrose oil has positive effects in dealing with depression, swelling, bloating, pain, irritation and anxiety associated with PMS.
Practicing Pranayama or balanced breathing technique with 5 drops of Evening primrose oil added to vaporizer can help in eliminating toxic remains and negative emotions through exhalation.
Meditation or prayer along with the inhalation of 5 drops of Evening primrose oil in burner or diffuser can help in enhancing cortisol levels secreted by your adrenal glands. This hormone is responsible for the fight-or-flight response in case of stress, depression or threats related to menopause, PCOS and painful menstruation.
Evening primrose oil is also used for inducing labor pain and for supporting in childbirth naturally by augmenting the cervix mucus or cervix fluids.
2. Natural remedy for various skin conditions like eczema, acne and psoriasis:
Acne is a burning problem, especially for all those beauty conscious younger populace out there. Pimples, blackheads and other skin conditions associated with acne are again due to hormonal fluctuations and due to the buildup of toxic remains in the system.
The presence of Omega-6 fatty acids in Evening primrose oil can assist you in controlling the level of hormones responsible for acne and other skin conditions. Dabbing your skin with 5 drops of Evening primrose oil and 5 drops of Jojoba oil can help in enhancing the cellular structure, functions of the sebaceous glands, elasticity of your skin and its potent to repair scars by tissue regeneration.
Psoriasis occurs mainly when the cells reproduce rapidly. This often results in generation of inflamed skin patches inside and pale white scales outside. Psoriasis is again a hormonal problem assisted with following an unhealthy diet and complexities in digesting proteins. The essential fatty acid content in Evening primrose oil enhances metabolic functions and supports balance of hormone levels.
Many studies confirm that Evening primrose oil is effective in treating redness, itching, edema, inflammation and other symptoms of eczema with the presence of GLA or gamma-linoleic acid. You can add 5 drops of Evening primrose oil in steam inhalation, salves, face wash or bathing water to help in the treatment of such skin conditions.
3. Relieves rheumatism, arthritis and osteoporosis:
Rheumatic problems, arthritis and osteoporosis are often linked to the amassing of toxic substances like uric acid, salts, fat deposits in the system; leading to inflammation of joints, soreness, redness, itching, irritation and pain in the hands and legs.
Ayurvedic philosophy states that about 70 percent of toxins are expelled only through slow and steady exhalation. Here comes the significance of practicing Pranayama along with the inhalation of the therapeutic aroma of Evening primrose oil.
While inhaling during Pranayama, the remedial aromatic molecules pass through the nasal passage and reach the limbic system, which is the brain's control center. It passes appropriate commands to all parts of the body and aids in discarding toxic substances through slow and conscious exhalation.
You can also massage the affected parts with 2 ounce of Evening primrose oil and 5 drops of Wintergreen essential oil for eliminating impediments in the blood, enhancing blood circulation and alleviating pain, morning stiffness and irritation by penetrating into the skin surface deeply.
Certain studies state that Evening primrose oil along with fish oil used by older people has shown significant improvement in bone density and decrease in bone loss.
4. Controls hair loss:
Hair fall or excess loss of hair may end up in balding. It is again a result of poor diet, exposure to excessive pollution, heat and hormonal problems, of course.
Massaging your scalp and hair with 5 ounce of Evening primrose oil along with 5 drops of Rosemary oil and 5 drops of Lemongrass oil can help in strengthening the hair follicles, moisturizing the scalp and reducing itching and scaly flakes on the scalp with the presence of omega-6 fatty acids.
5. Helps quit alcohol addiction:
Gamma-linoleic acid aids in stimulating the brain to secrete prostaglandin E, which can help in bringing more self-control and self-confidence to support withdrawal challenges.
Evening primrose oil has been recommended by Traditional and Alternative medicine practitioners for treating chronic fatigue syndrome, alcoholism, emotional repression, feelings of rejection, negative emotions, heart disease, Alzheimer's disease and certain other psychological problems.
Meditating and practicing Pranayama in the early hours of the day, especially during 4 am to 6 am in the morning along with inhaling the energizing aroma of 5 drops of Evening primrose oil and 2 drops of Ylang Ylang oil can support in instilling self-confidence, self-esteem, self-love and self-control that might help you greatly in quitting alcohol, smoking or other bad habits that might otherwise deteriorate your health or your dreams.
Other health benefits:
Evening primrose oil is also used in the traditional treatment of multiple sclerosis, Raynaud's syndrome, dyspraxia, schizophrenia, attention deficit-hyperactivity disorder (ADHD), Sjogren's syndrome, peptic ulcer, ulcerative colitis and certain other health conditions.
No matter whether you are the President or a peasant, let's be grateful for all the health that we are being blessed with today rather than crying over the spilt milk tomorrow.
Disclaimer:
This post is meant only for educational purposes and is not intended to diagnose or substitute professional medical advice or prescription medicines. We at Essential Depot are not healthcare professionals and this information is brought to your attention to bring the greatness of Ayurveda, the Mother of all healing sciences under limelight.
Please do not take essential oils internally and it is always recommended only for topical uses. This is mainly due to the fact that 100 percent pure and organic essential oils are highly concentrated liquids and may cause allergic reactions, if swallowed or used on the skin directly without dilution.
Always speak with your Ayurvedic expert or healthcare practitioner before choosing the precise essential oils for your unique individual constitution and state of health. Please consult your doctor before using Evening Primrose oil on children, nursing or pregnant women.
Thought for the day:
"Daisies smell-less, yet most quaint, / And sweet thyme true, / Primrose, first born child of Ver, / Merry Spring-time's harbinger.
-Francis Beaumont
Suggested Reading:
Reference Links: