Bejeweled as the "Poor man's jasmine", Cananga is a relative of the most mesmerizing Ylang Ylang flowers. Although its floral note resembles that of Ylang Ylang oil, Cananga is comparatively less aromatic as it is regarded much greener than the Ylang Ylang tree and is its cost-effective alternative.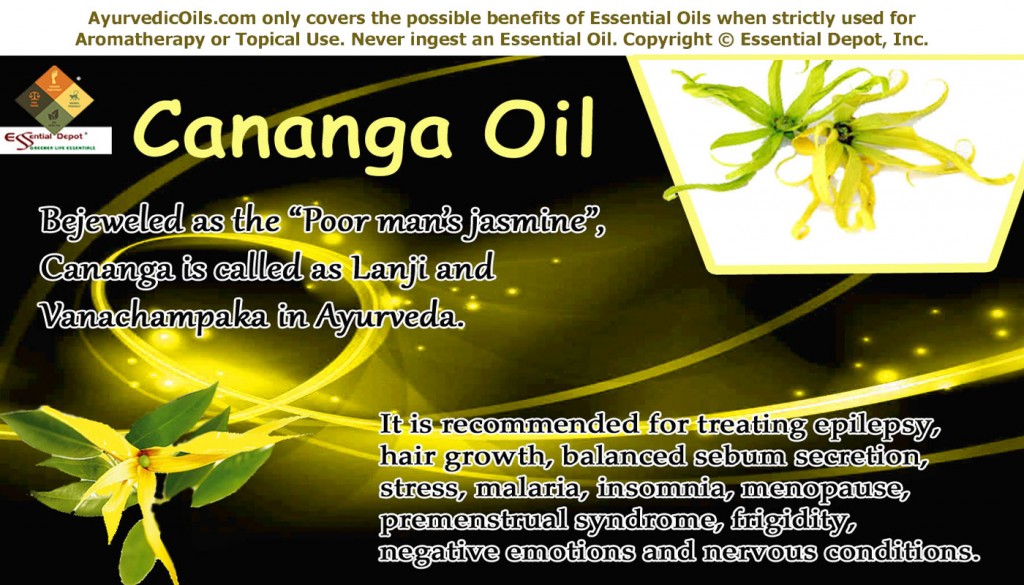 Cananga has been a vital part of the remedial regimen since the traditional times in the treatment of depression, anxiety, impotence, insect bites and high blood pressure.
Known as Lanji and Vanachampaka in Sanskrit, Cananga and its essential oil have been recommended in Ayurvedic treatment for epilepsy, hair growth, balanced sebum secretion, stress, malaria, insomnia, menopause, premenstrual syndrome, frigidity and nervous conditions.
Purchase Cananga Essential Oil – Wholesale – CLICK HERE
Purchase Cananga Essential Oil – Retail – CLICK HERE
Historical uses and importance of Cananga oil:
Cananga is a vibrant member of the sugar apple family, Annonaceae. Indigenous to the tropical parts of Asia, Cananga oil is distributed throughout the world from India, Malaysia, Moluccas islands, Philippines and Java.
Cananga oil is extracted by steam distillation from the freshly picked up, bright yellow flowers those look similar to that of the Ylang Ylang flowers. Few sources state that the first person to distill the essential oil of Cananga Odorata was Albert Schwenger in 1860.
The English Botanist, John Ray explained this tree as 'Arbor saguisen" and it was also called as Unona odorata and Borga Cananga by few other explorers. The dazzling and fragrant yellow flowers were used for ornamental purposes initially, slowly after which its enormous healing benefits were explored by the traditional folklore people.
The fresh flower petals were used as an effective remedy for asthmatic attacks, where as the dried flowers were used as a treatment for malarial fever. Numerous research studies have proved the effectiveness of Cananga against intestinal infections, rapid heartbeat, typhus, malaria and certain respiratory conditions. Cananga oil is also used in candies, soaps, shampoos, baked goods, perfumes, lotions and skin care creams.
The sea star shaped flowers are the distinctive source of the mesmerizing Cananga essential oil for which it was used on hair for decoration and was scattered on the beds of newly married. Cananga oil is a secret ingredient behind the growth of thick, lustrous and healthy hair.
Cananga was also used as a natural skincare agent, where the leaves and flowers were rubbed on to the skin for nourishing skin health, moisturizing dry skin, alleviating itches, treating insect stings and bites and for balancing the secretion of sebum. It was also employed as natural infusion in bathing.
History reveals that the Victorians along with the Indonesians, Malaysians and other traditional folklore populace used Cananga flowers as a formula in their hair oil for influencing natural hair growth, enhancing the glossy look of the hair, preventing split ends and for moisturizing the dry and itchy scalp, thus preventing from dandruff and other scalp conditions.
Chemical constituents and remedial properties of Cananga oil:
In general, the ratio of chemical components of essential oils is mainly based on the origin, growth, seasonal differences and topography. The major chemical constituents of Cananga oil are germacrene, pinene, methyl benzoate, benzoic acid, caryophyllene, cadinene, farnesol, cresol, geranyl acetate, borneol, eugenol, linalyl acetate, isoeugenol, linalyl benzoate, geraniol, linalool and other sesquiterpenes.
The therapeutic attributes contributing to its colossal remedial values are relaxant, hypotensive, anti-stress, anti-inflammatory, vasodilating, tonic, anti-depressant, sedative, aphrodisiac, antispasmodic, cardio tonic, emmenagogue, calmative, nervine, anti-infectious and antiseborrhoeic.
Ayurvedic health benefits of Cananga oil:
Ayurveda is the ancient remedial system that prescribes the use of herbal medications including herbs and spices, essential oils, yoga, meditation and other Ayurvedic healing techniques like Pranayama (balanced breathing), Ayurvedic routine (Ayurvedic regimen for healthy living), Panchakarma (detoxification technique) and Abhyanga (Ayurvedic massaging).
With the profound meaning of 'knowledge of life', Ayurveda is a common sense science that treats illnesses based on its root cause and not by just relying on its symptoms. This traditional healing methodology dates back to 5000 years, where the ancient sages and gurus who practiced Ayurveda lived for more than a 100 years.
Journey towards longevity with the treatment and prevention of illnesses in a natural way is the mantra of Ayurveda. According to this antique science, everything in nature including human beings is made up of five fundamental elements namely fire, earth, water, space and air.
All these vital energies symbolize different parts of the human body, where water stands for blood and fluids in the system, fire is a symbol of the body temperature and Agni (the digestive fire for metabolic functions), earth is a representation of bones and muscles, air is for respiration and ether or space is the eternal soul.
Every person is regarded as a unique entity of Nature with a unique individual constitutional set up known doshas. These three biological forces namely vata (air and space), pitta (fire and water) and kapha (water and earth) are a combination of the five elemental energies.
Vata dosha is in charge for nervous functions, movement of the system, creativity quotient, circulation of blood and air. Pitta takes care of metabolism, body temperature, leadership qualities and decision making abilities. Kapha dosha is responsible for the physique, fluid retention, sustenance, love and natural bonding.
Ayurveda in many ancient texts, denote human body as a temple, where the soul dwells in. It is for this reason it recommends maintaining harmony between the mind, body and soul. Every individual is treated in a unique manner based upon their distinct individual constitution, where absolute balance between these doshas as per Nature's law indicates health and imbalance due to lifestyle changes, climatic conditions, moral values and lack of physical and psychological activities lead to sickness.
Cananga oil is recommended for balancing vata and pitta dosha and for stimulating kapha energy.
The Ayurvedic health benefits of Cananga essential oil are: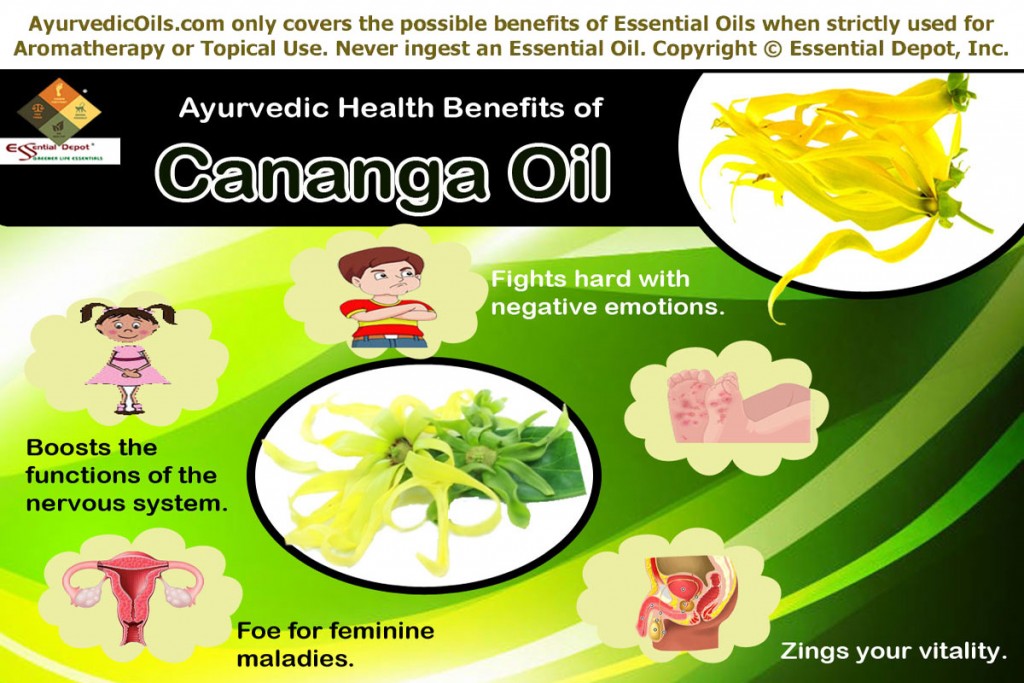 1. Fights hard with negative emotions:
Negativity or pessimism is a highly contagious health condition that spoils your mental and physical well-being along with those around you. The ability to think right is the basis for progress in all kinds of chores that you undertake.
Off-putting thoughts or negative thinking drains your mind and soul. Ayurveda beckons mind as the limb of consciousness and negative energies like fear of failure, loneliness, lack of self-confidence, annoyance, disgust, worries, frustration, anxiety, inferiority complex or lower self-esteem, depression, stress and possessiveness would often cause serious harm to the mind.
Ayurvedic essential oils along with Ayurvedic techniques like abhyanga, meditation and Pranayama have the potent to rejuvenate your mind and nurture your soul for enhanced thinking and better quality of life.
Cananga oil has such an enriching aroma that could stimulate the mental faculty with precision and positive thinking. The essential oil of Cananga has the power to fortify the heart chakra, which is responsible for self-love, self-confidence, trust and love for others, focused thoughts and spiritual consciousness.
2 drops of Cananga oil with 2 drops of Vetiver oil added to your diffuser or vaporizer during meditation or Pranayama (the Ayurvedic way of balanced breathing) can help in elevating your inner consciousness, promoting positive thoughts and hope, increasing self-esteem and self-confidence, instilling peace of mind, lessening anxiety, reducing depression and enhancing your creativity quotient and leadership traits with its power to augment vata and pitta doshas.
Cananga oil when added to warm bathing water before going to bed can help in alleviating fatigue, anxiety, stress, nervous depression and other psychological traumas. It also helps in promoting peaceful sleep and ensures a feel-fresh morning at the rise of every new-fangled day.
Ayurvedic massage blend with 5 drops of Cananga oil, 5 drops of Bergamot oil and 5 drops of Rose Geranium oil with 20 ml of Jojoba oil relaxes the tensed muscles, soothes your nerves and brings in complete tranquility to the mind and the soul. You can take up this revitalizing regimen every weekend for kick starting your routine in the next week.
2. Absolute rescuer of a range of skin conditions:
Skin is often the most revealed part of the body and any kind of stressful situations or other health problems affects the skin health and is mostly reflected on the facial skin and the scalp. For example acne, dandruff and wrinkles are most frequently associated with depression, stress, worries and related hormonal fluctuations.
Cananga is a Kushtanut in Ayurvedic philosophy, which is a promising remedy for certain skin diseases. With its antiseptic and antibacterial properties, Cananga is Dushta Vranashodhana for its excellent cleansing qualities of wounds, cuts and infections and is Krumihara for fighting against bacterial and microbial growths in such skin infections.
Applying 1 drop of Cananga oil with 5 drops of coconut oil on wounds, cuts, abrasions and other skin infections can foster quicker healing by curbing the growth of microbes and disinfecting or sanitizing the wounds from within.
With its anti-inflammatory and anti-seborrhoeic values, Cananga is a proven natural remedy for seborrhea, eczema, inflammation, irritation, soreness and redness of the skin. It regularizes the functions of the sebaceous glands, where the sebaceous glands are defined as "microscopic exocrine glands in the skin that secrete an oily or waxy matter, called sebum, to lubricate and waterproof the skin and hair of mammals."
This assists in keeping the skin and scalp moist and smooth. Mixing 1 drop of Cananga oil with 1 drop of Lavender oil and 1 drop of Orange oil and 2ml of coconut oil and gently massaging your skin surface can help in regularizing sebum secretion. You can remove this pack by wiping off your face with a warm towel. This also relieves from clogged pores and helps relieve acne and fight against wrinkles and other aging symptoms.
Being a tonic to the skin, Cananga nourishes the skin surface with its moisturizing and cooling properties and has been recommended for all types of skin including dry skin, stressed skin, oily skin, aging skin and combination skin.
3. Zings your vitality:
Cananga and its closest pal Ylang Ylang are assured solutions for greeting ahead the zing in your intimacy. Held high as the most popular traditional tonic for treating impotence, premature ejaculation, loss of libido and loss of interest in being together, Cananga with its bracing fragrance is a trusted cure for reproductive conditions both in men and women.
Cananga essential oil has a long-lasting intense floral and sensual aroma that helps in treating mood fluctuations, lack of sexual interest, erectile dysfunctions and intimacy problems due to stress or pre-occupied mind.
The enriching fragrance of Cananga oil reaches the limbic system of the brain through the nasal passages. It is the control center of the system and passes on the therapeutic values in the form of molecules to the nerve impulses and the corresponding parts of the body, thus supporting the secretion of positive hormones.
Adding 2 drops of Cananga oil along with 2 drops of Tuberose oil and 1 drop of Aswagandha oil to your air freshener in the evening can turn them quixotic by spreading its magical aroma. 3 drops of Cananga oil to your bathing tub before bedtime can also help in spicing up your vim and vigor.
4. Foe for feminine maladies:
The book Ayurveda and Aromatherapy by Light Miller and Bryan Miller quotes Cananga odorata oil as "A balancer to the female immune system, it reduces tension, cramps, negative emotions and headaches. It brings out warmth, self confidence, the feminine side and sensitivity." It also states that this oil is excellent for the skin, reproductive system and nerves.
With its effectiveness to treat hormonal imbalances along with its balancing attributes, Cananga oil is a proven cure for treating problems associated with menopause and premenstrual syndrome (PMS).
Massaging your lower abdomen, inner thighs, lower back, and around your genital area with 3 drops of Cananga oil, 2 drops of Vetiver oil, 2 drops of Cedarwood oil and 15ml of Olive oil can help in balancing estrogen hormones and regularize irregular menstruation, relieve dysmennorhea or painful periods, cramps, headache, mood swings, anxiety, irritability and sleeping difficulties. This can also help in treating frigidity and loss of sexual interest.
Wearing 1 drop of Cananga oil to your wrist or to your handkerchief can help in keeping your mind and nerves calm throughout the day. Cananga is an exceptional skin-friendly oil and has enormous benefits for hair growth as well. These advantages are attributed to its sebum-controlling potential and its ability to promote proper blood circulation in the system.
Adding 2 drops of Cananga oil in your regular shampoo for hair or gently massaging your scalp with 10 drops of Cananga oil along with 5 drops of Citriodora oil, 5 drops of Rosemary oil and 50ml of Coconut oil (slightly heat this blend before massaging) can support in controlling dandruff, moistening dry, itchy and scaly scalp, encouraging the growth of hair by promoting good circulation in the scalp, have power over split ends and can help in adding the glossy and natural shine to your hair.
5. Boosts the functions of the nervous system:
Cananga oil has the power to relax and soothe the central nervous system and controls the function and flow of adrenaline, which helps in pacifying negative emotions like rage, shock, panic, fear or anger. These feelings in turn lead to high blood pressure, nervousness, tension and insecurity.
Cananga and its essential oil have been celebrated for its ability to lessen anxiety and tension, thus improving the level of blood pressure and treating increased heartbeat and rapid breathing. It has tranquilizing and soothing effect on the nervous system.
Numerous studies have substantiated the effect of Ylang Ylang oil on people with high blood pressure and nervous tension. One study published in Planta Medica concluded that Ylang Ylang oil helped in reducing high blood pressure and increased pulse rate along with a boost in attentiveness and alertness.
Few other studies conducted with a group of people with hypertension, where the group was facilitated to inhale the aromatic blend with essential oils like Ylang Ylang, Marjoram, Lavender and Neroli for about 24 hours, concluded that "essential oils may have relaxation effects for controlling hypertension and in reducing systolic blood pressure."
Cananga oil, when added to your bathing water can also help in augmenting self-confidence and alleviating the feelings of fear, failure, obstinacy and feelings of loneliness along with stress and depression.
Other health benefits:
Apart from these health benefits, Cananga oil is also recommended for enhancing metabolic functions, flatulence, tastelessness, epilepsy, chest infections, intestinal infections and physical exhaustion.
Disclaimer:
This article is only educational purposes and is not destined for substituting professional medical advice or prescribed medications or for treating any medical conditions. We are not healthcare experts and we take up a shared interest to spread the knowledge of Ayurveda, the oldest and the Mother of all remedial practices in the world.
Do not use essential oils internally and dilute them in suitable carrier oils like Coconut oil before using it for topical application. This is due to the fact that 100% organic and pure essential oils are highly concentrated liquids and may cause allergic reactions. Keep essential oils out of reach of children and speak with your Doctor if you are a pregnant or nursing mom.
Consult your healthcare professional or Ayurvedic practitioner ahead of choosing the appropriate essential oils for your unique individual constitution and medical condition.
Thought for the day:
Flowers always make people better, happier and more helpful; they are sunshine, food and medicine to the soul. – Luther Burbank.
Suggested Reading:
Reference Links: