'Hit the nail on the head of your illness' is not a ruthless statement and the nail that is recommended to treat most of your illnesses is the 'nail-shaped' Clove and its essential oil extracted from the dried unopened flower buds of the Clove tree (Scientific name: Eugenia caryophyllata) by steam distillation.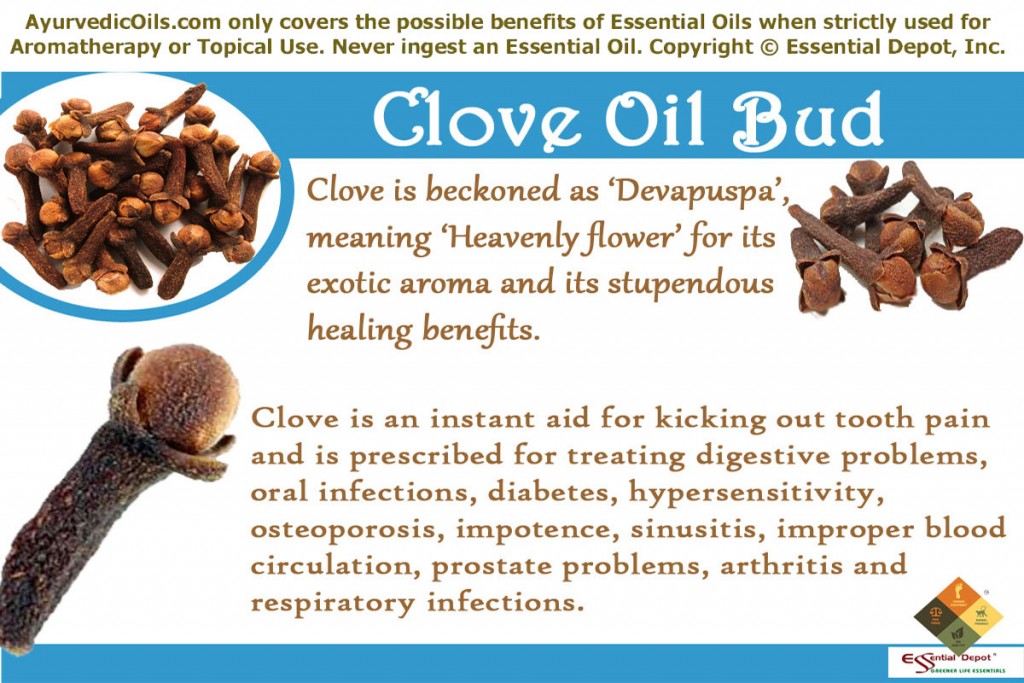 It is a much celebrated emergency aid for treating toothache with its potent pain-relieving effect that causes numbness in the painful area and alleviates pain instantly.
Clove is a vital part of the Ayurvedic rebellion for more than 3,000 years and is known in Sanskrit as Devapuspa, meaning 'Heavenly flower' and the name is attributed to its exotic aroma and its stupendous healing benefits.
It is prevalently known in India as Laung or Lavnga. Clove and its essential oil in used in many Ayurvedic treatments for dealing with digestive problems, oral infections, diabetes, hypersensitivity, osteoporosis, impotence, sinusitis, improper blood circulation, prostate problems, arthritis and few other respiratory infections.
Purchase Clove Oil Bud – Retail – 4 oz – CLICK HERE
Purchase Clove Oil Bud – Wholesale – CLICK HERE
Historical uses and importance of Clove and its essential oil:
Clove is native to the Moluccas Islands of Indonesia and was previously known as the Spice Islands. It is an evergreen tree which bears pink color flower buds and these buds are picked before they bloom and are dried to enrich mankind with the tiny brown buds known as 'Cloves'. This tree grows naturally in India, Sri Lanka, Brazil, West Indies, Zanzibar, Madagascar and Tanzania.
Clove was traded to Europe initially in the 4th century A.D where the ancient herbalists of Germany used Cloves as vital ingredient of their anti-gout remedy. Later it was used in treating wounds, infertility, nausea, diarrhea, worms and toothache.
Cloves were also used in poultices in England during the Middle Ages for treating infections and lesions caused due to bubonic plague. It was also recommended by Hildegard of Bingen for alleviating gout, nasal congestion, hiccups and intestinal swelling.
The traditional Ayurvedic medicine used Cloves as an effective aphrodisiac for addressing male reproductive problems and for assisting respiratory problems like asthma, cough, cold, sore throat, laryngitis and congestion.
It is blended with other popular herbs like cinnamon, ginger, peppercorn and cardamom and used as an immunostimulant, blood purifier, anti-parasitic, breath freshener and for relieving digestive disorders.
The historical use of Cloves in China evolved during the Han Dynasty (207 B.C.) and the Traditional Chinese Medicine (TCM) prescribes Cloves for easing fungal infections, hernia, digestive problems, ringworm, nausea, kidney infections and impotence.
Cloves were also a part of the Western Herbal Medicine for enhancing circulation, supporting digestion, treating erectile dysfunction, hiccups, vomiting, toothache and halitosis.
Chemical components and therapeutic properties of Clove essential oil:
The primary component of Clove is Eugenol that adds up to 70 to 90% of the Clove essential oil constituent. Other major components are beta caryophyllene, methyl salicylate, kaempferol, acetyl eugenol, triterpenoids, gallotannic acid, rhamnetin, vanillin and eugenin.
Eugenol contributes to the sensible aroma of Cloves and its therapeutic properties including antifungal, anesthetic, anti-inflammatory and antiseptic qualities. The other healing values of Clove essential oil are antioxidant, carminative, anti-carcinogenic, immunostimulant, stomachic, digestive, antibacterial, decongestant, expectorant and aphrodisiac.
Ayurvedic health benefits of Clove essential oil:
Woman/man in this modern world is judged by the gadgets she/he owns and the latest technology that has been swirling around. While most of us are aware about the techniques and tools in the mere man-made machines, how many of us know about our own body and its mechanisms? Not many of us know what is happening in our system? What causes pain? What causes hunger? What causes cellular damage? Or what causes death before the predestined day of death?
More than the knowledge of the world around you, the real wisdom lies in the awareness of the world within you, within the human mind and body, the greatest wonder in this Cosmos.
Ayurveda simply introduces you to a never before living where you will explore and discover about yourselves and the word 'Ayur + Veda' by itself means the 'the knowledge + life'. This ancient philosophy trusts that everything on earth is part of nature and is built with the same five elements that 'Mother Nature' is made up of.
The tremendous five elements are earth, water, air, fire and space. Earth signifies bones and muscles, water stands for blood, air assists breathing, fire notifies the body temperature and aid for metabolic functions and space is the spirit that stays in.
Every human being is created with a unique individual constitution comprising of three vital biological energies namely vata, pitta and kapha. These doshic elements are a combination of the five vital elements.
Air and space makes Vata and is responsible for circulation, nervous functions and aging symptoms, fire and water joins together for Pitta and is incharge of body temperature and metabolism and water and earth signifies Kapha energy and is accountable for structure and continuity. Every individual has a predominance of any one of these doshas that determines his personality, behavior and attribute.
Ayurvedic wisdom states that human health solely depends upon his/her harmony with nature, means the five elements of nature that are a representation of the three biological energies. Balance between the three doshas based upon the individual's unique constitution indicates health and imbalance causes sickness.
The natural remedies in Ayurveda including the herbs, essential oils, meditation, yoga, physical exercises, prayers, Ayurvedic routine and Abhyanga (Ayurvedic massaging) aim at treating these imbalances of doshas.
Clove and its essential oil have been in use in the Ayurvedic regimen for addressing an extensive range of illnesses ranging from oral problems to kidney disorders. The essential oil of Clove is said to augment pitta energy and soothe excess of kapha and vata dosha.
Let's check out the Ayurvedic health benefits of Clove essential oil.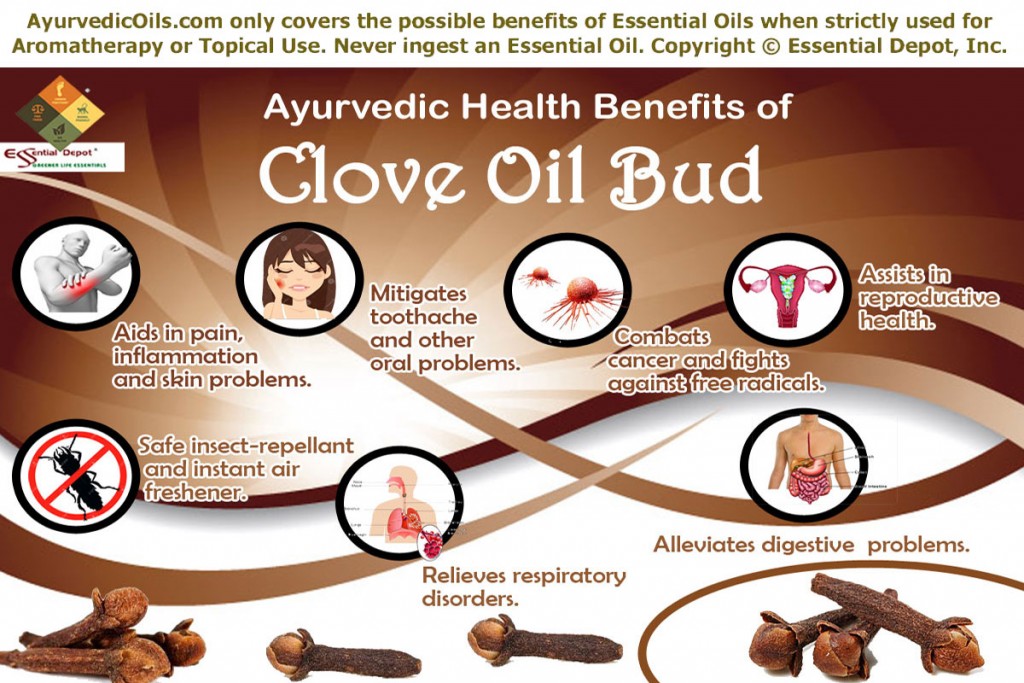 1. Alleviates digestive problems:
Clove and its essential oil have been a part of many Ayurvedic preparations used in the treatment of various digestive disorders including bloating, intestinal gas, nausea, stomach upset, distention and dyspepsia.
According to Ayurveda, pitta dosha is responsible for the body temperature, warmth and the fire generated for stimulating the process of metabolism like digestion, absorption and excretion.
Pitta imbalance or insufficiency causes sluggishness in the digestive system and it is during these critical times , Clove essential oil is used in Ayurveda for triggering the metabolic functions and warming the digestive tract.
Massaging your abdomen with 2 drops of Clove oil mixed with 1 ml of coconut oil assists in encouraging the digestive system, increasing the secretion of hydrochloric acid, bile and other digestive juices for enhancing trouble-free digestion. You can also take bath in lukewarm water enriched with 3 to 5 drops of Clove oil for supporting bowel movements and recover peristalsis.
With its carminative, stomachic and anthelmintic properties Clove oil is a natural remedy for alleviating flatulence, intestinal worms, gastric irritability and various intestinal infections caused by bacteria, virus, protozoa and other pathogens leading to serious digestive problems like cholera.
2. Relieves respiratory disorders:
Ayurvedic system of healing prescribes Clove as an effective remedy for treating upper respiratory problems like cough, asthma, sinusitis, cold, sore throat, bronchitis, flu, whooping cough, fever and tuberculosis.
Excess of kapha dosha due to change in food habits or climatic conditions contribute mainly to respiratory problems, as excess water deposits accumulate in the nasal and bronchial passages in the form of mucous and phlegm deposits.
Clove essential oil added to steam inhalation, preferably 2 drops of this oil when inhaled in the form of steam helps in loosening the phlegm and mucous deposits by causing warmth in the nasal passages and the respiratory tract.
This also aids in killing the harmful germs and pathogens that worsen the illnesses. You can also add 2 drop of Clove oil to your decongesting ointment and massage it soothingly on your chest, back and throat for improved results.
3. Aids in pain, inflammation and skin problems:
Clove essential oil is an excellent aid in treating skin infections caused due to bacteria, virus, fungi and other harmful microbes mostly with its natural antiseptic properties.
Using 2 drops of Clove oil along with your mild skin care cream or lotion or with 1 ml of jojoba oil on your skin can aid in healing wounds, athlete's foot, cuts, bruises, scabies, acne, prickly heat and insect stings.
It also helps in preventing the wounds from becoming septic. These skin-friendly properties of Clove oil is attributed to the presence of the eugenol compound which has rich antiseptic qualities.
Massaging the inflamed or painful parts of the body with 3 drops of Clove oil mixed with 2 ml of sesame oil helps in alleviating pain, reducing inflammation with its anti-inflammatory properties and discharges the excess water deposits, uric acid and toxic substances causing swelling, redness and irritation in rheumatism and arthritic conditions.
The presence of eugenol and its other derivative compounds like flavonoids, isoflavones and flavones are extremely advantageous in the perpetuation of bone density and aids in retaining the mineral content in the bones and support its tensile potency. By this way, Clove oil can be used as an effectual remedy for curing and preventing Osteoporosis.
4. Mitigates toothache and other oral problems:
Cloves are celebrated all around the globe for its natural dental assistance. Both the herb and its essential oil have been used in various traditional practices including Ayurveda, TCM (Traditional Chinese Medicine) and Western herbalism as a promising anodyne for treating dental emergencies.
Adding 1 drop of Clove oil to a small cotton ball or bud and keeping it on the painful area in the mouth for 10 to 15 minutes can help in alleviating toothache by causing numbness in the aching part.
You can follow this treatment by gargling your mouth with a cup of warm water nourished with 2 drops of Clove oil for eliminating the microbes, germs and other harmful organisms causing pain and other oral infections.
Even today in many countries, Clove herb is directly applied to the gums for controlling pain during dental aid, treating toothache and for dry socket, which is a problem experienced during tooth extraction.
It has also been used in India as a natural breath freshener and as a guard against oral pathogens for treating gum problems like periodontitis and gingivitis. Clove oil is also an important ingredient in various Ayurvedic toothpastes and the most popular among them is the Dabur Red toothpaste.
5. Combats cancer and fights against free radicals:
Antioxidants are the soldier force that can combat the growth of cancerous tumors by fighting against free radicals causing cellular damage. The antioxidant capacity of a particular component is measured by its ORAC, meaning Oxygen Radical Absorption Capacity. This measuring attribute was developed for the USDA (United States Department of Agriculture) by the Scientists of Tufts University.
According to the study by the Essential Oils Desk reference amongst the numerous essential oils, Clove essential oil stands high with ORAC of 10,786,875 where the preceding oil was Thyme essential oil with 159,590 as its ORAC. This simply means that Clove oil is the best antioxidant in the world amongst all the other fruits, herbs and spices with 10 million ORAC. This is more than 400 times of the most powerful antioxidant fruit, the wolfberry.
Clove essential oil has antioxidant and anti-carcinogenic properties that help in treating all types of cancer including lung cancer and liver cancer, if traced in the early stages.
Massaging your body with 10 drops of Clove essential oil blended with 5 ml of Evening Primrose oil can help in decreasing the free radical production, discouraging the increased lipid profile in the liver, detoxifying the system, postponing the aging process (helps reduce wrinkles and other aging symptoms) and augmenting the body's natural immune power.
6. Safe insect-repellant and instant air freshener:
Clove is by far known as the safest and non-toxic insect repellant that repels harmful insects like mosquitoes, bugs, fleas and ticks and it has been proved by the researches of the Duke University School of Nursing. This oil has a strong aroma that is intoxicating for the olfactory senses of various insects.
Adding 2 drops of Clove oil in diffuser, air freshener or vaporizer can revive the air instantly and protect your family from insects. You can also add 2 to 3 drops of Clove oil in your skin care lotion and apply it on your skin for keeping away from insects.
7. Assists in reproductive health:
Many traditional medical systems including Ayurveda and Unani medicine suggest the use of Clove oil as an aphrodisiac for treating reproductive problems especially in men. The spicy and warming aroma of Clove oil kindles the feelings of togetherness and supports the health of male and female reproductive system.
The book 'Ayurveda and Aromatherapy' by Bryan Miller and Light Miller says that Clove essential oil is effective " to arouse, stimulation of hormones, 'stimulate the juices', dispel inertia and depression", which are all the causes of Kapha imbalances. Clove oil is a popular mental stimulant that alleviates fatigue, depression and other negative feelings that ruin your sexual life.
Massaging your body with 10 drops of Clove oil mixed with 5 ml of virgin olive oil can help in treating premature ejaculation, impotence, loss of sexual interest, erectile dysfunctions and loss of libido. You can also add 2 drops of Clove oil to your bath before going to bed.
Other health benefits:
Clove oil is a renowned flavoring agent in various food items and beverages. It is also used in the manufacturing of soaps, toothpastes, cosmetics, clove cigarettes and perfumes. Epilepsy, poor blood circulation, dizziness, earache and certain other health conditions are also treated with Clove essential oil.
Disclaimer:
This article is only for the purpose of information and is not directed to use as a substitute for prescribed medicines or professional medical advice. Never use essential oils internally as pure and organic essential oils are highly concentrated liquids.
Always use Clove essential oil in a diluted manner for external use only, as this oil is a skin and mucous membrane irritant, if used directly on the skin. Always speak with your Ayurvedic Practitioner before choosing the right essential oils for your unique individual constitution and medical condition.
Thought for the day:
And the day came when the risk to remain tight in a bud was more painful than the risk it took to blossom. – Anais Nin
Suggested Reading:
Reference Links:


Your resource for quality Essential Oils. Every batch is
GC tested to ensure purity and authenticity.