Won't it be a heavenly feeling after opening a box full of all the spices put together? Undoubtedly 'Yes! 'is the answer that I can read from your face. Known as 'ALLSPICE', Pimento berry and its steam distilled essential oil from the leaves and dried berries smell like seventh heaven as its power-packed spicy aroma reminds you of warm spices like clove, pepper, cinnamon and nutmeg.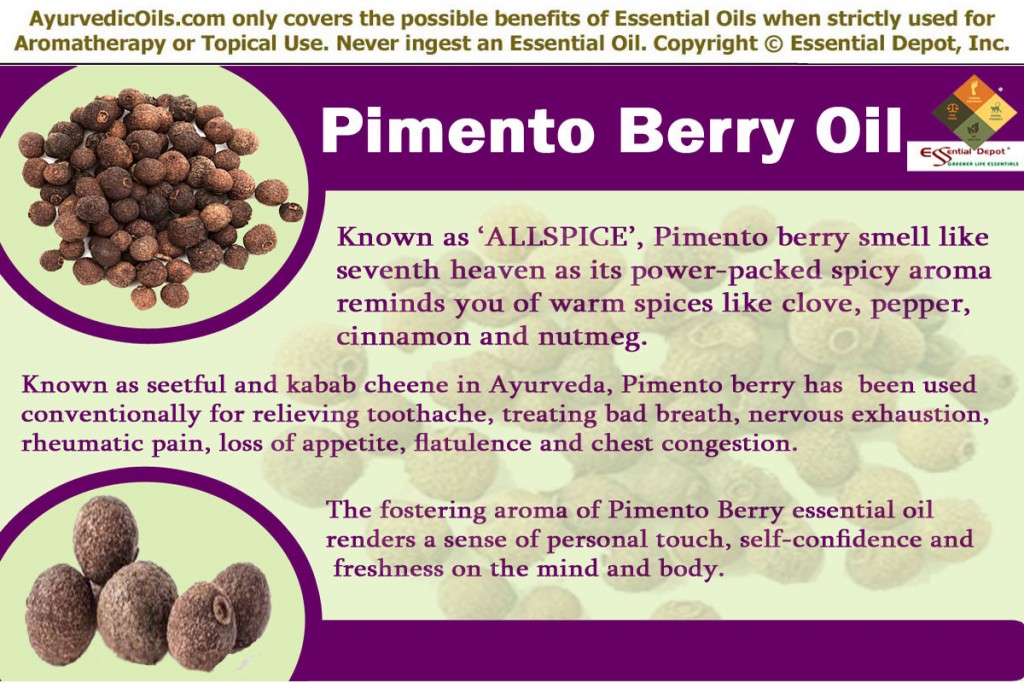 Botanically acknowledged as Pimenta officinalis and Pimenta dioica, this herb is also nurtured with other common names like Jamaica pepper, clove pepper, new spice, bay rum berry and pimento. Known as seetful and kabab cheene in Ayurveda, Pimento berry has been used conventionally for relieving toothache and treating bad breath.
Purchase Pimento Berry Essential Oil – Wholesale – CLICK HERE
Historical uses of Pimento berry:
Indigenous to Central America, Caribbean Islands and Jamaica, this herb has been in use in the folklore medicine of Mexico during the Pre-Hispanic period and the traditional Jamaicans used this remedial herb in tea and as a tonic for healing menstrual cramps, stomach problems and cold. The Haitian inhabitants in Cuba used Allspice in herbal preparations for treating digestive disorders and toning the stomach.
Allspice herb and its oil have been historically used for curing gastrointestinal problems, cramps, rheumatic pain and toothache.
Pimento leaves were used in the Dominican Republic in tea for reducing vomiting and the Western herbal medicine makes use of Allspice extracts in making plasters for treating rheumatic and neuralgic pains. Allspice water and Allspice oil were recognized by the British Pharmacopeia in 1898. This herb was also trusted to help quitting bad habits, breaking magical spells and guarding against evil powers.
Chemical constituents and therapeutic properties of Pimento berry oil:
Pimento berry essential oil has stimulant, tonic, depurative, carminative, astringent, deodorant, stomachic, antidepressant, purgative, diuretic and antiseptic properties. The chemical constituents that contribute to the remedial values of this oil are eugenol (about 75%), sesquiterpene caryophyllene, β-caryophyllene, methyl eugenol and 1, 8-cineole.
Ayurvedic health benefits of Pimento berry essential oil:
Universally known as the mother of all healing sciences, Ayurveda is the oldest of all medicinal systems in the world. Ayurvedic texts have recorded brilliant remedial measures right from common cold till plastic surgery methods that was carried out by the Ayurvedic physician, Sushruta during 6th century BC in India and he is celebrated as the father of plastic surgery.
According to this magnificent methodology, human beings are a vital part of nature and every action whether physical, emotional, spiritual, psychological or environmental are linked with natural energies. Illness, according to Ayurveda just indicates that the human body is out of balance with nature.
Ayurveda precisely classifies that human beings are made up of three energy elements known as doshas in Sanskrit (vata, pitta and kapha), where vata represents air, pitta symbolizes fire and kapha stands for water. All these three doshas should strike perfect balance for an individual to be healthy and sickness indicates either increase or decrease of any of these or all the 3 doshas.
Ayurvedic remedies consist of herbs, essential oils, Ayurvedic massage, meditation, yoga and physical exercises along with spiritual ideals that help one to understand the purpose of life. Allspice essential oil in Ayurveda is said to treat pitta deficiency along with surplus of vata and kapha.
The key Ayurvedic health benefits of Pimento berry essential oil are: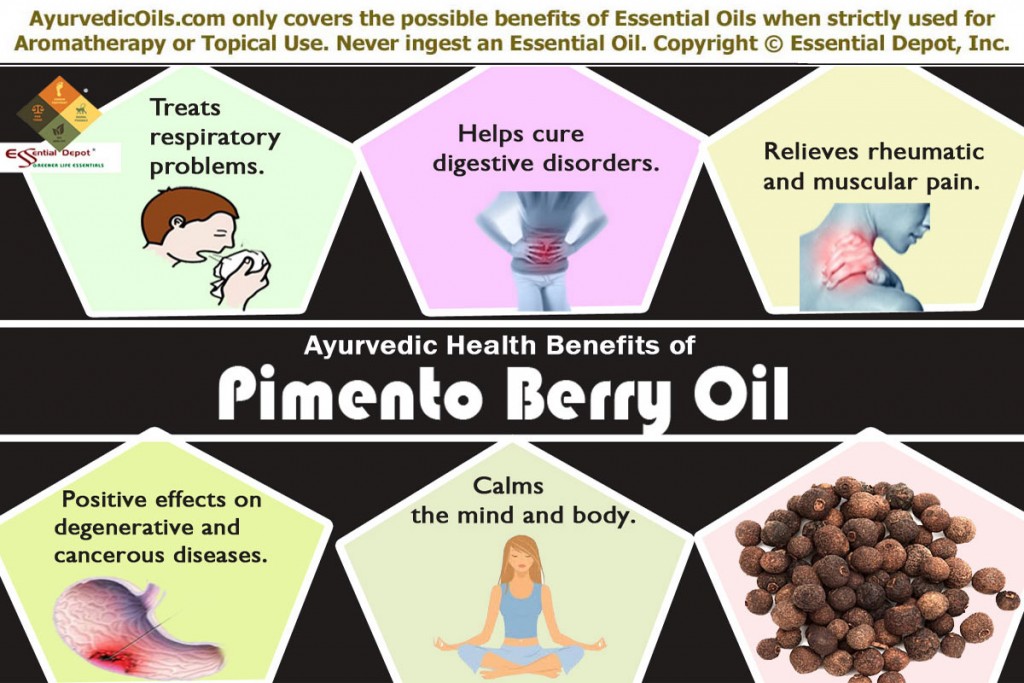 1. Treats respiratory problems:
The major cause for respiratory problems like sinus, cough, severe cold, chest congestion, difficulty in breathing due to excess mucous and phlegm deposits on the lungs etc., is due to the water based energy element kapha. Increase in kapha dosha due to climatic conditions or irregular food habits increase water content in the body and further infections cause cold and other respiratory problems.
Allspice essential oil reduces kapha and aids in treating respiratory infections like bronchitis, cough, chills and congestion. For instant relief, you can add 2 drops of Pimento oil in boiling water for steam inhalation.
2. Helps cure digestive disorders:
Widely used as a carminative, Allspice oil has stomachic and tonic properties that aids in assisting problems with digestion, flatulence, nausea, gastrointestinal tract disorders, loss of appetite, colic and dyspepsia. Herbal tea prepared with Allspice powder or a gentle massage with 3 to 4 drops of Allspice essential oil with coconut oil can help in alleviating digestive disorders.
3. Relieves rheumatic and muscular pain:
As known before, excess of kapha causes water retention or fluid retention paving way for rheumatic problems as the toxic substances stagnate in the body, hindering its regular functioning.
Pimento berry essential oil with its warm, diuretic and anti-inflammatory effects helps in relieving rheumatism, reducing inflammation, muscular aches and arthritic pain when used as a massage oil with 2 drops of Pimento berry oil blended with warm carrier oils like sesame oil can grant relief. You can also add 3 to 4 drops of Allspice oil in warm bathing water for utilizing the stimulating rubefacient effect of this oil in treating neuralgia, stiff muscles and rheumatic pain.
4. Positive effects on degenerative and cancerous diseases:
A 2011 research on 'Composition and antioxidant activity of essential oil of Pimento from Jamaica' tested the "antioxidant properties of this essential oil in terms of its free-radical scavenging activity against 1,1-diphenyl-2-picrylhydrazyl (DPPH), 2,2′-azinobis (3-ethylbenzothiazoline-6-sulphonic acid) diammonium salt (ABTS) radical cation and superoxide anion".
This study witnessed that Pimento berry essential oil possess very high radical fighting activities compared to that of pure eugenol and also recommended its use as a natural antioxidant along with good flavor and enormous health benefits, including cancerous and degenerative diseases due to the effect of free radicals.
5. Calms the mind and body:
The comforting, warming, encouraging, uplifting and fostering aroma of Pimento Berry essential oil renders a sense of personal touch, self-confidence and freshness on the mind and body.  As a proven tonic for the central nervous system, this oil supports in treating neuralgia, nervous exhaustion, convulsions, hysterical paroxysms, depression, fatigue and stressful conditions.
Enriching your potpourri, diffuser, burner, vaporizer or bathing water with 3 drops of Allspice essential oil can grant you ultimate solace after a long tiring day and can also kick start your confidence for a promising dawn. It is for this strong purpose, Pimento berry essential oil has been a part of men's perfume ranges.
Other health benefits:
Allspice essential oil is also known to be used in food industry for flavoring frozen food items. Its potent antioxidant effects have made its use compelling in meat preservation. Dentists use eugenol as a trusted antiseptic and local anesthetic for treating problems with gum and teeth. Pimento berry essential oil contains rich eugenol content that makes it a promising agent for treating halitosis and other dental problems.
Disclaimer:
Always use essential oils after diluting it in carrier oils. Never take essential oils internally as it may cause harm. Consult your Ayurvedic practitioner before using specific essential oils for your unique constitution and the quantity of oils to be used. Use Allspice essential oil in low dilutions as it has a high content of eugenol and may cause skin irritation.
Thought for the day:
Let your life lightly dance on the edges of Time like dew on the tip of a leaf.
-Rabindranath Tagore
Suggested Reading:
Vibrational Healing: Revealing the Essence of Nature through Aromatherapy and Essential Oils by Deborah Eidson
Ayurveda & Aromatherapy: The Earth Essential Guide to Ancient Wisdom and Modern Healing by Dr. Light Miller, Dr. Bryan Miller
The Complete Herbal Guide: A Natural Approach to Healing the Body by Stacey Chillemi
Reference Links: