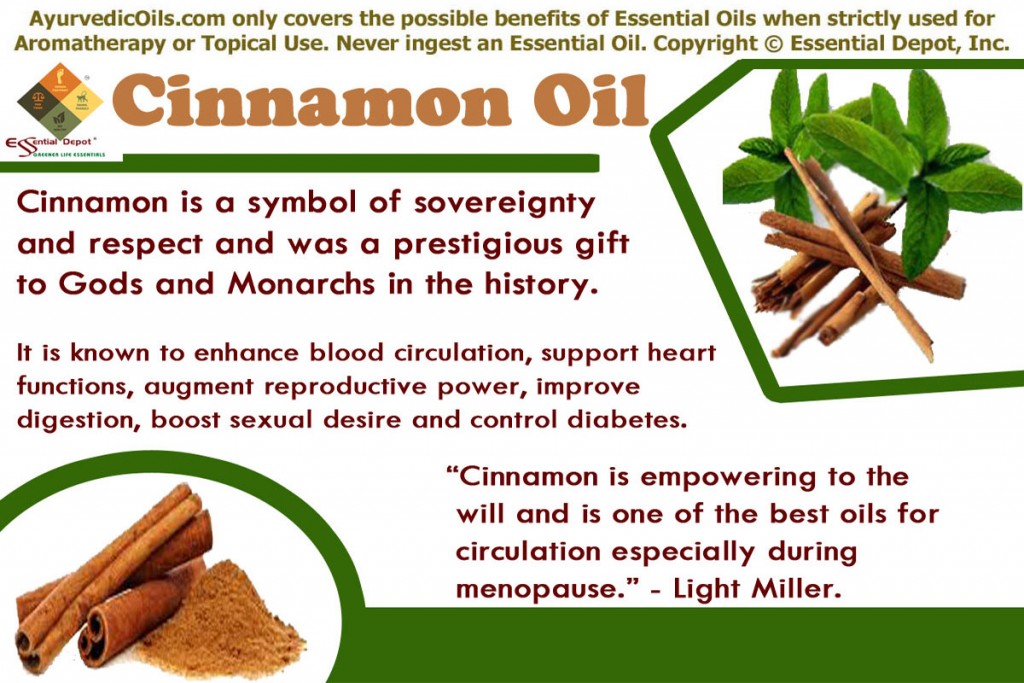 "Cinnamon is empowering to the will and is one of the best oils for circulation especially during menopause", says Light Miller in her book Ayurveda and Aromatherapy. This oil also enhances blood circulation, supports the functions of the heart, augments sexual function, improves digestion, boosts sexual desire and controls diabetes.
The essential oil of Cinnamon is obtained from the dried inner bark of the Cinnamon tree, scientifically known as Cinnamomum zeylanicum (now called as Cinnamomum verum) by steam distillation method.
Cinnamon is a symbol of sovereignty and respect and was a prestigious gift to Gods and Monarchs in the history. Called as Darusita or Tvak in Ayurveda, Cinnamon has a long history in Ayurvedic medicine for treating malaria, diabetes, menopausal problems, headache, bad breath, digestive disorders, impotence, anemia, sinus congestion, dyspepsia, blood circulation, scabies, intestinal infections and gynecological problems (used even as a natural birth-control aid).
Purchase Cinnamon Essential Oil – Retail – 4 oz – CLICK HERE
Purchase Cinnamon Essential Oil – Wholesale – CLICK HERE 
Historical uses and importance of Cinnamon herb and its essential oil:
Cinnamon is a small bushy evergreen tree that is indigenous to South Asia, especially to Sri Lanka and India. It is credited as one of the three oldest herb known to the ancient world along with Myrrh and Frankincense. The oldest historical reference of Cinnamon is its description found in the ancient Jewish religious text Torah.
Biblical texts talk about Cinnamon and its esteemed uses in various places and the most noted among them is the command to Moses to make use of cinnamon and cassia in the holy anointing oil.
Solomon describes the charm of his love by saying that her garments scented with cinnamon are like the smell of Lebanon. In various proverbs it's been mentioned that the bed of the lovers is adorned with the aroma of cinnamon, aloes and myrrh.
The primordial Indians used Cinnamon as a condiment and in Ayurvedic healing before 8th century and the traditional Chinese physicians used Cinnamon as early as 2700 B.C.
It was also imported to Egypt in 2000 B.C. Pliny the Elder, Dioscorides, Galen and many other renowned herbalists have documented the therapeutic uses of Cinnamon.
Cinnamon was held high in the ancient period and was valued more than 15 times of silver (about 350 grams of Cinnamon was equivalent to that of 5 kgs of Silver in the 1st Century). The traditional Egyptians used Cinnamon and its essential oil in embalming dead bodies and in preserving meat. Ayurvedic system used Cinnamon for controlling the blood sugar level and for assisting digestive disorders. Its essential oil was used in pacifying the nerves and muscles.
The Traditional Chinese Medicine used this herb as an aid in treating painful and delayed menstruation, diarrhea, cold, cough and other respiratory problems.
Cinnamon was burnt as an offering in religious ceremonies and also for sanctifying the atmosphere. It was used by the primeval Romans attaining the healing powers for spiritual wellness.
Chemical constituents or Gas Chromatography Report (GC) of Cinnamon oil:
The Gas chromatography report witnesses Cinnamon oil with about 15 chemical constituents that contribute to its distinct aroma, remedial values, consistency and superiority of this splendid oil. Among which, (E)-Cinnamaldehyde has the highest area with a proportion of about 76.8% of Cinnamon oil components.
Just click on:
I certainly trust that this information would help in having a clear picture about the major chemical constituents of Cinnamon oil.
The table crafted below elucidates the unique nature and therapeutic attributes of these biochemical constituents to the medicinal magnificence of Cinnamon essential oil.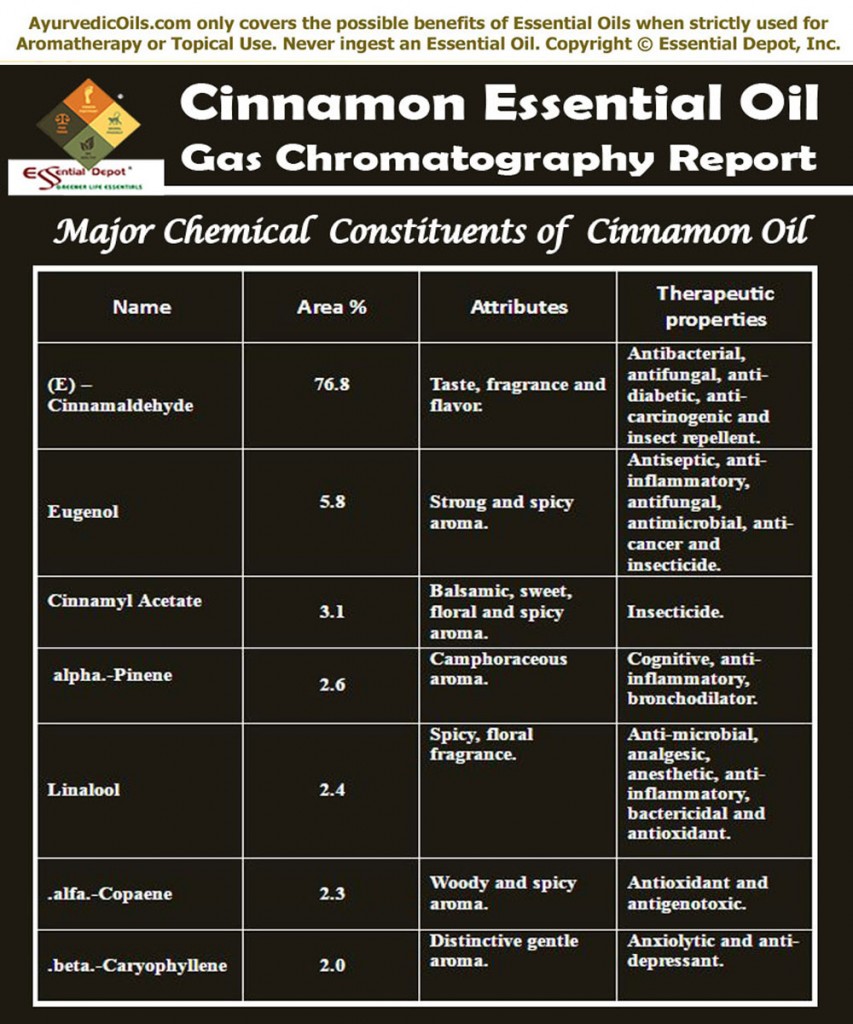 Therapeutic properties of Cinnamon essential oil:
The remedial properties of Cinnamon essential oil are antioxidant, astringent, antibacterial, antimicrobial, anti-clotting, anti-fungal, cardiac, emmenagogue, stimulant, analgesic, antibiotic, vermifuge, tonic, aphrodisiac, stomachic, diaphoretic, diuretic, anti-parasitic, alterative, expectorant, antispasmodic and carminative.
Ayurvedic health benefits of Cinnamon essential oil:
Ayurveda is the oldest healing systems on earth that focuses on a holistic approach for healing, preventing and ensuring longevity for humanity. By the word holistic, Ayurvedic remedies aim at granting complete health including the physical, mental and spiritual health.
This is because, this traditional Indian methodology strongly believes that these three aspects of health are inter-related and the weakness of any of these aspects will directly or indirectly affect the other two.
This is explained in the Sutrasthana of Charaka Samhita, the oldest Ayurvedic encyclopedia as "The three – body, psyche, and soul – act as a tripod. The world stands upon them, and within them, the world abides." Ayurveda is an absolute common sense science that stimulates proper functioning of the system, peaceful sleep, emotional tranquility, spiritual oneness and takes you a brand new world of energy and enrichment.
The exclusivity of Ayurveda lies in its individual attention for every person even if a group of 10 people are affected by the same illness.
The typical 'one size fits all' principle of the modern medical system never holds good for a natural healing technique like Ayurveda. Here every individual is considered as a unique part of nature, made up with the five elemental forces of nature. They are fire, earth, water, space and air.
These five elements represent themselves in the form of three biological energies known as doshas, namely vata, pitta and kapha. These 3 doshas join together to form an individual constitution, which makes every person unique with a specified set of physical, mental and spiritual attributes.
Vata is a combination of air and space and is in charge of respiratory functions, nervous system and the process of circulation. Pitta stands for fire and water and is responsible for body temperature and the process of metabolism. Earth and water put together forms kapha dosha and is accountable for structure of the body, functions of the fluids in the system and sustenance.
Every individual has a unique combination of these doshas. Balance between these doshas indicates healthiness and imbalance due to lifestyle, food habits and other environmental factors lead to doshic imbalances causing illnesses.
Ayurveda recommends the use of natural remedies like herbs, yoga, essential oils, meditation, Ayurvedic routine, prayers and other Ayurvedic therapies according to the individual constitution of a person, so as to correct the imperfect balance of doshas.
Cinnamon essential oil is a perfect Ayurvedic essential oil to treat the surplus of vata and kapha doshas and the deficit of pitta dosha.
This makes Cinnamon oil a prime choice in treating digestive problems as it's known to enhance the 'agni or fire' in the system that is responsible for metabolic functions.
It's time to have a look at the Ayurvedic health benefits of Cinnamon essential oil.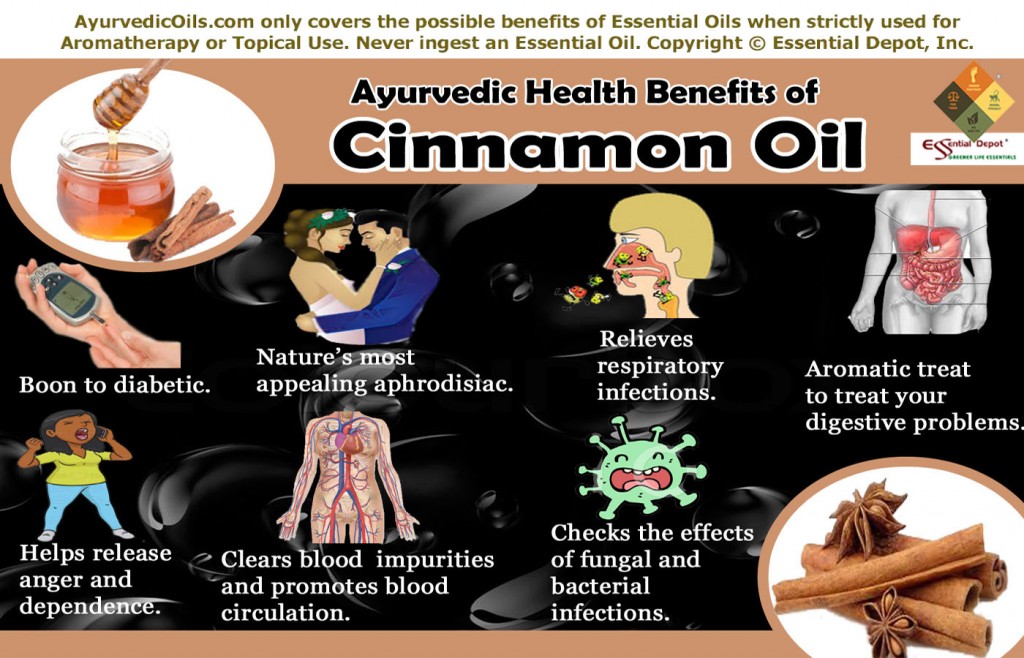 1. Boon to diabetics:
In an Ayurvedic perspective, diabetes is a disarray of kapha unevenness occurred due to weakened digestive fire. Cinnamon is a nature's wonder herb for treating increased kapha dosha and enhance the flow of pitta energy. This is mainly because of its warming properties that help in encouraging Agni or the digestive fire that supports the balanced functioning of the digestive system.
Cinnamon is habitually prescribed for people with kapha dosha predominance and these people generally hold a wet, cold, heavy and slow mechanism of the body.
By this way, using Cinnamon essential oil either in a massage blend or in inhalation along with an Ayurvedic diet and Ayurvedic routine that includes healthy lifestyle changes, meditation, prayers, yoga and other simple physical exercises for controlling the blood glucose levels of the system, thus having a check on diabetes.
Cinnamon has been recommended by the American Diabetes Association in 2006 for controlling diabetes. Dr. Fuhrman quotes few important research works on diabetes including the study on 'Complementary and alternative medicine for the treatment of Type 2 diabetes' and states that "The bark of Cinnamomum trees contains phytochemicals that enhance insulin signaling and facilitate glucose uptake and storage by the body's cells."
A 2003 study on Cinnamon for diabetes established that taking Cinnamon supplements regularly for 40 days decreased blood sugar and level of cholesterol in type 2 diabetes patients.
Massaging your body with 10 drops of Cinnamon essential oil blended with 5 to 7 ml sesame oil can help in regulating the blood sugar level with its pungent aroma and heating energy. The therapeutic properties of this oil enters the blood stream by penetrating through the skin cells and act directly on the cellular structure. It also aids in controlling the digestion of sugar and fatty substances, which helps in providing resistance of insulin in Type 2 diabetes.
A 2012 research on "Effects of Cinnamomum zeylanicum (Ceylon cinnamon) on blood glucose and lipids in a diabetic and healthy rat model" by the Diabetes Research Unit, Department of Clinical Medicine, University of Colombo, Sri Lanka published in PubMed concluded that "Cinnamomum zeylanicum lowered blood glucose, reduced food intake, and reduced atherogenic LDL cholesterol."
2. Nature's most appealing aphrodisiac:
Cinnamon holds the honor of elating the senses of mankind for numerous centuries with its sweet, mesmerizing and rich aroma. In his book 'Dangerous Tastes', author Andrew Dalby quotes Cinnamon as "an aroma of divine worship and of sensual luxury."
The warming, stimulating and aphrodisiac properties in Cinnamon help in increasing the body temperature and helps in arousing strong sexual desire in men and women.
Massaging your lower abdomen, genital parts and thighs with 5 drops of Cinnamon oil mixed with 2.5 ml virgin olive oil can help in improving sensual feelings, augmenting libido in both male and female, treat impotency and erectile dysfunction.
Inhaling the healing aroma of Cinnamon oil by adding 2 drops to your burner, vaporizer or diffuser along with this massaging can act as a great aid in strengthening the uterus muscles, relieving menstrual pain, regularizing blocked menstruation, washing out uterine congestion, and inducing labor pain.
This is due to the tendency of Cinnamon to stimulate the secretion of Oxytocin hormones responsible for increasing uterine contractions and enhancing the production of breast milk.
3. Aromatic treat to treat your digestive problems:
Cinnamon has an euphoric aroma that increases the secretion of digestive acids and gastric juices by enhancing agni or the digestive fire.
The slightly bitter and pungent taste of Cinnamon along with its hot potency aids in processing ama or the undigested toxic substances, reducing heaviness of the stomach, treating sluggish bowel movements and alleviating abdominal pain.
Inhaling the energizing aroma of Cinnamon oil by adding 2 to 3 drops of this oil in burner, vaporizer or your hanky along with a warming massage of your abdomen with 4 drops of Cinnamon oil blended with 2 ml of coconut oil can assist in treating colic, slow digestion, nausea, dyspepsia and diarrhea.
4. Relieves respiratory infections:
Ayurveda describes most of the respiratory disorders as kapha imbalance. This excess kapha stockpiles in the respiratory passages in the form of mucous and phlegm deposits and cause hindrance in the free movement of air to the lungs and nasal passages. This is why many or all of the respiratory illnesses are accompanied by breathing difficulties.
Cinnamon essential oil has kapha-reducing properties with its bitter, hot, pungent and penetrating qualities. The expectorant, decongestant and demulcent properties of this oil help in loosening the thick phlegm and mucous secretion in the nasal passages and the respiratory tract. The anti-tubercular activity of cinnamic acid present in Cinnamon oil also helps in treating tuberculosis, chronic cough and asthma.
Adding 3 drops of Cinnamon oil in steam inhalation can be extremely helpful in warming up the lungs, liquefying nasal and chest congestion and eliminating phlegm and mucous in the bronchial passages. 2 drops of this oil added to vaporub and massaged gently on the throat, chest and back can also assist in relieving stuffy nose, watery eyes, nasal congestion, headache and cough.
5. Helps release anger and dependence:
The sweet smelling oil of Cinnamon has been found to boost memory power and cognitive functioning abilities of the mind. Many Ayurvedic schools have recommended Cinnamon for enhancing memory skills.
Cinnamon essential oil empowers the willpower and purifies the spirit. This aids in treating mental fatigue, anger, tension, anxiety, depression and other negative feelings. This oil affects the Solar plexus chakra, which connects our personal fire with that of the world revolving around us.
Fears of criticism, rejection and lack of self-confidence affect the functioning of this chakra. Using 2 drops of Cinnamon oil in bath or in diffuser or vaporizer can help in increasing one's feelings of independence and promotes one to take risks with confidence and power.
6. Clears blood impurities and promotes blood circulation:
Cinnamon essential oil has blood purifying properties that are attributed to its stimulant and cleansing remedial values. It helps in eliminating the toxic substances in the blood through urine and sweat.
2 drops of Cinnamon oil added to diffuser during Pranayama, the technique of balanced breathing followed by a meditation can help in discarding the toxins in the blood through exhalation, enhancing Ojas or the vital energy for longevity, stimulating the cardiac functions and granting mental peace and improved blood circulation especially to the six chakras in the body.
7. Checks the effects of fungal and bacterial infections:
The essential oil of Cinnamon is an effective immune system booster by nature. It also has antibacterial, anti-fungal and antiviral properties that curb the growth of disastrous micro-organisms in the system. Mixing 2 drops of Cinnamon oil with 1 ml of almond oil and applying it on the affected parts can help in healing wounds, burns, cuts, candida, boils, itches, athlete's foot, and ringworm and prevents the wound from turning septic.
According to a 2006 study by the Saurashtra University, India, Cinnamon essential oil extracted from the bark of the Cinnamon tree got attained 42.5 out of 50 for its anti-fungal activity, whereas Hexaconazole, a popular fungicide often used in agriculture scored only 22.5 for 50. This witnesses the effectiveness of Cinnamon oil in treating fungal infections like ringworm, athlete's foot etc.
Another study published in the International Journal of Food Microbiology proved that Cinnamon oil killed about 92% of gram negative and gram positive bacteria out of the 25 tested bacterial strains. Another source states that Cinnamon used in a blend with Eucalyptus, Rosemary, Clove and Lemon has the potent to kill about 99% of airborne bacteria in just 12 minutes.
Also used in:
Apart from all these health benefits, Cinnamon oil is used as a flavor in baked products, candies, desserts, soups, pickles, stews, beverages, meat and poultry etc. It is also used in skin care creams and lotions for enhancing the skin complexion and removing impurities and skin blemishes.
Thought for the day:
In wilderness I sense the miracle of life, and behind it our scientific accomplishments fade to trivia.  -Charles Lindbergh
Disclaimer:
This article is only for informational and educational purposes and is written purely in the interest of sharing the traditional wisdom of the Ayurveda, the oldest of all healing sciences. It is not meant to treat, prevent or diagnose any health conditions or replace any kind of prescribed medicines or expert advice or a medical professional.
Never use essential oils internally. Do remember to dilute essential oils in appropriate carrier oils before using it on the skin externally as pure and organic essential oils are the life essence of plants and are highly concentrated substances. Consult your Ayurvedic expert/healthcare professional before choosing the appropriate essential oils for your unique constitution and health condition. Keep away from children, pregnant women and nursing moms.
The MSDS (Material Safety Data Sheet) of Cinnamon oil is readily available for your enhanced safety and better usage.
Gas Chromatography Report (GC analysis) of Cinnamon oil.
Cinnamon Essential Oil – Possible Skin Issues:

Greener Life Diamond – Bio-Healthy Score => 3 – Possible Skin Issues:
See => http://www.essentialdepot.com/GreenerLifeDiamond.html
Besides being an indispensable spice and herbal remedy, Cinnamon is reported for negative effects including possible skin issues like allergic reactions, irritation of the skin, stimulating menstruation, contracting the uterine muscles, skin sensitization, dermatitis and burning sensation.
It is highly advisable to avoid Cinnamon oil during pregnancy as it may shrivel the uterine muscles, cause indigestion, pain in the abdomen, contribute to premature labor and is completely unsafe for the development of the fetus.
The major chemical components that are in charge for the potential skin problems and other adverse health conditions of Cinnamon oil are Cinnamaldehyde, cinnamic acid and cinnamyl alcohol. It may cause a burning sensation or irritation on the engaged parts when used in the form of skin care, oral hygiene (toothpastes and mouthwashes) and pain relieving products including ointments and rubs.
Cinnamon oil, with the presence of these constituents is said to cause subchronic and severe toxicity, when used beyond the prescribed level of use. The maximum recommended usage level of Cinnamaldehyde by The International Fragrance Association (IFRA) is 0.05%.
Though Cinnamon has GRAS (Generally Regarded As Safe) status, The Council of Europe has fixed an ADI of 1.25mg/kg for Cinnamaldehyde, which is the same as an adult dosage of 115 mg of Cinnamon bark oil.
According to the Scientific Committee on Cosmetic Products and Non-Food Products (SCCNFP) the presence of Cinnamaldehyde in any ready to use products should not surpass 0.1%
Essential oils are recommended only for dermal application and never ingest Cinnamon oil as it may cause toxic effects on the liver (hepatotoxic), kidney (nephrotoxicity) and the entire system. Diluted Cinnamon oil in appropriate carrier oils is prescribed safe and concentrated use may cause chronic allergies, irritation, dermatitis and chronic sensitization.
Studies witness severe burns in people due to the skin contact of undiluted Cinnamon oil and is commonly related to burning sensation in the skin, mouth, mucous membrane stomach and chest , intermittent blistering, nausea, dizziness and sensitization accounted to the presence of Cinnamaldehyde. This also applies to the use of Cinnamon oil in vapor therapy and dermal application.
Cinnamon oil is said to have mild phototoxic effects, control platelet aggregation (Do not use Cinnamon oil if you are taking anticoagulant and anti-diabetic medications). It may cause reproductive toxicity (when tested on pregnant mice, it decreased the count of nuclei and modified the embryo distribution).
Always do a patch test before using Cinnamon oil on your skin.
Reference Links Substantiating Possible Skin Issues of Cinnamon Oil:
Suggested Reading:
Reference Links:


Your resource for quality Essential Oils. Every batch is
GC tested to ensure purity and authenticity.