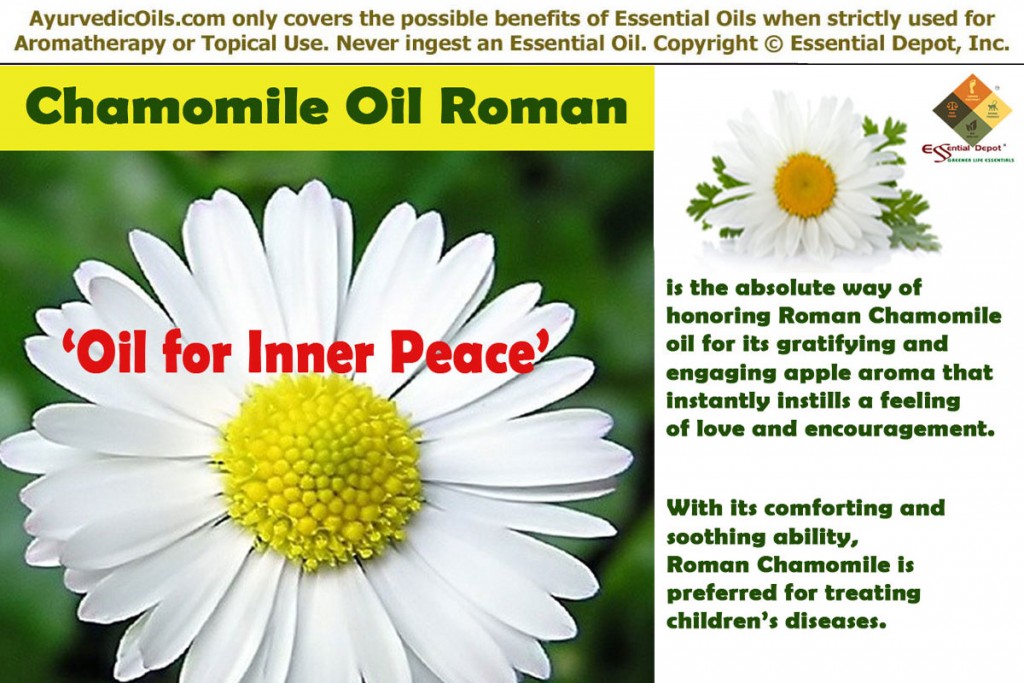 'Oil for inner peace' is the absolute way of honoring Roman Chamomile oil for its gratifying and engaging apple aroma that instantly instills a feeling of love and encouragement. Obtained from the flowers of the Anthemis nobilis plant by steam distillation method, the word Chamomile is extracted from the Greek words Chamai and Melon, which means 'ground apple'.
Used in Ayurvedic healing in the treatment of bloating, flatulence, dysmennorhea, insomnia, headache, nervous disorders in children, jaundice, PMS, amenorrhea, sunburn, colic, indigestion, anger, depression and negative feelings.
The book Ayurveda and aromatherapy quotes Roman Chamomile as Gold Chamomile and says, "This is the Chamomile that is preferred for children's illnesses because of its soothing and calming effect. It can be of special assistance during menopause and PMS, and inhalation works well for tension, stress and irritability."
Purchase Chamomile Roman Essential Oil – 4oz – CLICK HERE 
Historical uses and importance of Roman Chamomile:
It is a member of the daisy family, Asteraceae and its medicinal uses dates back to the ancient Roman and Egyptian civilization, where Roman Chamomile was used in the treatment of nervous afflictions, anxiety, sleeping difficulties and respiratory problems.
The traditional Egyptians dedicated these aromatic flowers to their native Gods for its healing properties. The Sun God was called as Ra and it was trusted to bring back health and heartiness. Chamomile was offered to Sun to get rid of fevers (especially severe fevers known as Ague during that time) and to moon for its cooling potential.
Universally known as one among the Saxon's nine sacred herbs, Roman Chamomile is also called by various other names like True Chamomile, Golden Chamomile, English Chamomile and the Noble Chamomile for its pacifying aroma and excellent remedial values.
Roman Chamomile is called as Manzanilla (means 'Little Apple') in Spain and it was Pliny the Elder, Roman natural philosopher who first mentioned the similarity of the fragrance of the Chamomile flowers to that of the apple blossoms.
It was prevalently used as a strewing herb in the middle ages for perfuming the surroundings in special celebrations and events. During this time, it was also used in flavoring beer, ale and other beverages for its unique bitter taste.
Chamomile tea is a popular natural drink in the United States for reducing fatigue and inducing calmness to the system. It is a favorite ingredient in cosmetics, shampoos, perfumes, soaps, skin preparations and other toiletries.
It is cultivated throughout England, Spain, Argentina, France, Germany, Hungary, Morocco, Belgium, Italy and the United States, among which the England variety is considered as the best for essential oil production.
Numerous illnesses including insomnia, intestinal spasms, eczema, colic in infants, anxiety, depression, lack of self-confidence, inflammation, headache and skin infections are being treated with Roman Chamomile and its essential oil throughout the world for more than thousands of years.
Therapeutic properties and chemical constituents of Roman Chamomile essential oil:
This oil has anti-inflammatory, diaphoretic, anti-depressant, nervine, analgesic, emetic, antipyretic, emmenagogue, carminative, relaxing, antispasmodic, antiseptic, anti-infectious, antibiotic, febrifuge, sedative, stomachic, tonic, vermifuge, antiphlogistic, cicatrisant, hepatic, vulnerary, cholagogue and sudorific.
These healing actions are contributed by its chemical constituents including camphene, b-caryophyllene, myrcene, a-pinene, farnesol, sabinene, b-pinene, bisabolol, y-terpinene, azulene, propyl angelate, butyl angelate, pinocarveol, and 1, 8-cineole.
Ayurvedic health benefits of Roman Chamomile essential oil:
Ayurveda is called as the mother of all healing sciences, mainly because of its traditional wisdom spread to the world and its acumen to reside behind as the greatest resource for other healing systems with its vast ancient medicinal recordings especially in Atharvaveda, one among the 4 prominent Vedas (sacred books) of the Hindu mythology.
The three major Ayurvedic texts like Sushruta Samhita, Charaka Samhita and Ashtanga Hridaya Samhita documented the comprehensive medicinal practices and the fundamentals of Ayurveda.
Sushruta and Charaka are the most renowned Ayurvedic physicians of the ancient period and have expressed their Ayurvedic expertise in treating all kinds of illnesses from acne to plastic surgery and menstrual pain to caesarean delivery.
The most inspiring thing about Ayurvedic healing is its preaching and practices for leading a disciplined life. Ayurvedic philosophy revolves various aspects of healing and the most important ones are the holistic healing method, recommending natural remedies for prevention of illnesses and longevity.
They are the holistic approach that considers health as a three-dimensional array with the wellness of the mind, body and spirit. Charaka Samhita, clearly states this as "The three – body, psyche, and soul – act as a tripod. The world stands upon them, and within them, the world abides."
It aims at preventing illnesses, leading to aging in the pink and longevity. Ayurveda treats illnesses after analyzing its root cause instead of diagnosing it just with the symptoms. It prescribes natural remedies including essential oils, herbs, yoga, meditation, Ayurvedic routine, prayer and other Ayurvedic methodologies like Abhyanga or Ayurvedic massaging and Panchakarma or the technique for detoxification.
Ayurvedic treatment begins with the primary analysis of the biological energies that are a representation of the five vital elements of nature. These energies are called as doshas, namely vata (air + space), pitta (fire + water), and kapha (earth + water). These three doshas are present in every person in specific proportion to create the individual constitution. Absolute balance between these doshas symbolizes health and disparity leads to illnesses.
Ayurvedic physicians prescribe natural remedies to normalize the imbalance of doshas in accordance to the Prakriti or the fundamental constitution of a person. With its neutral and cooling energy, Roman Chamomile oil is said to reduce the surplus of kapha and pitta doshas and increase vata dosha.
The Ayurvedic health benefits of Roman Chamomile essential oil are: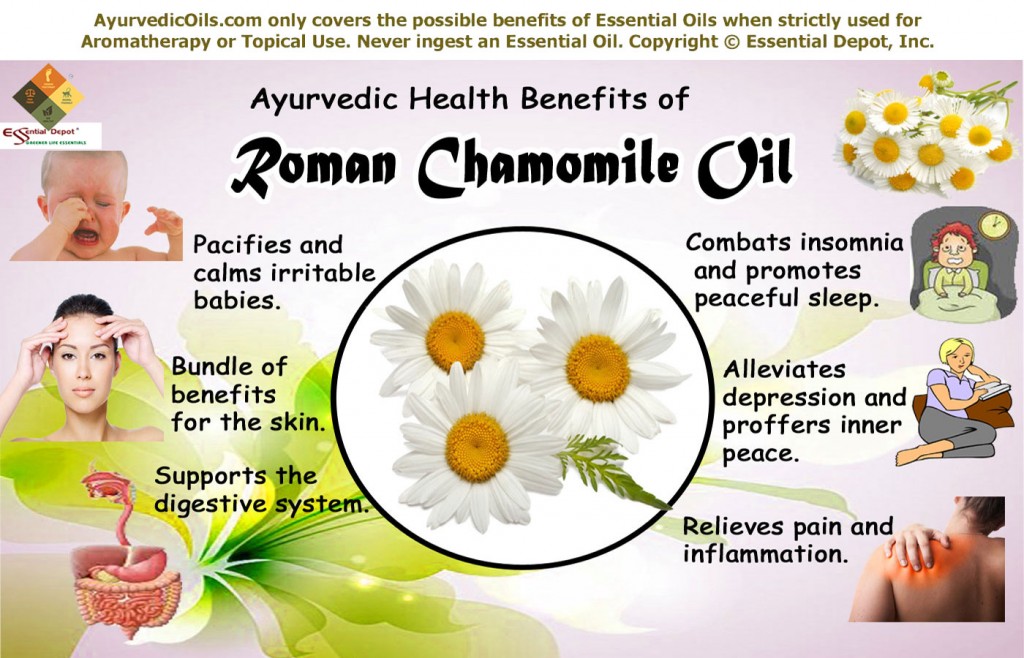 1. Pacifies and calms irritable babies:
Babies have no reason for crying, especially during the nighttime when the entire family is trying to sleep tight. Many think that pacifying a crying baby is a 'Mother's Thing' and if you are worried about soothing your stubborn baby the next time, then think of keeping Roman Chamomile essential oil in your emergency kit. This oil also aids in calming irritable babies and appease your baby's spiteful temper crabbiness.
Roman Chamomile oil is considered to be absolutely safe on children, including newborns. Add 2 drops of this oil on bed linens or on the baby's pillow. You can also add 2 drops of Roman Chamomile oil to a cotton ball and keep it near your shoulders, inside your shirt. This helps greatly when you try to tranquil your crying baby by granting comfort to their nerves and senses and promote peaceful sleep in sometime.
One drop of Roman Chamomile oil mixed with 10 drops of virgin olive oil can be gently massaged on your baby's tummy to get rid of pain, colic, stomach upset and diarrhea. This can also be rubbed on a baby's gums for relieving teething pain, inflammation and swelling associated with teething.
2. Combats insomnia and promotes peaceful sleep:
Sleepless nights are the biggest nightmare that lead to a dull day and drowsiness at work. Insomnia or sleeping disorders mainly occur due to anxiety, fatigue, tension, pain, worries, nervous disorders, post-pregnancy problems or post-surgery effects.
A recent study published in the Journal of Clinical Psychopharmacology, states that "Chamomile extract therapy was found to be efficacious for mild-moderate GAD (Generalized Anxiety Disorder)". Patients with mild to moderate level of GAD were a part of the study and they received chamomile or placebo. This study concluded stating that the patients who received the Chamomile treatment were traced to have a noteworthy change in the severity of their Generalized Anxiety Disorder.
The calming, soothing, sedative and relaxing effects of this oil assist in sedating the system and stimulating good sleep. Adding 3 drops of Roman Chamomile oil to the diffuser or vaporizer in your bedroom or 2 drops added to a tissue placed near your pillows can help in having a restful state in which you can sleep faster and better as well.
Adding 5 to 6 drops of this oil in warm bathing water before going to bed can also be helpful in tranquilizing the nervous system with its nervine properties and lighten up the system physically and emotionally.
3. Bundle of benefits for the skin:
Roman Chamomile essential oil is an excellent calmative for the skin also. Baumann says "It has amazing anti-inflammatory properties that make it ideal for patients with rosacea." This oil also works wonders in reducing pimples, blackheads, itches and heat rashes especially during summer. This oil also assists in lessening skin irritation and redness caused due to climatic conditions and allergies.
A report by the University Of Maryland Medical Center on Roman Chamomile states that "Test tube studies have shown that chamomile can kill bacteria, fungus, and viruses. Used on the skin, it may also reduce inflammation from cuts or hemorrhoids."
It is also said that this oil can help in easing the discomforts of eczema, psoriasis, blisters, diaper rashes, skin ulcers, bruises, sunburns and other skin conditions.
Roman Chamomile oil is a popular ingredient in an extensive range of cosmetics and skin care products for many centuries. This is mainly due to the antiseptic, antibacterial, vulnerary, antimicrobial, anti-inflammatory and cicatrisant properties of this oil.
Mix 3 drops of Roman Chamomile oil with 1.5 ml of Almond oil and gently massage on the affected parts of your skin, followed by a gentle face wash with soap-free cleansing cream.
Then wash it again with a cup of cold water with 1 drop of Roman Chamomile oil diluted in it. This treatment helps in healing wounds, burns, cuts, blisters, wrinkles, blackheads, acne marks, eczema, cracked nipples and other skin problems.
4. Alleviates depression and proffers inner peace:
Roman Chamomile is trusted to be a calming agent especially for alleviating stress and assisting in peaceful sleep. This oil has an impact on the heart chakra and the crown chakra; where the heart chakra is responsible for love for the self, conscious evolution, forgiveness, compassion and love for others as well. The crown chakra is the center of prayer and faith and for building an intimate bond with the Divine power.
The invigorating aroma of Roman Chamomile oil aids in opening the crown chakra and assists in releasing fear and anxiety related to the world. It also helps one realize the heavenly truth of 'living in the present moment' and alleviates worries, stress and depression related to loneliness, separation and detachment.
About 2 to 3 drops of Roman Chamomile oil when added to vaporizer, burner or diffuser     assists in bringing self-acceptance, augmenting self-esteem and peace. Inhaling the soothing aroma of this oil along with massaging your body with 5 drops of Roman Chamomile oil blended with 5 drops of Lavender oil and 5 drops of Frankincense oil with 10 ml of virgin olive oil can aid in overcoming fear, agony, agitation, mental confusions, hopelessness, discouragement and frustration.
5. Supports the digestive system:
The essential oil of Roman Chamomile has carminative, stomachic, vermifuge, digestive and cholagogue properties that help in supporting the digestive system and in stimulating the metabolic functions.
Dr. Vikram Chauhan, MD in Ayurveda regards Roman Chamomile as an effective herb for digestive disorders. He says "Roman chamomile has long been used to treat digestive problems, such as sluggish digestion, bloating, belching and flatulence. The bitter sesquiterpene lactones stimulate the digestive juices, and the flavonoids and coumarins have antispasmodic and anti-inflammatory powers."
Massaging your abdomen with 3 drops of Roman Chamomile oil with 3 drops of Peppermint oil helps in toning up the functions of the stomach, alleviates excess gas from the stomach and intestines by stimulating the secretion of hydrochloric acid, bile and other digestive juices and enzymes that regularize the digestion process.
6. Relieves pain and inflammation:
Roman Chamomile oil has analgesic or pain-relieving qualities that help in relieving pain in the joints, muscular aches, headache, toothache and migraine pain. 2 drops of this oil mixed with 2 drops of Myrrh gel oil and 2 ml of coconut oil massaged on the painful or affected parts can help in promoting blood circulation, relieving tension in the painful nerves and muscles, detoxifying the blood and helps in alleviating toxins and other impurities in the blood. The anti-inflammatory, anti-rheumatic and antiphlogistic effects of this oil aids in reducing inflammation, redness, edema and swelling in case of arthritis and rheumatism.
Can also be used for:
This oil is also effective in treating dysentery, allergies, menopausal problems, menstrual discomforts, sciatica, restlessness, insect bites, cystitis and sprains.
Disclaimer:
This information is only for the purpose of education and is not meant to cure, diagnose or prevent any illnesses or substitute any professional medical advice or prescribed medication. Ayurveda is a common sense science that treats the individual instead of the illnesses and this article is meant to confer the ancient traditional wisdom of this 5,000 years old healing system, and we are not medical professionals.
Do not use essential oils internally and always make sure that you use it topically in a diluted form, as pure and organic essential oils are highly concentrated substances and may cause allergies if used directly on the skin. It is advisable to do a small patch test on your skin, if you are using any essential oil for the first time. Speak with your healthcare expert/Ayurvedic practitioner before using the suitable essential oils for your health condition and unique individual constitution.
Thought for the day:
Joy in looking and comprehending is nature's most beautiful gift. 
-Albert Einstein
Suggested Reading:
Reference Links:


Your resource for quality Essential Oils. Every batch is
GC tested to ensure purity and authenticity.