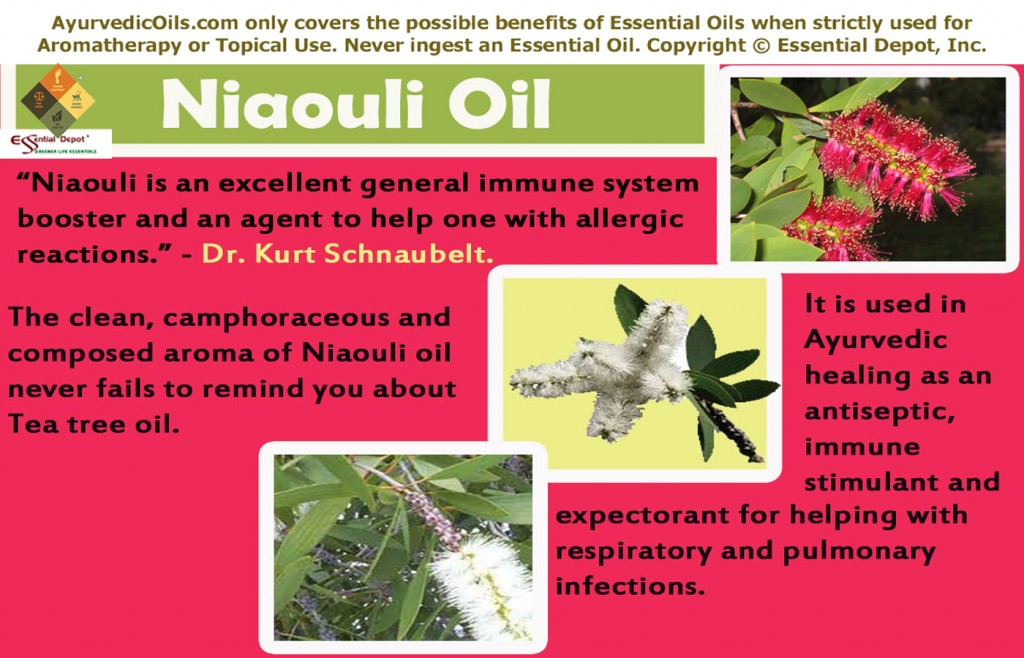 Yet another natural feather in the Australian cap along with Tea Tree and Cajeput, Niaouli belongs to the same species Melaleuca and is native to Australia. Along with these 3 trees, Melaleuca contains more than 200 species and these are the most popular ones used for extracting essential oils. Niaouli essential oil is extracted from the leaves and young twigs of this tree through steam distillation.
The clean, camphoraceous and composed aroma of Niaouli oil heals one in a number of ways and never fails to remind you about Tea tree oil. Niaouli essential oil is used in Ayurvedic healing as an antiseptic, immune stimulant and expectorant for helping with respiratory and pulmonary infections.
Purchase Niaouli Oil – Retail – CLICK HERE
Purchase Niaouli Oil – Wholesale – CLICK HERE
Historical importance of Niaouli essential oil:
Niaouli, scientifically known as Melaleuca quinquenervia (Melaleuca viridiflora) has been initially used by the Aborigines of Australia for rescuing Sir Francis and his crew from exhaustion and scurvy with the tea brewed from the leaves of Niaouli tree. It was used as a respiratory aid in the folklore medicine and the indigenous people used the fresh Niaouli leaves for wrapping the affected parts of their body.
Niaouli and its essential oil have been considered as a 'cure-all' in French Polynesia and Caledonia and have also been espoused as the national flower. The French use this oil in almost all the hospitals all over the country especially in the gynecological and obstetrics wards for its antimicrobial properties and this oil is also implemented into their pharmacopoeia. It has also been used as a water purifier in the French Pacific.
Niaouli has been used in the Middle East for preparing herbal tea to support healthy bowels. It was also used in the ancient period to keep away from malaria. Since the pre-historic period Niaouli has been a valuable additive to toothpastes, gargles, mouth sprays and cough drops. This oil is also used as a substitute for Cajeput and Eucalyptus oil in the treatment of neuralgia, cold, cough and rheumatism.
Therapeutic properties and chemical constituents of Niaouli essential oil: 1,8-cineole, alpha-terpineol, alpha-pinene, beta-pinene, limonene, a-phellandrene, nerolidol, linalool, piperitone and gamma terpineol. The therapeutic properties of this oil are analgesic, antiseptic, decongestant, bactericidal, cicatrisant, expectorant, balsamic, vermifuge, febrifuge, stimulant, insecticide, vulnerary and anti-rheumatic.
Ayurvedic health benefits of Niaouli essential oil:
Ayurveda meaning 'science of life' is the oldest medicinal systems in the world. The basis of Ayurvedic philosophy revolves around the fact that perfect health can be attained only by a well-built immune system. This is because strong immunity make the body resistant and help fight against harmful organisms and infections causing illnesses. Ayurvedic perception of good health is the outcome of synchronization between a person's physical, mental and spiritual wellness.
Ayurveda treats every individual in a unique manner trusting that no two individuals have identical individual constitution. For this identification, Ayurvedic approach recognizes human beings based on their specific metabolic principles governing the body and mind and its intelligence. They are known as doshas (vata, pitta and kapha).
The predominance of any one of these doshas is the primary dosha of an individual and he is identified with that dosha as his unique body type. Imbalance of any one or all these doshas ends up in illnesses. Niaouli pacifies kapha and vata doshas and aggravates pitta dosha.
Man-made medicines or menacing treatments are not a part of this holistic medicinal practice as it trusts and relies on Mother Nature for its healing system. It centers on prevention of diseases with healthy diet, Ayurvedic routine, balanced life-style changes, herbs, yoga, essential oils, meditation and other simple physical exercises.
Let's have a look at the Ayurvedic health benefits of Niaouli essential oil.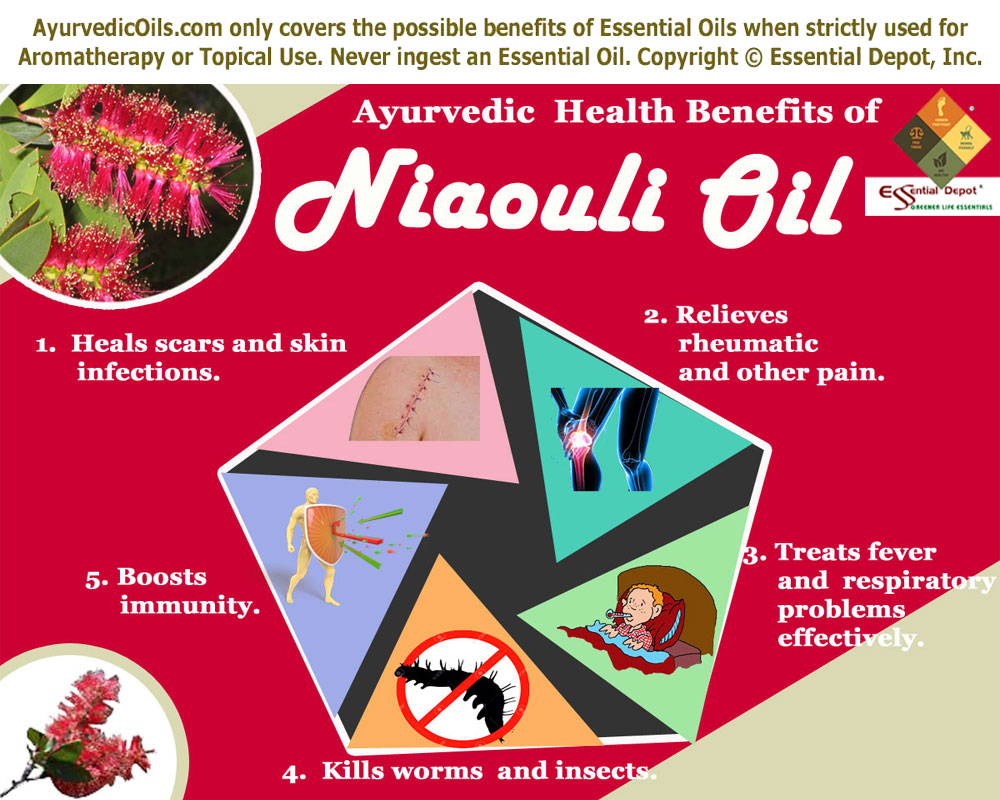 1. Heals scars and skin infections:
Niaouli essential oil has excellent bactericide, disinfectant, antimicrobial and antiseptic properties that make it a wonder oil in treating skin infections, wounds and other similar disorders.
Donoyama and Ichiman study on the effectiveness of six essential oils like eucalyptus, thyme linalool, lavender, tea tree, niaouli and sage in treating Staphylococcus aureus bacteria was tested. This study revealed that among the six essential oils tested "niaouli oil was found to be the most effective, reducing colony count to zero at 3.125%".
Add 1 drop of Niaouli oil in a cup of lukewarm water to make a natural cleanse for washing your wounds, skin ulcers, blemishes, cuts, acne, insect bites and burns. This cleansing solution aids in removing the harmful organisms like bacteria on your affected part of the skin and initiates its quicker healing process.
Mix 2 drops of Niaouli oil in coconut oil or your regular skin care cream or lotions and apply it gently on the infected area. The vulnerary and disinfectant properties of this oil help in healing wounds quickly, shielding your skin from microbial infections by activating platelet particles and leucocytes in the infected area and aiding in clearing your acne, marks and blemishes. With its antiseptic properties, Niaouli is also an effective oil in treating infections of the colon, uro-genital tract, kidneys, urethra, kidneys and intestines. Even today Niaouli is used as a safe vaginal douche in France.
Niaouli oil is used in an extensive range of cosmetic products in Australia. With its cicatrisant properties, Niaouli essential oil can be more forceful on your scars and marks than your expensive anti-marks and scar-removing creams. Applying 2 drops of Niaouli oil blended with jojoba oil can assist you in diminishing your scars and marks left by pimples, post-pregnancy stretches, acne or pox by influencing the faster growth of new skin cells and tissues. On prolonged use, this remedy can aid in regenerating your skin surface and replenish it with natural glow.
2. Relieves rheumatic and other pain:
The essential oil of Niaouli works effectively on sharp pain and other related discomforts. When gently massaged on to the painful area with 2 drops of Niaouli essential oil blended with coconut oil, the analgesic properties of this oil acts like a general anesthetic by numbing the nerves in the painful parts and consoles pain.
Niaouli essential oil is celebrated as a popular complementary cure for treating rheumatic pain. Massaging 2 drops of Niaouli oil added to sesame oil helps in stimulating the lymphatic system and enhancing blood circulation in the body, which controls the amassing of toxic substances and uric acid in the joints. By this way, Niaouli oil assists rheumatic patients by easing pain, inflammation and swelling in the painful areas. This oil also helps in treating toothache, joint pain, migraines, earache, headache and sprains.
3. Treats fever and respiratory problems effectively:
Niaouli essential oil has been approved in the German Commission E Monographs especially for its effective uses to the respiratory system. Niaouli oil has expectorant and decongestant properties that aid in clearing congestion and blocked respiratory passages with mucous and phlegm. It also supports in reducing the body temperature at times of fever by combating the infections responsible for fever.
Using 2 drops of Niaouli oil in steam inhalation or in vaporizer can help you fight against cold, flu, bronchitis, whooping cough, sinusitis, catarrh, pneumonia, asthma, laryngitis, sore throat, tuberculosis and cough. It helps open up clogging or obstruction of nasal passages, lungs, trachea, larynx, bronchi and pharynx by loosening phlegm, which promotes easy breathing and sound sleep. You can also add 2 drops of Niaouli oil in your rubs and massage it gently on your neck, chest and back for quicker relief.
4. Kills worms and insects:
This oil is also effective in killing intestinal worms like tape worms and round worms that interrupt the normal growth of the body and the regular process of metabolism. You can add 3 to 5 drops of Niaouli oil in warm bathing water or inhale the aroma of this oil by adding 2 drops to your diffuser for eliminating worms from your body. Niaouli essential oil can also be used along with your insect sprays and vaporizers for killing insects like ants, bugs and cockroaches.
5. Boosts immunity:
Dr. Kurt Schnaubelt says "Niaouli is an excellent general immune system booster and an agent to help one with allergic reactions." Niaouli essential oil enhances the resistant power of your body to withstand against infections and micro organisms by strengthening your immunity. This oil has been proven mild and safe for everyone so you can add 2 drops of Niaouli oil to your diffuser to facilitate the fostering aroma of this oil fortify your immune power every day.
Other health benefits:
Inhaling the aroma of Niaouli essential oil especially during meditation is said to revive your senses, improve concentration and uplift the spirit. Niaouli oil is applied to the skin of the cancer patients before every session of cobalt therapy for protecting the skin against burning due to the radiation therapy for cancer. Niaouli is also used in cough drops, rubs, mouth sprays, toothpastes, gargles and certain other cosmetic products.
Disclaimer:
Never take essential oils internally as pure essential oils are highly concentrated liquids.  Avoid using essential oils directly on the skin and always remember to dilute it in appropriate carrier oils. This information is only for educational purposes and is not meant to replace prescription drugs or expert advice of your healthcare professional. Always consult your Ayurvedic practitioner before using the right essential oil for your specific constitution and health condition.
Thought for the day:
For in the true nature of things, if we rightly consider, every green tree is far more glorious than if it were made of gold and silver.          – Martin Luther
Suggested Reading:
Reference Links: