Your heart would skip a beat, if I say that about 72,000-96,000 deaths happen in the United States every year due to Omega-3 deficiency. (A Harvard Study on ""The Preventable Causes of Death in the United States: Comparative Risk Assessment of Dietary Lifestyle and Metabolic Risk Factors.")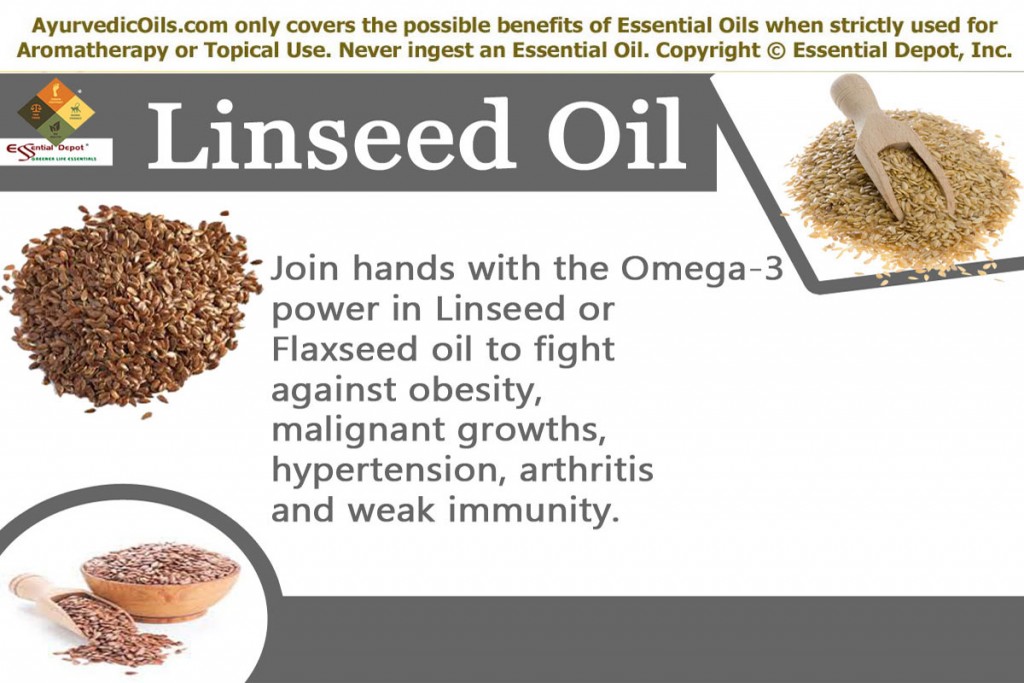 Linseed also called as Flaxseed is rich in Omega-3, where 55% of Flaxseed oil is dominated with the presence of Omega-3. It is a fatty acid that helps in fighting against heart attacks, high blood pressure, increased levels of cholesterol, free radicals causing cancerous growths, stress, hypertension, weak immunity and more.
Known as Rudrapatni, Masruna, Kshama and Neela in Sanskrit, Flaxseed and its oil has been used for more than 5,000 years in Ayurveda for treating obesity, high blood pressure, excess cholesterol, arthritis, paralysis, bloating, wounds, neuralgia, hemorrhoids and constipation.
Purchase Linseed Oil – Retail – 4 oz – CLICK HERE
Purchase Linseed Oil – Wholesale – CLICK HERE
Chemical constituents and remedial properties of Linseed oil:
The oil of Flaxseed contains about 50% of alpha-linoleic acid along with oleic acid, p-coumaric acid, stearic acid, palmitic acid, arachidic acid, cyanogenic glycosides, sitosterol, campesterol, phytosterols and linoleic acid.
Cardio-tonic, expectorant, nervine, antioxidant, immune stimulant, purgative, cicatrisant, analgesic, expectorant, anti-inflammatory, laxative, demulcent, emollient, hepatoprotective, antimicrobial and antifungal are the predominant remedial values of Flaxseed oil.
Flaxseed is rich in lignans, which contain antioxidant and plant estrogen qualities. Trusted sources state that Flaxseed has 75 – 800 times extra lignans than all other plant food varieties.
Omega-3 essential fatty acid is heading the health benefits of Flaxseed with its extremely beneficial effects on heart and its power to resist the incidence of cancerous tumors, discard toxins and bad cholesterol in the system.
According to the Flax Council of Canada, the nutritional profile of Flaxseed oil constitutes of Omega-3, Omega-6, Omega-9 fatty acids and certain other healthy nutrients.
This report also states that Linseed contains Vitamin B1, B2, B3 and B5 along with calcium, magnesium, zinc, selenium, phosphorus, iron, manganese, potassium, about 29% of carbohydrates, 18% of protein and a massive 95% of fiber.
Historical uses and importance of Linseed and its oil:
Flaxseed has a rich history of being used since the ages of Acharya Charaka, the most trusted Ayurvedic philosopher and the author of Charaka Samhita, the pioneering Ayurvedic encyclopedia.
With Linum ustitissimum as its scientific name, Linseed is a limb of the plant family, Linaceae.
The most persuasive thing that I observed about Linseed is that the special Sanskrit names of this magical herb. Names like Rudrapatni, Uma, Parvati, Masruna, Suvarchala, Venu, Kshaumi, Kshama and Kshuma are all female names.
Among which Uma, Parvati and Rudrapatni exhibit absolute power and supremacy as all the three indicate the Indian Hindu Goddess Parvati Devi, the wife of Shiva, the Supreme God adorned as the 'Transformer' or the 'Destroyer'.
This vivid long-established proof is more than enough to understand the glorious healing benefits and the dominance of Flaxseed in curing and benefitting mankind.
The book '20,000 secrets of Tea' by Victoria Zak quotes Flax as "Flaxseeds were used by the Greeks, mandated by law as a necessary food in the 8th century in France, and recommended by Gandhi."
Warm poultice of Flaxseed oil has been prescribed in Ayurvedic remedies for treating eczema and certain other skin conditions. Ground Linseed (fresh paste) with cold water is an exceptional natural remedy for treating headache, poisonous insect bites and arthritis.
The traditional populace of India used Flaxseed to normalize the level of blood sugar and cholesterol with 1 tbsp of Flaxseed powder mixed with 10 ounce of water, especially in between meals to curb hunger and burn excess fat and cholesterol in regular intervals.
This is the right time to crack the difference between the terms 'Linseed and Flaxseed', while both these names denote the same seeds of the Linum ustitissimum plant, the distinction lies in its terms of usage.
Based upon a reliable source, the term 'Flaxseed' is used when it is meant for human use and 'Linseed' is used more for commercial or industrial purpose as an excellent paint binder and wood finish. This is just to help you understand better but to put in a nutshell 'both Linseed and Flaxseed mean one and the same.'
Linseed and its cold pressed oil is also used as a vital ingredient in Ayurvedic medications like Sarshapadi Pralepa, topical remedy for lymph nodes and inflamed cyst conditions; Kolakulathadi Choornam, powder based medicine used in Ayurvedic powder massage called as Udvartana; Gojihwadi Kashaya is a tonic used in treating bronchitis, cough, fever and few other respiratory problems.
Ayurvedic health benefits of Linseed oil:
Ayurveda simply stands for the 'Knowledge of life', where Ayur means life and Veda means knowledge.
This noble healing system is more than 5000 years old and is the 'Proud pioneer' of all the medical sciences on earth including Homeopathy, Chiropractic, Aromatherapy, Allopathy, The Traditional Chinese Medicine (TCM), Siddha, Unani and Acupressure.
The beauty of Ayurveda lies in its trust that all things in the universe, including human beings are built with the 5 principal elements, known as Panchaboothas or Devanagari.
They are fire, air, water, space and earth. You'd be more than just amazed to know that each of these 5 elements stays behind as the constructive forces behind numerous functions of our body and the entire world.
Air governs functions of the respiratory, nervous, muscular and cardiac system. Earth is responsible for physical built-up including muscles, skin, cartilages, hair, nails, bones and tendons.
Water is present in the form of cytoplasm, blood, digestive acids and activities of the salivary glands. Fire is evident through metabolic functions, intellectual power, body temperature and vision. Ether or space is active in the abdomen, lungs, mouth, digestive passage and thorax.
These five elements institute the performance of the five senses, namely the sense of sound, smell, touch, taste and sight. It also controls the functions of the 7 primary elements called as Saptadhatus. They are blood, reproductive tissues, marrow, plasma, fat, bone and flesh.
Every person is made up of a unique individual constitution, Prakriti, which is a combination of 3 vital energies known as doshas. Doshas are nothing but an arrangement of 5 elements, pitta (fire + water), kapha (earth + water) and vata (space + air).
The character, physique, behavioral patterns and spiritual entitlement of an individual is determined by the predominant dosha. Perfect balance between doshas means perfect health and imbalance indicates illnesses.
Every Ayurvedic remedy aims at treating the individual in a unique manner and not just his/her illnesses. It aims at attaining Swasthya, means heartiness of the body, mind and spirit. Ayurvedic healing works with a vision of attaining longevity through healthy lifestyle practices, prevention of illnesses and self-realization.
Ayurvedic remedy prescribe herbal medications, Ayurvedic essential oils, yoga, Dinacharya or Ayurvedic routine, simple physical exercises, Panchakarma or cleansing technique, Pranayama or mindful breathing, meditation (connection with the Divine State) and prayers.
Flaxseed oil has been prescribed in Ayurveda for augmenting pitta and kapha dosha and for pacifying vata dosha.
The Ayurvedic health benefits of Linseed oil are: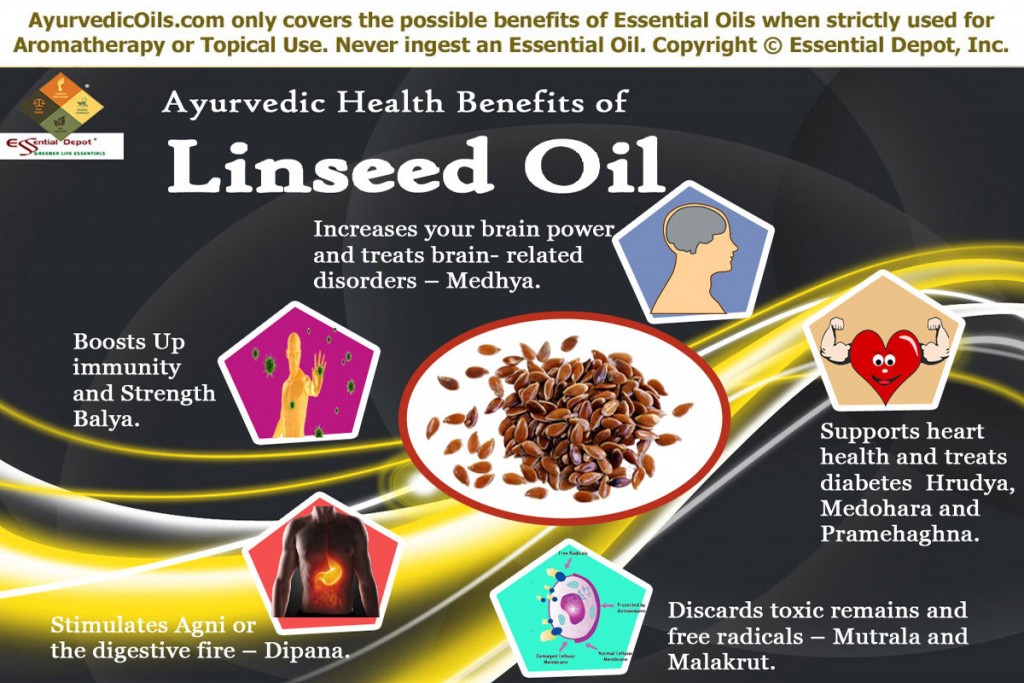 1. Boosts up your immunity and strength – Balya:
Flaxseed oil is termed as Balya in Ayurveda for its effectiveness in enhancing immune power or the human body's ability to withstand, guard and fight against the invasion of harmful foreign bodies and other disease causing infections.
With its rich presence of Omega-3 fatty acid, Flaxseed is one among those best natural alternatives for supporting the immune system, augmenting vigor, muscular strength and is highly recommended as 'Comprehensive food for a body builder'.
Mensfitness.com recommends the use of Flaxseed as a part of one's routine mainly for its rich fiber and protein and might help in maximizing one's calisthenics in the gym.
The book 'Ask the Guru' by Dickens quotes Flaxseed as "Best body building food". This is attributed to its improved presence of about 25 percent of essential amino acid proteins, which aids in building muscular potency and enormous strength that is indispensable for workouts and body building.
According to the Centers for Disease Control and Prevention, "About 70 million American adults (29%) have high blood pressure – that's 1 of every 3 adults."
Many research studies have witnessed the efficiency of Flaxseed and its oil in lowering high blood pressure and treating headache, fatigue, anxiety and physical exhaustion associated with hypertension and increased blood pressure.
Massaging your system with 2 ounce of Flaxseed oil blended with 4 drops of Argan oil and 3 ounce of Sesame oil can help in augmenting your stamina, physical endurance, briskness, flexibility, disease resistance ability and the emotional authority to achieve your fitness funda.
Fortify your system with this massage everyday or once in 2 days, preferably before stepping into your gym.
2. Stimulates Agni or the digestive fire – Dipana:
Flaxseed, with a high substance of mucilage is an excellent laxative that aids in treating constipation by lubricating the digestive tract and can even treat chronic constipation effectively.
Victoria Zak in her book '20,000 secrets of Tea' says that the tea prepared with Flaxseed is a bulking laxative and is used in blends for rheumatism and intestinal cleansing.
Termed as Malakrut for its ability to increase the volume of faeces, Ayurveda states that Flaxseed and its oil have the potent to increase Agni or the digestive fire, responsible for spontaneous and trouble-free digestion, for which it is called as Dipana.
Massaging your abdomen with 5 drops of Flaxseed oil and 1 drop of Peppermint oil, stimulates the secretion of bile, gastric juices and digestive acids that help in supporting metabolic functions including digestion, absorption of nutrients in food and excretion of toxic remains in the system.
This assists in treating long term constipation, hemorrhoids, Crohn's disease, irregular bowel syndrome, flatulence, bloating and heartburn.
3. Increases your brain power and treats brain-related disorders – Medhya:
Linseed and its oil are known as Medhya with the presence of Omega 6 and Omega 3 fatty acids that are used in enhancing the functions of human brain.
It is a proven fact that Omega-3 fatty acids are indispensable for normal development of brain and insufficiency of fatty acids may lead to the surfacing of neurologic dysfunctions.
A 2012 study on 'Protective role of Ashwagandharishta and flax seed oil against maximal electroshock induced seizures in albino rats by Ila R Tanna, Hetal B Aghera, BK Ashok, HM, Chandola, published in Pharmacological Research and Ayurjournal witnesses the effectiveness of Flaxseed oil and Ashwagandha in treating neuropsychological disorders like epilepsy, depression and anxiety.
This study concludes that Flaxseed oil and Ashwagandha are the richest plant sources of omega-3 fatty acids. These natural medications have anti-stress and anxiolytic activities.
They work as "antidepressant by enhancing 5-HT neurotransmission and omega-3s promote transmission of the chemical messengers that facilitate communication between nerve cells and are associated with emotional stability (e.g., serotonin) and positive emotions."
In addition, "it also affects brain-derived neurotrophic factor (BDNF), which encourages synaptic plasticity, provides neuroprotection, enhances neurotransmission, and has antidepressant effects. Both Ashwagandharishta and flax seed oil are having antiepileptic activity; besides, they are having excellent anti-post-ictal depression effect."
Adding 4 drops of Flaxseed oil with 2 drops of Ashwagandha oil in bath or in steam inhalation or in mild skin care creams and dabbing it on your temples, wrist and forehead might help in calming your nerves, soothing your senses, improve cognitive functions and help promote emotional steadiness with the secretion of positive hormones like serotonin.
Thus Flaxseed oil can assist in the treatment of depression, anxiety, Alzheimer's disease, ADHD, epilepsy and certain other bipolar health disorders.
4. Discards toxic remains and free radicals – Mutrala and Malakrut:
You might have come across the efficacy of Flaxseed oil in treating cancer and might have even doubted its worth. If you have heard it before, then you've heard it right.
Flaxseed/Linseed oil is extremely effective in guarding the system against the infestation of free radicals, toxic substances, salt, uric acids, fat and bad cholesterol.
If permitted these health demolishers may lead to the birth of cancer (skin cancer, prostate cancer, colon cancer, breast cancer etc.,), rheumatic conditions, edema and arthritis.
The most influencing cancer fighting component in Flaxseed oil is phytochemical Lignans. It contains the richest antioxidant properties than any other plant derivatives and is approximately 800 times more than in other alternatives.
Various researches about Flaxseed in treating cancer have stated that lignans in Flaxseed protect the system from cancer by blocking enzymes that are responsible for hormone metabolism and pry with the spreading and growth of tumor cells.
An American study has proved that Flaxseed has about 27 anti-cancerous elements and it also has the power to treat ovarian cysts, menopausal symptoms and breast cancer with its power to block estrogen receptors.
Linseed oil has warming effects and massaging the painful parts with 5 drops of Flaxseed oil and 2 drops of Bay oil can assist in increasing the frequency and quantity of urination (for which it is called as Mutrala) through which the toxic substances, salt, fat, bad cholesterol and uric acid are eliminated.
By this way it treats inflammation, swelling, soreness, pain and redness associated with rheumatoid arthritis and other autoimmune disorders. It also supports the health of bones by enhancing the calcium absorption ability of the body.
The mention of Dr. Johanna Budwig and her power to treat various types of cancer with Flaxseed and cottage cheese is indeed a valuable information of all of us.
5. Supports heart health and treats diabetes – Hrudya, Medohara and Pramehaghna:
Medohara is the name attributed to the power of Linseed oil in regulating the metabolism of cholesterol and fat in the body.
Flaxseed has the ability to boost HDL or good cholesterol and reduce LDL or bad cholesterol and triglycerides, whereas HDL has been held responsible for an increased risk of obesity, heart disease, metabolic syndrome and diabetes.
Flaxseed controls high blood pressure that augments the risk of serious health conditions like stroke, heart attack, heart failure and kidney disorders.
Fitzpatrick says ""Lignans in flaxseed have been shown to reduce atherosclerotic plaque buildup by up to 75%." And several studies have revealed that the presence of Omega-3 fatty acids in Linseed oil aids in checking the hardening of the arteries, prevent plaque from being settled in the arteries by controlling white blood cells from clinging to the inner linings of the blood vessels.
Called as Hrudya, Flaxseed oil has Omega-3 fatty acids that play a vital role in regularizing the functions of the heart and helpful in treating atherosclerosis, heart condition where blood clots or cholesterol clots is developed in the blood pipes; irregular heart beat or arrhythmia; stroke, cardiac arrest and ventricular arteriamia.
Flaxseed also assists in preventing the spikes in blood sugar, which happen after eating. Lignans also support in controlling the blood sugar level, thus helping in the treatment of diabetes for which it is called as Pramehaghna.
Massaging once in 2 days or twice in a week, advisably after work with 2 ounce of Linseed oil and 2 ounce of Coconut oil can help in regularizing your heart functions, dissolve HDL or bad cholesterol, liquefy blood clots in the blood vessels, reduce high blood pressure, regulate blood sugar and tranquilize your system for a healthier tomorrow.
You may even doubt whether a massage would be effective in treating heart problems??? Trust me; skin is the largest and permeable organ of the human body.
Massaging remedial oils on the skin aids in passing on the therapeutic properties of the oil to the bloodstream, by allowing deeper penetration of these oils.
Follow this massage with warm bath before going to bed… That's it….. Everything else for a peaceful night and hearty day is all set…….
Other health benefits: Apart from these health benefits, Flaxseed oil is also helpful in treating Sjogren's syndrome, benign prostate hypertrophy or enlarged prostate, hot flashes, eczema, acne, ringworm, clawed nails, Parkinson's syndrome, wrinkles, dandruff etc.,
Flaxseed oil is used in Ayurveda as nasal drops (nasya), enema (basti chikitsa), ear drops (karna poorana), and of course Ayurvedic massaging (Abhyanga).
Eat healthy and nutritious food.
Ensure that you stick to a routine of simple physical exercises every day.
Meditate or just close your eyes for about 10 minutes in a quiet place (reflecting and visualizing your vision).
Practice balanced breathing or Pranayama (about 70 % of toxins are discarded through exhalation).
Arm your mind with positive thoughts.
Fulfill your duties to your family and society.
Drink enough water.
Smile even through adversities.
And that is what Ayurveda is all about…
It is more than enough to make your days more than just meaningful and rewarding……
Disclaimer:
This post is meant only for educational purposes and is not intended for treatment of any health condition or to substitute any prescribed medication or expert medical advice. None of us in Essential Depot are healthcare professionals and this article is shared only on the basis of spreading awareness on Ayurveda, the mother of all medical systems on earth and the oldest remedial science in the universe.
Essential oils are recommended only for topical application and are not advisable for ingestion. This is because 100 percent pure and organic oils are highly concentrated substances and may lead to allergic reactions when taken internally or used on the skin without appropriate dilution. Ensure that you use Linseed/Flaxseed oil only for topical use, sooner after a patch test on your skin.
Speak with your Ayurvedic practitioner or healthcare professional before selecting the fitting essential oils for your Prakriti or unique individual constitution and Vikruti or current health condition. Consult your Doctor before using Flaxseed/Linseed oil on pregnant or nursing moms and on children.
Thought for the day:
You are naturally beautiful when you are YOURSELF.
Suggested Reading:
Reference Links: